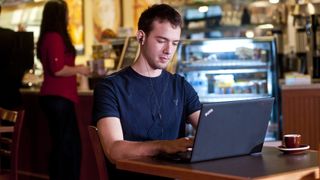 With the breadth of Ultrabooks on offer today, it's entirely possible to splash big amounts of cash and still come away feeling that your choice lacks that something special.
It's no longer enough to have cutting-edge design, a stunning WQHD (2560x1440) pixel-resolution display, and to weigh just 1.3kg while measuring 17.72mm thin.
Of course, the ThinkPad X1 Carbon has all of those pioneering qualities, but it also features a raft of advanced functionality that no other Ultrabook on the market can lay claim to.
Read on, for five amazing things that the Lenovo ThinkPad X1 Carbon can do that your existing Ultrabook can only dream of.
1. Charge in less than an hour thanks to RapidCharge technology
It's possible that the only thing more annoying than your laptop running out of battery quickly is waiting around for it to charge.
Luckily, it's not a problem you'll face too often with the ThinkPad X1 Carbon due to it housing a fourth-generation Intel processor, which extends battery life and lets it go for up to nine hours on a single charge.
When it does inevitably run out, you won't have to hang around for too long before it's fully restored thanks to Lenovo's RapidCharge technology, which can restore 80% of battery life in just under an hour.
It does so by combining fast charge cells with a 1,000 cycle battery to make sure you're rarely lacking power on the go.
2. Withstand high levels of stress testing inflicted by the US military
Ultrabook manufacturers always claim that their devices are the toughest around, though few are prepared to divulge to what extent they test their devices for durability.
Lenovo, on the other hand, wears its achievement of making the ThinkPad X1 Carbon its toughest, most durable Ultrabook to date like a badge - a military one at that.
That's because the company puts every one it builds under no fewer than eight US Military-grade tests that measure durability under the most extreme of condition.
They include dust, vibration, heat, cold, altitude, water, and humidity, so you'll never have to worry about spills, drops, heat exposure or shock damage when slinging it around.
It gets its high level of resistance from being constructed out of satellite-grade Carbon Fibre, making it the toughest ThinkPad ever made.
3. Offer a trackpoint that's actually usable
We'll concede that other laptops may come with navigational trackpoints, but when was the last time you saw one on an Ultrabook of the ThinkPad X1 Carbon's calibre? The answer is: you won't, and aren't likely to any time soon.
Nestled between the bottom and middle rows of keys, Lenovo's signature red trackpoint features "Press-to-Select" functionality making it a convenient and fast way to control Windows 8.1's cursor instead of using the trackpad, touchscreen or a mouse.
4. See, hear and respond to your every command
Sorry to have to break it to you, but your current laptop just isn't interested in what you have to say. That's far from true with the ThinkPad X1 Carbon, which allows you to control applications by both waving your hands and talking to it.
It features up to 10 voice commands that are powered using in-built Dragon Assistant software, which allows you to do anything from sending email to searching websites, adjusting the volume or posting to social networks.
If you're in a quiet zone or prefer to control the Ultrabook using your hands, the ThinkPad X1 Carbon's gesture control application can run in the background using the built-in webcam to detect movement.
This allows you to do things like swiping between photos in Windows 8.1's Gallery app and between slideshows in PowerPoint, meaning you can look twice as professional in the boardroom.
5. Learn and adapt to your workflow and processes
Last but not least, the Lenovo ThinkPad X1 Carbon features an uncommonly intuitive 'Adaptive Keyboard' that can shift its functionality to better serve the activity you're carrying out at any time. It does so by housing an 'Adaptive Row' above the keyboard where the function buttons would usually sit.
You can still use the regular F1 - F12 function buttons, if you choose, or you can have them automatically switch what they do depending on whatever application is running at the time.
If you're in a conference, for example, you can switch the keyboard to Conference Mode, allowing you to perform actions like muting participants and switching the webcam on and off, to controlling screen brightness and microphone volume.
There are many other modes: including one for web browsing and a mode for laying the Ultrabook flat to interact with its touchscreen.
To find out more about the Adaptive Keyboard and what it can do, click here.
Are you a pro? Subscribe to our newsletter
Sign up to the TechRadar Pro newsletter to get all the top news, opinion, features and guidance your business needs to succeed!
The TechRadar hive mind. The Megazord. The Voltron. When our powers combine, we become 'TECHRADAR STAFF'. You'll usually see this author name when the entire team has collaborated on a project or an article, whether that's a run-down ranking of our favorite Marvel films, or a round-up of all the coolest things we've collectively seen at annual tech shows like CES and MWC. We are one.