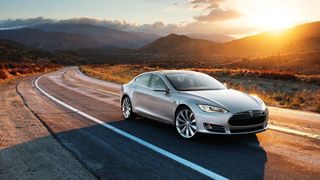 In case you wanted more speed with a family sedan, Tesla just announced an even faster version of its Model S electric car with an optional "Ludicrous Speed Upgrade."
The Tesla Model S P85D is already an insanely fast sports sedan with 691 horsepower and now the electric car company has found a way to bump it all the way up to 762 horsepower HP.
SEVEN HUNDRED SIXTY-TWO HORSEPOWER!
That's a noticeably bit more horses than the 720 HP that comes inside a Lamborghini Aventador, which is an honest to God hyper car.
Faster than falling
With the extra power on tap, the new Model S will go from 0-60 miles per hour in just 2.8 seconds, about 10% faster than the old time of 3.1 seconds. To put that in perspective, the Koenigsegg Agera R, a bona fide race car, gets to 60 mph off the block in 3.2 seconds.
In a product call, Elon Musk described the acceleration as "faster than falling." In reality users will definitely feel the acceleration when they experience roughly 1.1 G of force as they're mashed into the back of their seats.
Of course this mind boggling speed also comes at a price, and shifting into Ludicrous Speed will add a $10,000 (about £6,405, AU$13,553) premium to $87,500 (about £56,047, AU$118,593) price tag for the highest end Model S sedan. For those not buying a new model, current owners will be able to upgrade their vehicle for $5,000 (about £3,202, AU$6,776) in the next six month.
Tesla also introduced a new 90kWh battery pack for $3,000 (about £1,921, AU$4,066), meanwhile, the price for the 70 kWh rear-wheel drive Model S has been cut to $70,000 (about £44,837, AU$94,874).
Sign up to receive daily breaking news, reviews, opinion, analysis, deals and more from the world of tech.
Kevin Lee was a former computing reporter at TechRadar. Kevin is now the SEO Updates Editor at IGN based in New York. He handles all of the best of tech buying guides while also dipping his hand in the entertainment and games evergreen content. Kevin has over eight years of experience in the tech and games publications with previous bylines at Polygon, PC World, and more. Outside of work, Kevin is major movie buff of cult and bad films. He also regularly plays flight & space sim and racing games. IRL he's a fan of archery, axe throwing, and board games.