Best free antivirus for Mac
Windows and Mac users have found plenty to argue about over the years, but few topics have generated quite as much heat as security. PCs are far more at risk from malware, you'll often hear - Macs don't get viruses, and users don't need antivirus software at all.
There's a core of truth to this. Windows gives software far more control over the system than Macs, and that allows malicious code to infect PCs at a much deeper level. But that doesn't mean Macs are invulnerable.
Security vendor Malwarebytes reports that Mac malware has increased dramatically in recent years, with threats now ranging from annoying adware and PUPs (potentially unwanted programs) to ransomware and state-of-the-art back doors which might allow hackers to remotely access and control your computer.
Fortunately, just as on Windows, installing a quality antivirus tool will detect and remove most Mac malware. The most lightweight apps run scans on-demand only, ensuring they use minimal resources, and they won't make demands on your finances, either - some of the biggest security names around provide very capable products for free. This is our roundup of the best free antivirus for Mac, listed in alphabetical order.
Strong all-round protection for your Mac
Real-time protection
Blocks access to dangerous sites
Detects network vulnerabilities
Avast Free Mac Security goes the extra mile to protect your Mac with an unusually lengthy feature list.
The core antivirus engine offers real-time protection to catch threats when they appear, for instance. You can run on-demand full system scans if you suspect a problem, or launch a more targeted check on specific files, folders or drives. It's even possible to schedule scans to run automatically when you're not around.
A Web Shield warns you about malicious websites, blocks dangerous downloads and email attachments, and protects your privacy by eliminating intrusive ad tracking.
There's an unusual extra in Avast's wireless network scanner, which quickly checks your network, router and connected devices, alerting you to any vulnerabilities.
Mac antivirus software isn't often checked by the independent testing labs, but Avast's most recent results were good, with AV Comparative's 2017 test finding the package detected 99.9% of sample threats. Only Bitdefender and Kaspersky did better, and they were both paid editions.
If you'd like even more, upgrading to Avast Security Pro gets you ransomware protection and instant alerts of Wi-Fi intruders or changes in your network security. A one Mac, one-year licence can be yours for £49.99 ($70).
Block the latest malware before it can cause damage
Real-time protection
Detects Mac and Windows threats
No web filtering
While many antivirus companies try to win you over by piling on the features, Avira Antivirus for Mac takes a simpler, more lightweight approach. There's no web filtering, no network scanning or other security extras: it's purely focused on keeping your system malware-free.
That doesn't mean the package is short on power. Its real-time scanner checks any file the system accesses, picking up threats before they can do any harm. The scheduler enables setting up the app to scan your system automatically, or you're able to check your entire system whenever you like.
As a bonus, the app doesn't just protect against Mac threats. It also uses Avira's Windows experience to pick up any PC-related malware, ensuring you won't share any files that might endanger your friends.
The main testing labs haven't evaluated Avira Free Antivirus for a while, but AV Comparatives last report found the Avira engine blocked 99.1% of test malware, and with Avira's strong record on the PC we've no doubt that this is an app you can trust.
Although this list is all about free Mac antivirus, Avira deserves a mention for its commercial Avira Antivirus Pro 2018. It adds an option to scan USB keys for threats, includes tech support and protects up to five devices with one licence (Mac, Windows and Android), yet the cost is low at just £29.99 ($42) a year.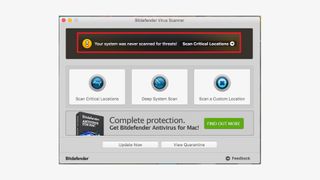 Point, click, detect, remove, done. Easy...
Easy to use
Hourly signature updates
No real-time protection
Bitdefender Virus Scanner is a lightweight free malware hunter which can track down and remove both Mac and Windows-related threats.
A simple and straightforward interface makes the app extremely easy to use. A status display keeps you up-to-date on how your system is doing, and four buttons enable running a quick scan of critical locations, an in-depth check of your entire system, or speedy scans of running applications or a folder of your choice.
Although this looks all very basic, use Bitdefender Virus Scanner for Mac for a while and you begin to notice some very neat touches.
The app doesn't force you to wait a day for your next virus signature updates, for instance. Bitdefender issues updates every hour and Virus Scanner always fetches the latest version before it starts a scan.
An option to exclude files and folders from the scan - network shares, system backups - is another plus, reducing the work the engine has to do and significantly speeding up your scan times.
What you don't get here is any form of real-time protection or web filtering, essential tools for a complete security solution. This simplicity also reduces the chance of conflicts with other apps, though, suggesting Bitdefender Virus Scanner could be a useful second opinion tool which you run alongside another security app.
Quick and easy anti-malware from a big-name provider
Lightweight
Speedy scanning
No real-time protection
Mac antivirus software isn't just about detecting the latest most deadly ransomware, or other high-risk threats. Most tools can also strip out adware and other potentially unwanted programs which may not be highly dangerous, but are wasting system resources and slowing your Mac down.
Malwarebytes has been eliminating the full range of Windows threats since 2006, and the Mac edition is just as simple, straightforward and effective.
The app is such a lightweight installation, the size of three digital music files, that you'll barely notice it's there. And while the lack of real-time protection means Malwarebytes can't stop attacks - only remove existing infections - it also ensures there's no real impact on your system resources and the app is unlikely to conflict with other antivirus tools.
Performance is another highlight, with Malwarebytes claiming the average system is scanned in less than 15 seconds. Set it running when you check your emails in the morning and it'll be finished before you are.
Installing Malwarebytes for Mac also gets you a 30-day trial of the Premium edition which is able to detect and block threats as they appear. If you're not interested in this, ignore it; real-time protection will disappear when the trial expires and you'll get on-demand scanning only. Alternatively, upgrading to Malwarebytes Premium enables protecting any mix of three Mac, Windows or Android devices, and a one-year licence is priced at £49.99 ($70).
A complete security suite, for free
Loads of features
Accurate detection rates
Protect Macs and PCs from one account
The free antivirus market is highly competitive and it can be difficult for individual companies to stand out from the crowd, but the British vendor Sophos has found a way: it gives you more features in its free products than many competitors provide in their paid editions.
On-demand scanning to clean up infected systems? Check. Real-time protection to prevent attacks in the first place? Of course. Browser filtering which blocks access to dangerous sites? Naturally. Parental controls to define the content your child can access online? Yep.
Oh, and you can cover up to three Mac or Windows devices with a single account, and remotely check and manage their status from a central web console - potentially very useful when protecting the whole family.
Sophos isn't just piling on these extras to disguise a weak antivirus engine, either. AV Test's December 2017 Mac detection rate tests showed Sophos delivered the same level of protection as products from Avast, Bitdefender, Kaspersky and other big names.
This works for us, but if you need more, Sophos Home Premium does have some worthwhile extra features: advanced ransomware protection, monitoring of access to your webcam and microphone, live chat and email support, and the option to protect up to 10 devices. It's a strong feature set, and competitively priced at £40 ($56) a year.