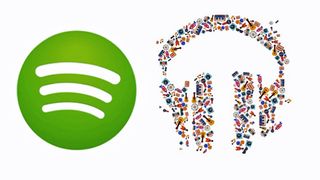 On Wednesday at Google IO, the Android maker and search king unveiled Google Music All Access.
Priced at $9.99 a month, it gives users unlimited streaming access to millions of tracks on Android smartphones and computers.
While Google Music was previously just a competitor to Apple's iTunes and Amazon's music store, All Access makes it more akin to Spotify and Rdio.
These are streaming services that charge a monthly fee for unlimited music access. Think of them like Netflix Instant, only with music, not "Arrested Development" and Steven Seagal movies.
With over 24 million users around the world, Spotify is the current leader in the streaming music race. Google Music All Access may be entering late, but its competitive pricing and already large library make it a capable challenger.
So which should you buy into? Should you make the switch from Spotify to Google Music? Or wait until Apple gets its own streaming service into gear?
Honestly, right now All Access and Spotify feel so similar it's a bit like comparing an apple to…another apple. Both versions offer a strong search function, suggestions based on your ratings of tunes, and the ability to generate radio stations based on your preferences and behavior.
In the coming months both will likely do a lot to distinguish their services, but until then, here are a few points to mull over.
Google Music vs Spotify: price
The simple version is that both services are $9.99, though there are some differences to discuss. Spotify has three tiers of service: a free version with ads, a $4.99 a month version with no ads that plays only on the computer, and the premium $9.99 subscription that's ad free on computers and smartphones.
Google Music All Access has no free version. However, if you sign up for a free trial before June 30, you'll get an early adopter price of $7.99.
Both services have a 30-day free trial to let users browse the selection and fall in love with the service.
Google Music vs Spotify: music selection
At the Google IO announcement on Wednesday representatives claimed it has "millions" of tracks already available on Google Music. It's been reported that Google has negotiated access to music from Sony, Universal and Warner.
Spotify is also well established in this area, offering over 20 million tracks.
Exploring the two services, the selection seems extremely comparable. We're personally big Spotify users, and searching Google Music, it had all of our most frequently streamed albums.
Ultimately, this will become one of, if not the most, important points of comparison for the two services. Remember when Apple broke ground by getting The Beatles on iTunes? Expect a lot of bragging about specific artists from both services.
Google Music vs Spotify: platforms
Google Music can be played from a browser on a PC or Mac, and on an Android based smartphone. Current iPhone users can only access it through the browser, due to lack of a dedicated app.
Spotify also works in browsers, and offers a dedicated app on PC, Mac, Windows Phone 8, Android and iOS 6.
It seems like Spotify has an early lead in this category. Like Amazon's Kindle service, it plays neutral third party in the mobile OS wars.
Google Music vs Spotify: offline play
Google Music allows subscribers to download - or "keep," as they put it – up to 20,000 songs for offline play. It's well done on the Play Music smartphone app, but rather convoluted on the computer. In fact, we haven't even been able to get it to work. We'll chalk that one up to day one bugs.
Spotify lets premium subscribers download tracks up to 3,333 across three registered devices.
Both options allow users to enjoy music without having to rely on network quality, or eat up their mobile data plans.
Google Music vs Spotify: social
Surprisingly, Google Music lacks social integration, at least to the degree that Spotify does it. It is possible to share an album to Google Plus, but you can't follow your friends and see what they're listening to.
Spotify works hand in hand with Facebook, allowing users to follow each other and see they're listening to. You can also have it broadcast your current tracks on Facebook.
Sign up to receive daily breaking news, reviews, opinion, analysis, deals and more from the world of tech.