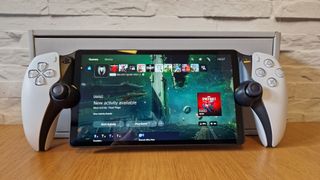 (Image credit: Future/Rob Dwiar)
Despite being in the following month of the device's release, we've seen very little in the way of official or proper PlayStation Portal restocks.
In the past day or so (Dec 7) we have seen a flutter of genuine restock action on both sides of the Atlantic, which is encouraging! However, naturally, they've also been quite fleeting such is the demand for the device - but it's the hope we cling to, and it means that it's worth checking the retailers below constantly for any lucky drops. Also, what with the PlayStation Pulse Explore being fully released this week, we're hoping that Sony sees the value in making the handheld gaming device available too
This really is giving us terrible flashbacks of 2020 and 2021 during the great PlayStation 5 stock shortages when the console first launched. But we're here to help still, and we're keeping an eye on the PlayStation Portal restock situation and updating our PS Portal stock tracker regularly to give you a robust chance of securing one in time for the holidays.
While we're always big advocates for persistence and patience, there have only been a flash or two of official stock. In the US, we've seen glimpses of stock appear and some folks in the Portal community have reported success with stock trackers or trying their luck at local Best Buy and Target stores. However, until something more concrete turns up, we recommend sticking with trusted retailers and the links on this page. You never know, you might just get lucky.
As a reminder of why we're pumped for the Portal, we think that, for many folks, it could be a revolutionary device, opening up extra gaming opportunities and time. It's proved to have a lasting impression on me already, and you can read more in our full PlayStation Portal review.
Where to buy PlayStation Portal - US
Where to buy PlayStation Portal - UK
So there you have it, those are the best places to try to look for a PlayStation Portal restocks right now. We'll do our best to keep the page updated to direct you to the best places to try as stock levels change. If you're still on the fence and need some more focused help working out whether the device is for you, then check out our guide to should you buy a PlayStation Portal, as well as our PlayStation Portal vs Backbone One comparison.
PlayStation Portal alternatives
If you're really keen to pick up a remote play device or a handheld games console like the PlayStation Portal, but need something soon, as a gift for the holidays, or want to bypass the limbo of there being no stock, then we've got the latest, lowest prices below on some fine alternatives.
Remember though that none of these alternatives will do exactly what the PlayStation Portal offers - streaming PS5 games over the internet from your PS5 to a dedicated handheld device. You can recreate this in principle with the BackBone One controller and your mobile phone, but it's worth reiterating that the below aren't like-for-like replacements.
From the Nintendo Switch Lite to the Backbone One controller, and more, there are some great handheld devices going right now for you to consider instead (and alongside) the PlayStation Portal.