PlayStation Portal vs Backbone One - which should you buy?
Here's how the PlayStation Portal and Backbone One stack up, with advice on which device would be best for you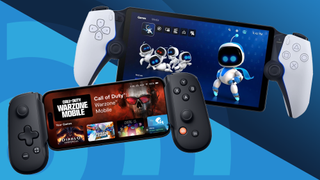 (Image credit: Sony, Backbone, Future)
Review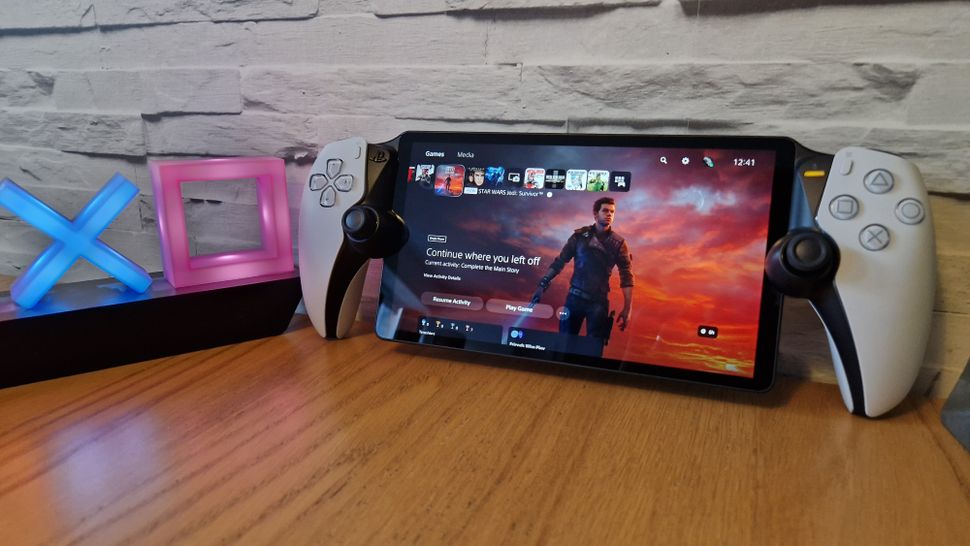 If you're looking for our full hands-on breakdown of the streaming handheld, then check out our thorough PlayStation Portal review.
If you're interested in portable PlayStation gaming, then there's a strong chance that you are weighing up which to choose between the PlayStation Portal remote player and the Backbone One mobile controller.
Released on November 15, 2023, the PlayStation Portal is a PlayStation 5 accessory that allows you to stream your existing library of games from your home console right into your hands. With an 8-inch LCD screen flanked by two halves of a DualSense controller, it has everything that you need to stream your games right out of the box - provided, of course, that you already own a PS5 and have a sufficiently strong and stable internet connection. The Backbone One, on the other hand, is a smaller controller of a different design entirely that slots directly into your mobile phone and, therefore, needs a compatible phone to use.
While the two devices might initially seem quite different, they're both potential solutions if you want to enjoy console gaming either out and about or in places other than your living room at home. Although the PlayStation Portal depends entirely on game streaming, the Backbone One is compatible with the official PS Remote Play app, allowing you to stream games from your PlayStation console, and can also play mobile games natively.
They're both tempting options, but which should you choose? Should you buy a Playstation Portal, or pick a mobile phone solution? Your mileage with either is likely to depend on a few key factors, such as whether the Backbone is compatible with your specific phone, which controller layout you prefer, or what your specific use case is so we've created this handy guide to help you pick the best product for your individual circumstances, with a breakdown of their key features and plenty of expert buying advice.
PlayStation Portal vs Backbone One - Price
The Backbone One costs $99.99 / £99.99 / AU$179.99. It can be purchased directly from the Backbone website or other US retailers like Amazon and Best Buy. It can be found in the UK on the Backbone website or at Amazon and Argos.
Two color options are available: the original black model or the more recent white PlayStation Edition. Both versions are the same price, but it is important to note that only the PlayStation Edition is compatible with the PS Remote Play on Android (iOS users don't have to worry, however, as both versions are fully compatible there). The Backbone One also frequently receives discounts in major seasonal sale periods like Black Friday or Amazon Prime Day, so consider waiting for an offer if you want the very best deal.
The PlayStation Portal, on the other hand, costs $199.99 / £199.99 at PlayStation Direct and a handful of third-party retailers. You can find out where to buy a PlayStation Portal in our handy guide which is kept up-to-date with details on the latest stock.
Although wider availability and a lower price tag might seem like a clear victory for the Backbone One, it is worth bearing in mind that it requires a compatible phone to use. Although there are both USB-C and Lightning versions to ensure compatibility with a fair few devices, there's still a chance that it might not fit your specific model. Considering the cost of many of the best mobile phones, picking up a BackBone One alongside a new phone in order to use it is likely to be far more expensive than just buying the all-in-one PlayStation Portal instead.
PlayStation Portal vs Backbone One - Design
When you compare the design of the PlayStation Portal and the Backbone One, there are several key differences. For starters, the Backbone One is much smaller, coming in at just 3.70 inches (9.39 cm) tall and 6.94 inches (17.62 cm) wide making it extremely easy to fit into your bag or even a pocket. However, this width will increase with a phone inserted, as the Backbone One uses an intuitive extending design to keep the size down while not in use. Although the size of your phone will determine the specific width, it has a maximum extended width of 10.14 inches (25.76 cm) which should give you a rough idea.
The PlayStation Portal, on the other hand, is a hefty 5.9 inches (15cm) tall and 12 inches (30.5cm) wide. Although this means that you will probably need to carry it around in a large bag, this increased size has some major advantages. For starters, it uses the same ergonomic grips that you would find on the DualSense, in contrast to the more basic design of the Backbone One, which might make it more comfortable for most.
It also allows for a spacious 1080p 8-inch LCD screen. Of course, as the Backbone One has no display of its own the screen's size and resolution will depend on your phone. Considering, however, that the massive iPhone 15 Pro Max has a comparatively small 6.69-inch screen, the PlayStation Portal should be your pick if you are solely concerned about screen size. While most high-end phones will boast a higher resolution than the PlayStation Portal, the limitations of streaming make it likely that you're going to be playing games at 1080p anyway.
Both devices have a 3.5mm headphone jack, allowing you to listen to your games through a wired gaming headset. Although you can use wireless Bluetooth headphones with the Backbone One, thanks to the Bluetooth capabilities of your phone, the PlayStation Portal is not launching with such support and will only be compatible wirelessly with Sony's own Pulse Explore earbuds and Pulse Elite Headset.
PlayStation Portal vs Backbone One - Buttons and thumbsticks
The Backbone One uses small, tactile buttons that feel pleasantly clicky to the touch which might make it better for certain genres like fighting games or platformers. On the other hand, the compact thumbsticks on the Backbone One might put it at a disadvantage when it comes to first-person shooters, which require more precise motion.
The PlayStation Portal uses the same full-size buttons and joysticks that you would find on a DualSense controller. This makes it feel immediately familiar to regular PS5 players and makes it a good all-round option for lots of different genres.
There is also the matter of the button layout and thumbstick placement as, while the PlayStation Portal uses the same symmetrical design as the DualSense, the Backbone One uses the asymmetrical layout that is more commonly found on Xbox controllers. Which you prefer largely boils down to personal preference but this distinction might put the PlayStation Portal in the lead from an accessibility standpoint.
PlayStation Portal vs Backbone One - Features
The PlayStation Portal has many of the same features that you would find in a standard DualSense controller, including the adaptive triggers and haptic feedback. The Backbone One, in contrast, has no adaptive triggers or even any basic vibration when using the PS Remote Play app. It goes without saying, but you should choose the PlayStation Portal if those features matter to you.
One factor that potentially puts the Backbone One back ahead, however, is the fact that it is also compatible with native mobile games. This means that you can use it to play the likes of Genshin Impact or Call of Duty: Mobile in addition to your streamed PlayStation library. Furthermore, it can be used with Xbox Game Pass game streaming, potentially opening up a whole additional library of games to play. It is, therefore, a much more versatile choice and comfortably the better option if you regularly play mobile games or Xbox Game Pass titles.
The reliance on a mobile phone does come with the downside that you cannot use your phone while gaming, though, which isn't the case with the PlayStation Portal. However, if you're not interested in mobile gaming or Xbox Game Pass, the PlayStation Portal wins out.
PlayStation Portal vs Backbone One - Which should you buy?
Given that there are strong pros and cons when it comes to either device, your decision of which to pick up should be determined by your specific needs or wants. Here's a breakdown of some of the reasons why you might consider each option:
Buy the Backbone if…
You're shopping on a budget
If you already own a compatible phone, the Backbone One is far cheaper than the PlayStation Portal. Pick it up if you want to stream games on a budget.
You are happy using smaller buttons
The inputs on the Backbone One are very pleasant to use but definitely on the smaller side. Only consider this option if you don't mind (or prefer) the more compact design.
You play mobile games or use Xbox Game Pass too
As the only option here that can also play mobile games and Xbox Game Pass titles, the Backbone One is the clear choice if you want to play the likes of Genshin Impact in addition to your PlayStation game streaming.
Buy the PlayStation Portal if…
You prefer (or need) a controller with a symmetrical layout
The PlayStation Portal uses a symmetrical controller layout, which may be better for some hands. It also has all of the same features as the regular DualSense controller.
You want a larger controller or screen
The increased size of the PlayStation Portal could make it considerably more comfortable to use for many, especially those with bigger hands. The larger screen also helps games look better than on a mobile phone.
You're looking for an easy way to play PS5 games
If you just want a simple way to access your PS5 library on the move, the PlayStation Portal is your best bet. While the Backbone One can also stream PS5 games, it takes a little more time to set up as it relies on an app.
Don't miss out on Black Friday gaming deals if you're shopping for PlayStation accessories. Consult our list of the best Black Friday PS5 deals for our top recommendations.
Get daily insight, inspiration and deals in your inbox
Get the hottest deals available in your inbox plus news, reviews, opinion, analysis and more from the TechRadar team.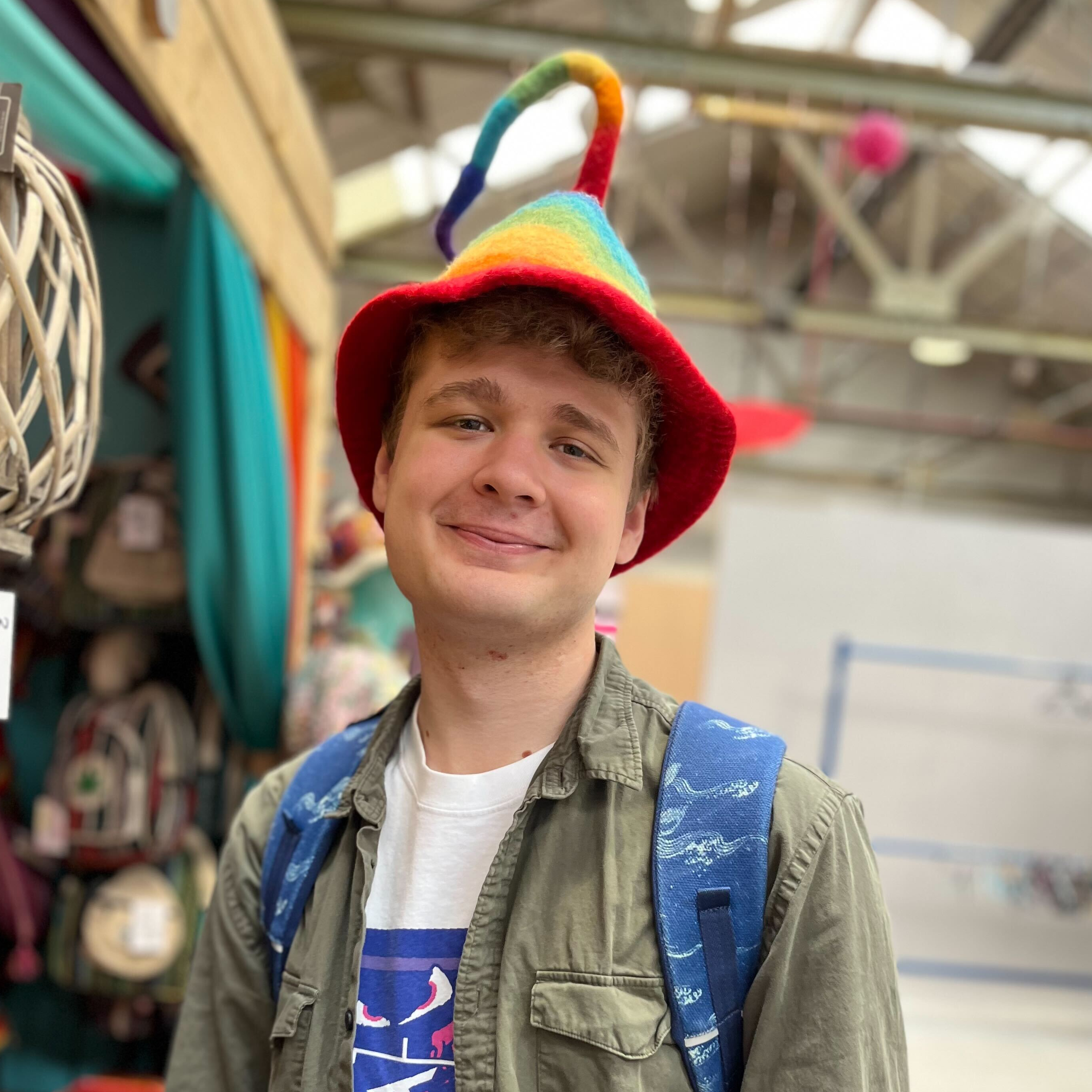 Dash is TechRadar Gaming's Hardware Writer. Before joining TechRadar, he was a print journalist writing articles for some of the UK's biggest gaming magazines including PLAY, Edge, PC Gamer, and SFX. Now, when he's not getting his greasy little mitts on the newest hardware or gaming gadget, he can be found feverishly devouring the latest Nintendo Switch otome.