Dark and Darker patch removes nude speed boost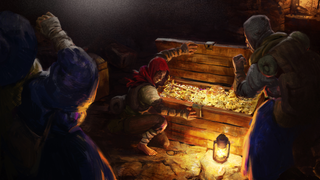 (Image credit: Ironmace Games)
The latest Dark and Darker update stops players from running around nude, effectively nerfing the speed boost it gives.
Dark and Darker entered early access on August 7 on an indie storefront called Chaf Games as opposed to Steam, and the medieval extraction looter game has been receiving frequent hotfixes throughout the week.
Ironmace Games shared the details about the latest hotfix on Twitter, which went over the patch notes in more detail. While the majority of the fixes focus on class updates to Wizard and Warlock spells, as well as a few Bard changes, the most notable patch buffs the Armor Rating - which essentially causes players to receive more damage when hit naked.
Those who have been playing Dark and Darker may be aware of an exploit of sorts that gives players a character speed boost if they remove their armor and clothing. The starter armor for certain classes also isn't great for protection, and players found that being nude with an additional speed boost was preferable.
Unfortunately, players will now need to put on some clothes as the patch has changed "the Armor Rating curve table", so players will "now take more damage while naked."
You can read the full patch notes below:
Dark and Darker Hotfix #3 patch notes
Ironshield's functionality has been improved and several glitches have been fixed
Fixed an issue where redstone could not be used when launched with the Chaf Games launcher
The Armor Rating curve table has been changed. Now takes more damage while naked
The Interaction Speed curve table has been changed. Clerics can now open chests and doors slightly faster
Casting time for all Wizard spells reduced by 0.25 seconds
Warlock's Curse of Pain and Power of Sacrifice cast time reduced by 0.25 seconds
Hoard, which was accessible without clearing the boss in Inferno, has been removed
Bard's Shriek of Weakness defense rating reduction rate has been slightly reduced
Bard's Chorale of Clarity spell recovery per tick slightly reduce
Prior to the release of early access, Ironmace Games was accused by the game studio Nexon of using stolen code to create Dark and Darker. The developer recently overcame legal disputes and delays to release the game.
Check out our list of the best PC games you can play in 2023.
Sign up for Black Friday email alerts!
Get the hottest deals available in your inbox plus news, reviews, opinion, analysis and more from the TechRadar team.