Overwatch 2 team admits "being review-bombed isn't a fun experience"
Blizzard believes the "dissatisfaction" is over "an ambitious project that we ultimately couldn't deliver"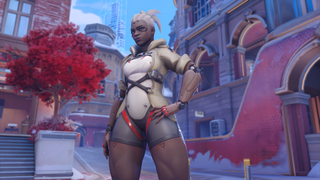 (Image credit: Activision Blizzard)
Blizzard has acknowledged player "dissatisfaction" after Overwatch 2 was review-bombed into oblivion when it released on Steam last month, swiftly becoming the game with the lowest-ever user score on Steam.
The aggregate user score has steadily declined since the game was released, and now sits at a miserly 0.94 out of 10, which is lower than games like Redfall, eFootball, and Battlefield 2042, all of which were met with similarly unfavorable player feedback on release.
"We launched on Steam last week, and, although being review-bombed isn't a fun experience, it's been great to see lots of new players jump into Overwatch 2 for the first time," said Blizzard's Aaron Keller, writing on the game's official website. "Our goal with Overwatch 2 has been to make the game more accessible than ever for more people than ever before."
Keller states that "many of the reviews on Steam mention the cancellation of the much larger component of PvE that was announced in 2019 as one of their primary reasons for dissatisfaction with the game" and says he "gets that".
"That announcement was about an ambitious project that we ultimately couldn't deliver," Keller added.
But as they can't "turn back the clock", what can the team do? Keller thinks the only solution is to "move forward".
"We can keep adding to and improving Overwatch 2. That is how we move forward. This means more maps, heroes, game modes, missions, stories, events, cool cosmetics, and features - an ever-expanding, evolving, and improving game. This is the future of Overwatch. One where we will continually create and innovate on what is making the game great now for the players who are playing now.
"Overwatch is such a unique game and world. When our heroes are all working together to complete an objective, there is really nothing else like it. Jump in--there's more to come!"
Did you see that John Cena had been moonlighting as a "mysterious hacker" and interrupting high-profile Overwatch 2 content creators? If you've been keeping an eye on all things Overwatch 2 lately, you may have noticed that a mysterious hooded figure has been infiltrating some of the community's biggest streamers, including Kyedae, Scump and Shroud.
"Overwatch 2: Invasions is officially out and playable now, and while the three missions are clearly well-built and a lot of fun, I can't help but think that something's missing," Elie wrote in their feature, Overwatch 2: Invasions is great fun, but where's the rest of it?
"Overwatch 2 Season 6 doesn't only bring a new omnic-themed Battle Pass, but it's also brought three new story missions. Each three follows a group of the roster who fight for Overwatch, assembling the team to face the new omnic crisis facing the world."
If Overwatch 2 isn't what you're looking for, then check out these best shooters on PC and the best FPS games.
Sign up for Black Friday email alerts!
Get the hottest deals available in your inbox plus news, reviews, opinion, analysis and more from the TechRadar team.