Advertisement Feature
Get your small business server up and running with the right tools
The essential elements of data security and recovery for small business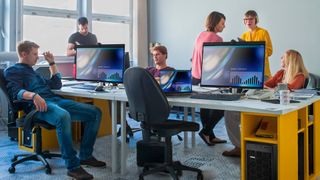 (Image credit: Dell Technologies)
For every small business, the importance of securing data is paramount. However, as small businesses expand their digital operations, they're increasingly exposed to data breaches, data loss and cyberattacks.
Loss of critical information – whether through accident or theft – can cripple a business overnight. To address the threats, robust cybersecurity, data protection and backup measures are vital to safeguard business information and systems, ensure business continuity and maintain customer trust.
A comprehensive approach is needed and Dell Technologies offers a suite of professional services and technology to protect Australian businesses.
Dell Technologies delivers data security for small business
Evolving cybersecurity threats have put a greater focus on data security and the risks are not just contained to enterprises. Data protection needs to be an essential part of a risk management strategy for small businesses.
Responding to the changing threat landscape and protecting sensitive information requires an experienced, trusted partner like Dell that can provide modern security solutions.
Dell Trusted Devices is the foundation of data security, offering in-built protection of devices with security software and services such as protection for login credentials and features like SafeID.
SafeID is a Dell-exclusive dedicated security chip that isolates and processes advanced authentication information to protect multi-factor authentication.
Trusted Platform Module (TPM) is a feature that raises the security settings. Using a specialised security chip in Dell commercial PCs, it stores platform certificates or encryption keys for the TPM.
Disaster recovery: How to protect against data loss with Dell Technologies
In the case of an attack or breach, if disaster strikes, small businesses need to maintain business continuity, while avoiding loss of revenue and ensuring ongoing productivity. For too long, however, small businesses have faced the challenge of achieving cost-effective disaster recovery and avoiding spending vast sums of money on hardware and software solutions with little ROI to show for it. Small businesses have had few options for reducing storage and hardware costs or minimising bandwidth for backup windows.
Dell Technologies offers small businesses simple, secure and economical disaster recovery solutions that support on-premises and cloud options along with orchestration and automation of disaster recovery testing, failover and failback. Businesses can safeguard production environments without the expense and management of replicating workloads to a secondary storage site.
Dell Technologies is a global leader in data protection technology, with solutions to suit the needs of small businesses across the board.
Dell Cloud Disaster Recovery solutions enable businesses to orchestrate and automate disaster recovery testing, recovery failover and failback to and from the cloud if disaster strikes.
Dell PowerProtect Cyber Recovery offers protection against cyberattacks with automated end-to-end workflows to protect critical data, identify suspicious activity and perform recovery after an attack.
Software, hardware and procedures enable small businesses to quickly recover from an attack, and as a complement to disaster recovery strategies, Dell PowerProtect Cyber Recovery offers vault protections to isolate and protect critical data from potential malicious insider attacks.
PowerProtect Cyber Recovery also provides scheduled security analytics with AI-powered adaptive analytics framework to stay ahead of evolving threats. Businesses will also benefit from recovery and remediation tools that bring critical business systems back online as part of existing disaster recovery procedures.
Damage assessments and forensics recover systems or remediate and remove offending malware. There's also the option to utilise Dell Technologies planning and design services that help determine which business-critical systems to protect with Cyber Recovery capabilities.
Dell Technologies business resiliency services: Non-stop protection for non-stop digital businesses
Dell Technologies wants to help small businesses achieve resiliency for your non-stop digital business. This means protecting data for application-centric operating models, reducing planned and unplanned downtime, ensuring application continuity and recovering from a cyber attack.
A robust resiliency strategy is a must in order to minimise business risks and costly outages. Dell Technologies offers industry best practices to optimise small business resiliency strategies for your unique needs.
To achieve a highly resilient business, Dell Technologies focuses on three critical components to help achieve a highly resilient business:
Enable recovery from a destructive cyber attack
Every small business needs a well-designed strategy to respond quickly if an incident such as a breach, outage or attack occurs. Dell Technologies offers a holistic approach needs that includes a recovery vault, processes focused on recovery and support to continually test and improve processes.
Optimise data protection infrastructure and operations
Sensitive business information needs to be protected across the operating environments. Dell Technologies specialises in strategic design insights, ability to recover critical applications and expertise to design and implement a robust solution.
Ensure application availability amidst an outage
A small business needs a recovery plan to respond to planned and unplanned downtime. Dell solutions enable grouping applications for recovery based on business priority and supports operations across on-premises and cloud-based workloads.
Let Dell Technologies be your partner to protect your small business
Technology plays a critical role in your business, and selecting the right security, backup and recovery is vital to protect sensitive, valuable business information.
Dell Technologies servers and PCs are designed to be cyber-resilient and come with built-in security programs that can be easily automated and work hand-in-glove with Dell Technologies resiliency services to provide a full suite of small business data protection.
This article is part of a series on servers for small Australian businesses, brought to you in partnership with Dell Australia. Find out more about whether it's time for your business to adopt a server, plus Dell's range of systems.
Suffering small business growing pains? A dedicated server could be the answer
What's the best way to safely share data inside your small business?
Get your small business server up and running with the right tools
Need a server for your small business, but don't know where to start?
Get daily insight, inspiration and deals in your inbox
Get the hottest deals available in your inbox plus news, reviews, opinion, analysis and more from the TechRadar team.