Advertisement Feature
Suffering small business growing pains? A dedicated server could be the answer
A server can resolve many small business IT problems – here's how to tell if you need one.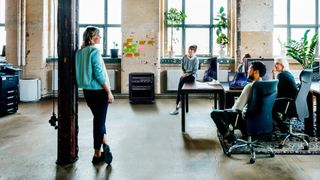 (Image credit: Getty)
Small businesses today can find themselves with complex technology needs using multiple computers and business applications, hosting a website and email, ecommerce services and storing and securing data.
Managing these critical IT functions efficiently can become a complex, time consuming task, something small businesses can find challenging without the resources of a large enterprise.
Enter the server: the small business solution to streamline business applications and processes, strengthen security and help drive productivity.
How a server can resolve many small business IT challenges
If the business needs more than two computers to share information or internet access, a server suited to small business will suit these purposes. A server is a computer that works as a central hub, connecting other devices to access shared data, applications and network resources.
Servers can help address many of the common IT challenges small businesses face.
Streamlined network management and access control
For a small business, a server enables sharing and access to stored information and applications anytime and anywhere. Being scalable and flexible, it enables businesses to adapt to changing market conditions, customer demand and network requirements with ease.
Efficient, reliable software and application management
A server enables centralised updates, allowing every device on the network to be updated at the same time. Without the resources of large IT teams, this saves a business time and money when handling simple management and maintenance tasks.
Centralised data storage and management
If data is the lifeblood of business success, then efficiently storing, processing and accessing that information is vital. Small businesses can improve the speed, efficiency and convenience of access to data by harnessing a server as the central information hub.
Data security and compliance
Cyber attacks are on the rise and no business can afford to be complacent about security and ensuring they're compliant with relevant regulations. A server provides secure, managed access to business information enabling data to be accessed as needed by designated staff.
Remote accessibility
Spurred on by the pandemic, the rise in hybrid working and the need for remote accessibility has continued and it's not something confined to large enterprises.
A server can be configured to support remote access for small businesses, to provide secure access to data and applications for all sorts of devices in different locations.
Budget constraints for IT staff and infrastructure
As the push for digital transformation continues, driven by changing customer needs and market demands, small businesses are faced with the challenge of developing their digital footprint. However, with limited budgets for IT staff and infrastructure, they must spend wisely. Investing in a business server enables new applications to be integrated, digital capabilities harnessed to ensure a seamless user experience for staff and customers in a cost-effective way.
Why you need a server in your small business
There's more than one reason a server will have a positive impact on the operations in a small business.
Here's a simple guide to help diagnose the challenges your business may be facing and how a server can improve operations.
Multiple computers and applications including email, websites and software needs to be managed along with data and other resources.

More than one computer is accessing the internet, printers and other office equipment and resources.

Important data and files need to be protected from unauthorised access, loss or corruption.

Secure access to files is required from anywhere, along with back up of files from several computers and capability to restore files if accidentally deleted.

Accounting programs and relationship management software is used to communicate with vendors and customers.

A central communication system is used to share information with customers, staff and suppliers.
Defining the business needs for a server
A small business server streamlines and improves access to applications and resources, helping to boost productivity, so employees and the business can function more efficiently.
The process should start by assessing the business needs today and projecting ahead to what may be needed at a future date. This will need to consider all aspect of the business technology footprint, including suite of applications, email and web hosting, number of computers to be networked, backup capacity and current and future data storage needs
The business growth plans need to be defined in the short- and medium-term to project the likely changing needs and anticipated capacity requirements across the IT infrastructure. It's then time to evaluate the current infrastructure and understand the limitations, challenges and needs not being met now and in the future.
The budget and investment costs will need to be identified to help guide decisions around what funds are available to expand the IT resources over a defined timeline.
Then it's a process of reviewing the options for small business servers to compare the features, capacity and cost and how they fit with the needs of the business.
---
This article is part of a series on servers for small Australian businesses, brought to you in partnership with Dell Australia. Find out more about whether it's time for your business to adopt a server, plus Dell's range of systems.
Suffering small business growing pains? A dedicated server could be the answer
What's the best way to safely share data inside your small business?
Get your small business server up and running with the right tools
Need a server for your small business, but don't know where to start?
Are you a pro? Subscribe to our newsletter
Sign up to the TechRadar Pro newsletter to get all the top news, opinion, features and guidance your business needs to succeed!