Advertisement Feature
Need a server for your small business, but don't know where to start?
Here's how to select and set up the right Dell Technologies Server for your specific needs.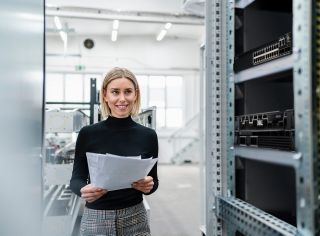 (Image credit: Getty)
Business growth, connectivity demands, security and flexibility – there are many reasons a small business will choose a server. As the server will form the backbone of the business' IT infrastructure, it's important to remember the server needs to meet the business needs of today and into the future.
Here are some things to consider when considering a Dell Technologies Server for your small business.
What to consider when choosing a business server
Small businesses have a large and growing list of technology requirements – networking computers, hosting email and websites, running business applications and managing and securing data. However, without the resources of a large enterprise, managing the IT functions effectively can be a complex, time consuming task.
A server acts as a central hub, connecting devices to access shared data, applications and network resources and handling processing and capacity demands. It will help small businesses to streamline business applications and processes, strengthen security and improve productivity.
There are several things to consider when deciding on which server to choose. Identifying the business needs around these key elements will help define the choice of server.
1. What applications need to be hosted?
Calculate the list of applications that will need to run from the server and number of users. Take into account future growth plans. This will help define the processing needs the server will need to meet.
2. What are the workload demands?
Define the type of small business, such as service, ecommerce or sales, and how it functions. Identifying the workload demands, such as peak times, will help ensure the server has the capacity to meet the business' requirements.
3. What capacity is needed?
The capacity will need to cover the operating system, applications, database, email and other services it will need to host. It will also need to allow for backups and future growth, whether that's six months, a year or even five years ahead.
4. What is the budget?
A server is a business investment in improving service delivery, business functions and future growth and needs to be viewed as a business enabler. How much has been allocated in the business budget for the server will naturally influence the choice of server along with the expected capacity and workload requirements. Whether the server can be offline for periods of time, complexity of tasks and resource requirements will all have an impact on the capacity and cost of the server.
5. What are the server location and maintenance needs?
If the server is going to be hosted on-site, there needs to be a suitable location with the space, temperature, security, noise and other factors taken into account. Power usage, staff access and any other additional support equipment will also need to be reviewed when making a decision about the type of server. There's also the question of who will be responsible for managing, updating and handling any critical or emergency issues that may arise.
6. Rack vs tower servers?
Servers come in different shapes and sizes – rack or tower – and the choice depends on the best fit for the business.
Tower servers tend to be recommended for small businesses, with limited dedicated space for IT infrastructure, and can be used to store and access files, establish user rules and permissions, host an intranet site and as an application server. They are built for stand-alone operations and are designed to be quiet for an office environment.
Rack servers are designed to be installed within a rack chassis that can house multiple servers on top of each other, which is a good option if there are plans to scale the business and consolidate IT infrastructure. Rack servers can be connected to external storage units as well as other servers, providing a highly scalable architecture.
How to set up a Dell Technologies Server for your business
Follow this step-by-step guide on how to set up a Dell Technologies Server for small business.
Step 1: Preparation
Like any major undertaking, preparation is key. This starts with creating an inventory of users, their IP addresses, computers and locations that will access the server.
Next check the hardware and software requirements of the server and upgrade the operating system of any computers so that they are compatible.
Step 2: Server installation
Connect the server to the network and start the configuration process. Dell Technologies Servers come preconfigured with Microsoft Windows Server Operating System that will be suitable for small business needs in terms of number of users and devices.
Step 3: Server configuration
The server will need to be configured to allow remote access, backups and any sharing permissions. It will also need to be enabled to authenticate and connect the other computers in the network.
Step 4: Finalise setup
To finalise the server setup, add user accounts and assign privileges for these accounts. Add any printers and upload applications and other data that will be needed for the business.
---
This article is part of a series on servers for small Australian businesses, brought to you in partnership with Dell Australia. Find out more about whether it's time for your business to adopt a server, plus Dell's range of systems.
Suffering small business growing pains? A dedicated server could be the answer
What's the best way to safely share data inside your small business?
Get your small business server up and running with the right tools
Need a server for your small business, but don't know where to start?
Are you a pro? Subscribe to our newsletter
Sign up to the TechRadar Pro newsletter to get all the top news, opinion, features and guidance your business needs to succeed!