The Google Doodle turns 25 – here are the best ones ever, ranked
The Google Doodle is 25 years old, but which are the best ones?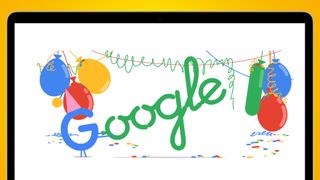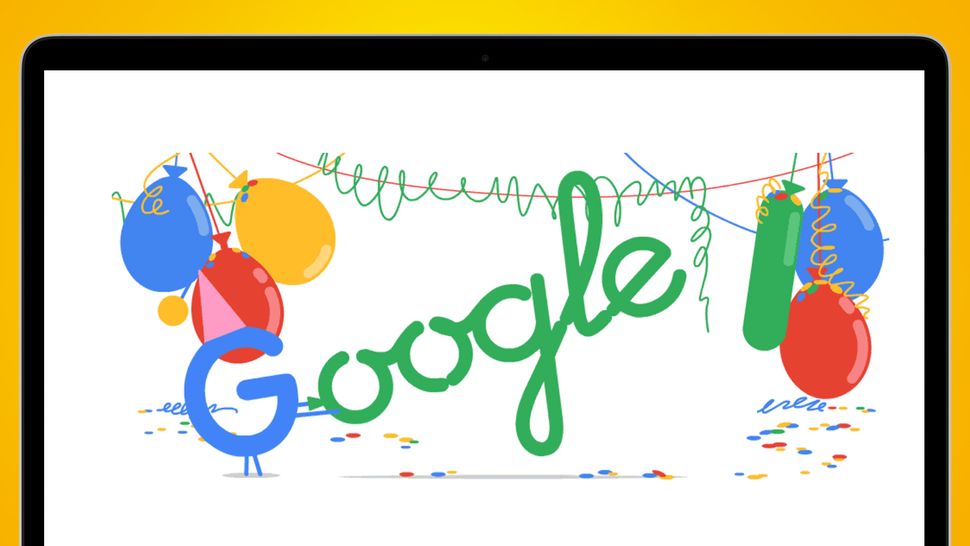 (Image credit: Google)
Most tech companies change their logo once or twice in a lifetime. But for Google, rebranding is a weekly exercise: since August 30, 1998 (exactly 25 years ago today) the search giant has regularly replaced its official homepage emblem with artistic Doodles that recognize historical figures, events and inventions.
The one that started it all: Burning Man Festival (30 August 1998)
Burning Man is where it all began: with Google co-founders Larry Page and Sergey Brin taking a few days off to attend the Nevada desert festival, they dreamt up a creative way to share their holiday status with staff. Inspired by the humanoid sculpture that stands tall at the festival venue, they inserted a sketchy stick-figure behind the second letter "o" of the Google logo. Its position was a humorous riff on corporate "out of office" notifications, a reference that was relevant to its audience: the site didn't go public until a month later, so Google employees were the first Doodle's only viewers.
From the Olympics to the London Underground, Bob Ross to Beethoven, the subjects of Google's Doodles have been many and varied. Some honor famous names and public holidays, while others use the platform to shine a spotlight on characters and stories that might otherwise escape our attention.
And it's not just the subjects that deserve attention. Interactive puzzles, animated scenes and impressionist illustrations: the best Google Doodles showcase the creative talent and inventive originality of their designers.
Over the last 25 years, Google has redesigned its logo thousands of times. What started as playful way for founders Larry Page and Sergey Brin to share their out-of-office message with staff (see 'Burning Man', right) has grown into a company tradition that now employs a team of illustrators – or doodlers, in Google lingo – to produce alternative logos that salute anniversaries of innovation.
You'll find each and every version available to view in the Doodles Archive, together with the story behind the interpretation and the countries where it was seen. Many entries in the Archive also include the doodles behind the Doodle – the early ideas and sketches that led to the end result.
Don't have time to delve? To celebrate a quarter of a century since the first Google Doodle hit our computer screens, we've picked out 12 of our all-time favorites and explained their meaning. And yes, we are a little biased towards tech and pop culture, naturally...
---
12. 50th Anniversary of the LEGO Brick (28 January 2008)
Nothing says creativity quite like a Lego brick. Although Larry and Sergey used Duplo clone blocks to create the first Google server enclosure while studying at Stanford, anecdotal evidence suggests Google's corporate colors were inspired by the Danish building system.
True or otherwise, Google marked the 50th anniversary of the humble Lego brick with a well-constructed Doodle in 2008. Sticking with its traditional hues of blue, red, yellow and green, Google replaced the letters in its logo with brick-built equivalents, rendered in 3D and positioned at different angles to emphasize the effect – complete with an dungaree-clad minifigure teetering atop the middle "g".
11. Celebrating 50 years of Kids Coding (4 December 2017)
Google's only as good as its coders, so it makes sense that the software company would encourage youngsters to have a go at programming. This collaboration between Google's Doodle and Blockly teams, together with researchers from MIT, did exactly that.
Unveiled during Computer Science Education Week in 2017, the Coding for Carrots Doodle helped kids to engage with the basics of coding, as they guided a rabbit around isometric levels on the hunt for root vegetables.
With Scratch-based coding blocks and natty graphics, it was an apt way to celebrate 50 years since the introduction of children's programming languages.
10. Jim Henson's 75th Birthday (24 September 2011)
From The Muppet Show to Sesame Street, Jim Henson entertained millions with his mastery of puppetry and animatronics. Each of his characters started life as a doodle, before evolving into the larger-than-life creatures seen on screens the world over. It's apt, then, that Google recognized his 75th birthday with a Doodle that let us take control of digital puppets.
Modelled by Jim Henson's Creature Shop, each of the five original characters epitomized the quirky creativity of the Muppets inventor. Click the hand icon beneath a puppet and it would start following your mouse with its gaze, while clicking again would make its mouth move. And just like Henson's imagination, the puppets kept things surprising with animation Easter eggs – including one puppet eating another.
9. 30th Anniversary of the World Wide Web (12 March 2019)
Google wouldn't mean much without the World Wide Web. Created by Sir Tim Berners-Lee to help colleagues at the CERN laboratory share information, the World Wide Web – and its HTML and HTTP building blocks, also developed by Berners-Lee – is the foundation of all our browsing today. It's fitting, then, that the 30th anniversary of its invention was commemorated with this Doodle.
Depicting a pixellated take on the Google logo, the second "o" is replaced by a desktop PC, connected to a data outlet at the center of the first. The animated graphic shows a low-res image of the earth loading and then revolving – a nod to how the Web connected the world.
8. Rubik's Cube (19 May 2014)
Few puzzle toys are as instantly recognizable as the Rubik's cube. Challenging players for decades, its premise is a deceptively straightforward one: match up all the colors on each side by rotating its segments around three axes. Easy to pick up but tricky to master, it remains an enduring favorite for tactile solving.
In celebration of its 40th anniversary, Google released a Rubik's Cube Doodle in 2014. The placeholder animation cleverly references the colors of the Google logo across two sides of the Cube, while the full puzzle let users try and solve a virtual version using their mouse or keyboard.
Sadly, the interactive Doodle is no longer available online, but it remains one of our favorites for its simple brilliance – much like the original.
7. Mundaneum co-founder Paul Otlet's 147th Birthday (23 August 2015)
Image 1 of 2
Visionary ideas looked different at the turn of the 20th century. Working together with Henri La Fontaine, Belgian lawyer Paul Otlet developed a system of some 12 million searchable index cards – a kind of analog precursor to Google. In a display of remarkable (and prescient) forward thinking, pioneering Paul had a vision for this Mundaneum as a universal repository for information, freely accessible to all.
Google revealed this Doodle on the 147th anniversary of his birth. Cleverly spelling Google using the drawers of the Mundaneum, it's designed as a tribute to Otlet's ideas and how much they continue to influence Google.
6. Alan Turing's 100th Birthday (23 June 2012)
Widely regarded as the founder of computer science, Alan Turing's far-sighted ideas still shape technology today. His codebreaking work during World War II both shortened the conflict and pioneered early computing, while his test for artificial intelligence remains as salient as ever.
To commemorate what would have been his 100th birthday, Google developed a Doodle which brought to life a Turing Machine – a logical model developed by Turing for the computation of numbers. No mean feat, according to the team behind it: due to its theoretical nature, they "had to walk a fine line between technical accuracy and accessibility".
The end result is a series of twelve interactive puzzles which reveal the Google logo when solved. A clever tribute to a very clever man.
5. 44th Anniversary of the Birth of Hip Hop (11 August 2017)
On one look alone, this Hip Hop-themed Doodle does enough to earn a spot in this list: its logo graphic is the work of celebrated graffiti artist Cey Adams. But the records replacing the "o" letters are your clue that something more is in store: hit the pulsating play button and you'll be taken on a journey through hip hop history, narrated by Fab 5 Freddy – a legend of the genre – plus a tutorial on mixing.
An animated intro tells the story of how DJ Kool Herc sent crowds into a frenzy at a party in the Bronx, playing only the instrumental sections of songs. Then the Doodle turns it over to you: after a short tutorial, you're let loose on a virtual set of decks. Goals encourage you to scratch your way through a basket stacked with Seventies and Eighties records, many of which can be heard as samples in some of hip hop's greatest hits.
4. Gerald "Jerry" Lawson's 82nd Birthday (1 December 2022)
Without Gerald Lawson, a generation of gamers would never have blown dust out of plastic cartridges. In 1976, the electronic engineer headed up the team that created the first cartridge-based video game system, setting the stage for later living room legends like the Atari 2600 and NES.
Acknowledging his pivotal contribution to modern video gaming, Google produced an interactive Doodle for what would have been Jerry's 82nd birthday. Featuring several playable levels created by guest artists and game designers, it tells the story of the Brooklyn-born innovator, before allowing you to create and edit levels of your own.
3. Doctor Who's 50th Anniversary (23 November 2013)
Like the TARDIS, this Doodle's bigger on the inside. Requested by a Doctor Who fan at Google, it's an adventure in time and space befitting TV's longest-running sci-fi show.
Released to mark 50 years of Time Lords appearing on our screens, the Doctor Who Doodle features the first eleven Doctors, each wielding a sonic screwdriver and clad in trademark attire – whether bow tie or Panama hat.
Select your favorite generation, then click across the galaxy as you navigate six mini games to recover stolen letters, steering clear of the deadly Daleks. It's so entertaining that you might find you've travelled in time past a deadline.
2. Robert Moog's 78th Birthday (23 May 2012)
Robert Moog's modular synthesizer bridged the gap between analog and digital. Built in the 1960s, its rich tones shaped the sound of music for decades after, featuring on records by everyone from The Beatles to the Beastie Boys.
According to the Doodle description, "Bob Moog is…a hero to many of us". So in honor of his 78th birthday, Google replaced its logo with a fully functioning digital replica of the innovative synth, which could be operated by mouse or keyboard.
Like the real thing, its array of knobs and dials made it possible to create all sorts of sonic flavors. What's more, Google also included a virtual four-track tape recorder, allowing you to capture your electronic jams and share them via – what else? – Google Plus.
1. 30th Anniversary of PAC-MAN (21 May 2010)
Pac-Man's cultural impact can't really be overstated. An icon of Eighties 8-bit gaming, the arcade classic has spawned sequels, merch and even movie cameos. With simple mechanics that made gaming more accessible – not to mention the trademark "waka waka" that rang out as Pac-Man munched his way away from the ghosts – it remains addictively fun to play today.
Created for the game's 30th birthday, Google's Pac-Man emulator became one of the most memorable Doodles ever – and in our opinion, the best one so far. Staying true to the original's graphics and sounds, users click to insert a coin, before navigating with the arrow keys around a maze featuring Google's moniker.
Cue hours spent procrastinating instead of searching – especially when you discover the Google Easter egg: click again to insert a second coin and Ms Pac-Man joins the fray, controlled by the WASD keys. Back yourself to set a high-score? Try it in the Doodles Archive.
Sign up to receive daily breaking news, reviews, opinion, analysis, deals and more from the world of tech.
Formerly News Editor at Stuff, Chris has rarely been able to resist the bite of the travel bug – so he now writes about tech from the road, in whichever Wi-Fi-equipped café he can find. Fond of coffee kit, classic cars and sustainable gear, if there's one thing Chris loves more than scribbling, shooting and sharing his way around the world, it's alliterative triplets.