Best PowerPoint to PDF converters (2023)
Best
Contributions from
last updated
Use the best PowerPoint to PDF converters to turn PPT files into PDF documents
VERDICT
REASONS TO BUY
REASONS TO AVOID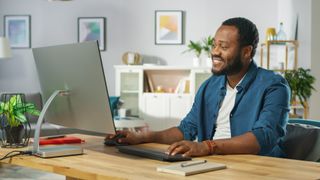 (Image credit: Gorodenkoff / Shutterstock)
The PowerPoint to PDF converters lets you convert PPT into PDF - so documents always keep their formatting when saving or sharing documents.
PDFs are an incredibly useful filetype that retains the same layout regardless of which device it's viewed on. That makes it ideal when you need to archive or collaborate on documents without sharing read-only Microsoft PowerPoint files, storing active files, or when sharing with organizations that use Microsoft Office alternatives or different presentation software.
Trying to find out how to convert PowerPoint to PDF? Most of the best PDF editors and best free PDF editors offer document conversions with a focus around MS Office filetypes and images.
To help you convert PPT to PDF, we've tested the best PowerPoint to PDF converters. As part of our review process, we've explored each tool's user interface and experience, batch conversion performance, platform compatibility, performance, and pricing.
The best PowerPoint to PDF converters of 2023
Best PowerPoint to PDF converter overall
Reasons to buy
+
Full of advanced features
+
Professional, polished interface
+
Microsoft 365 integration
Reasons to avoid
-
Subscriptions may not offer value to casual users
-
Interface may be overwhelming for newcomers
Adobe Acrobat is the Office standard when it comes to PDF software. Little surprise, then, that the creators of the classic file format are our top pick for best PowerPoint to PDF converter.
Acrobat allows for the creation, conversion, compression, merging, and editing of PDFs - and just about everything else you'd need from a document management suite like this.
Converting PPT to PDF is straightforward and fast. And there's plenty of support for other Office software conversions, too.
True, we felt in our review that the interface could be overwhelming to some newcomers. However, once you're familiar with the product, navigation is effortless.
After testing out the software, we awarded it a rare 5 stars, saying, "It brings a lot of features to the table, and even though this might be a bit too much for some beginners, it's still great for those who know how to take advantage of what Acrobat DC has to offer."
Like other Adobe products, the PDF converter is only available via a subscription plan. If you're a casual user, this may not offer much value. Power-users, on the other hand, will likely get a lot out of the package, which unlocks OCR software and other useful tools.
Read our full Adobe Acrobat review
Best PowerPoint to PDF converter online
Reasons to buy
+
Intuitive PDF editing tools
+
Online and desktop versions
+
Support for many document formats
+
Speedy conversions
Reasons to avoid
-
Free trial has intrusive ads
-
Features like eSignatures cost extra
Soda PDF is an intuitive PPT to PDF converter and editor that you can use to transform PowerPoint documents to PDFs. There's also extensive support for other file types - with an emphasis on Office software. That, alone, makes Soda PDF one of the best PDF converters overall.
When we tested the product, we found the design simple, and the toolkit loaded with document management features.
The service is free, with serious upload limitations. More advanced tools locked behind three different subscription tiers, depending on your use-case. Available in your browser, on Windows and Mac desktops - ideal for offline PPT to PDF conversions - and on iOS, Soda PDF offers serious multi-platform utility.
The software has support for PowerPoint conversion, merging multiple Microsoft Office files into a single PDF, and batch creation of PDFs from multiple PowerPoint files. You can even choose particular page ranges to convert.
An excellent all-in-one PDF conversion and editing tool, Soda PDF is a superb choice if you need to batch convert PPT to PDF.
Read our full Soda PDF review
Best free PowerPoint to PDF converter
Reasons to buy
+
Free to use with flexible payment plans
+
Delightfully simple to use
+
Comprehensive toolkit for editing and converting PDFs
Reasons to avoid
-
No Mac app
-
Windows app for lifetime license holders only
-
Free users limited to one task an hour
PDF Candy is one of our top choices for best free PDF editor - and one of the reasons for that is its broad set of conversion tools.
The online PDF converter houses 47 different tools for editing, manipulating, splitting, merging, and protecting your documents. And part of that set is made up with 19 'convert to PDF' tools and 10 'convert from PDF' tools. So, if you're looking to change image files and Office documents into PDF (or vice versa), you should have no trouble finding what you need here.
Using PDF Candy is delightfully simple. It's easy to find what you need and what to do when you get there. Most PDf conversions can even be performed in a single click. Click on the PowerPoint to PDF button (these can all be favorited for quicker access). You're instructed to upload the .PPT doc from your desktop or via Google Drive or Dropbox. Conversion occurs automatically, with the option to download the file or upload it to your cloud storage. It really is that simple. Multiple files can also be converted in one go.
When we checked out the online PPT to PDF converter, we loved how simplified and streamlined the experience was. However, we did note a major issue with the free version.
While free users can use absolutely any tool, PDF Candy imposes a 'one task per hour' rule. To unlock this restriction, users must upgrade to the monthly/annual subscription plan or buy a lifetime license for a one-off fee.
Your use-case will determine whether it's right for you. But there's no denying the easy-to-use platform is one of the best PowerPoint to PDF converters out there.
Read our full PDF Candy review
Best PowerPoint to PDF converter for speed
Reasons to buy
+
Video tutorials
+
Range of import settings
+
Spell check and re-flow editing
+
Edit your PDFs after conversion
Reasons to avoid
-
Requires a license for each device
Foxit PDF Editor one of the best PowerPoint to PDF converters available today, with plenty of options for granular control over your files.
With Foxit PDF Editor, you can create templates for your conversions. Then, add details such as user permissions, PDFA standards, watermarks, and compression rate.
We found templates greatly sped up batch PowerPoint to PDF conversions. It also means you can expect a decrease in how much post-conversion editing you need to do. Features include a range of import settings, such as headers and footers, as well as spelling and flow checks.
There is an online version called Foxit PDF Editor Online, but this is a much more basic tool.
If you're new to working with PDF files, Foxit is backed up by a solid support network and a series of helpful video tutorials.
Overall, we recommend Foxit PDF Editor for PPT to PDF conversions if you enjoy having fine-grained control over the documents you generate.
Read our full Foxit PDF Editor review
Best PowerPoint to PDF converter for beginners
Reasons to buy
+
Converts files quickly
+
Supports many file formats
+
Excellent PDF editing tools
+
Integrated support for cloud sharing services
Reasons to avoid
-
License doesn't include software updates
Wondershare PDFelement is a PDF editor for Windows and Mac OS with a robust set of conversion tools. You can use it to convert between PowerPoint and PDF, and it also supports a lengthy list of other Microsoft Office document formats and image files.
A license is available by way of an annual subscription or a one-time fee, but PDFelement is one of the more expensive converters featured here. Thankfully, they offer a free trial so you can decide if it's the best PowerPoint to PDF converter for you before investing in the software.
We found the editing tools to be some of the most intuitive and powerful available, so if you want to change your documents extensively after converting them from PowerPoint to PDF, then Wondershare PDFelement is just the ticket.
Read our full PDFelement review
Best PPT to PDF converter for batch processing
Reasons to buy
+
Fast and accurate conversions from PPT to PDF
+
Transparent, simple pricing plan
+
14-day trial doesn't require payment details
+
Support for PDF forms
Reasons to avoid
-
No macOS app
-
Minimal product documentation
Nitro PDF Pro is a desktop tool that's one of the best PowerPoint to PDF converters.
In fact, around 20 file formats, including Corel Wordperfect (WPD), HTML, and Windows Metafile (WMF), can be converted to PDF. Nitro PDF Pro also has custom options that you can set when importing to PDF, such as the page size of the generated PDF and how compressed any images should be.
In our review, we called it "a good PDF editing software package that allows you to make changes to documents, annotate them, and perform numerous alterations on them." We were also impressed with the OCR tools, PDF conversions, and just how easy it was to use.
Nitro PDF Pro has a 14-day trial. The full version of the software is priced per user, with special pricing for 20 users and above.
The PDF editor lacks the more advanced editing tools of Soda PDF, and there's no online version, but it's a great choice if you're principally looking for a batch PowerPoint to PDF converter that gives you a great deal of control over the conversion process.
Read our full Nitro PDF review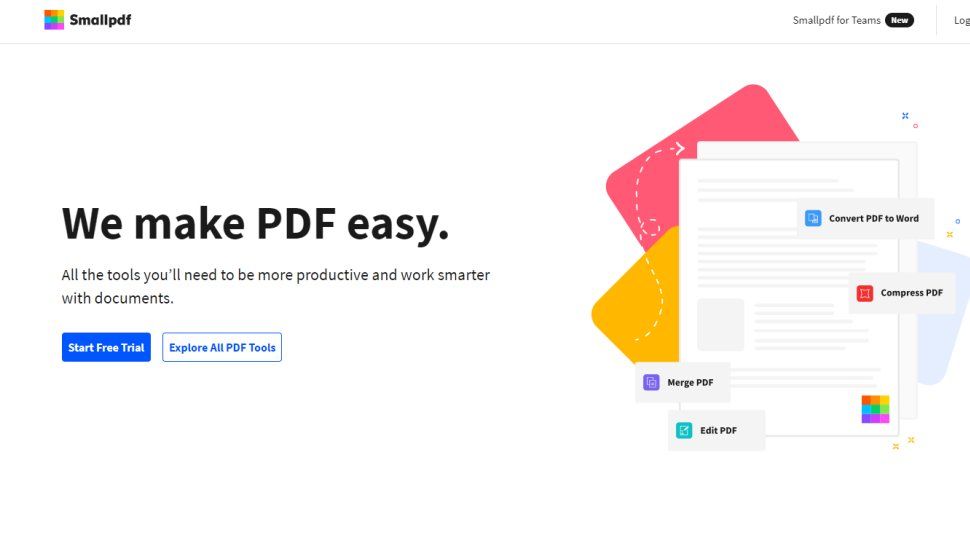 Best PowerPoint to PDF converter for beginners
Reasons to buy
+
256-bit file encryption
+
Free DOC-PDF conversions online
+
14-day trial of desktop version available
+
Good after-sales support
Reasons to avoid
-
Requires Pro account for many features
-
Post-conversion PDF editing tools are basic
SmallPDF is an online-focused PowerPoint to PDF converter, and like most of its competition, it also supports conversion from Word, Excel, and JPG formats. It's free to use for single file conversions, but you'll need a Pro plan to perform batch conversions and use the tool offline. You can check this out using the 14-day free trial, though you need to hand over your payment details first.
While SmallPDF is a cloud-based solution, they offer a range of apps for your devices with extensions for services including G Suite and Dropbox.
SmallPDF is simpler than our other choices and is more of a PDF conversion toolkit than a full-fledged PDF editing tool. Besides converting to and from the PDF format, you can split, compress, password protect, eSign, and merge PDFs.
If you're looking for an online PowerPoint to PDF conversion tool that's fast and simple to use, SmallPDF fits the bill.
Read our full SmallPDF review
Best PowerPoint to PDF converter for online collaboration
Reasons to buy
+
Available on the web
+
Responsive customer support
+
Link sharing for collaboration
+
Password-protected documents
Reasons to avoid
-
Steep learning curve for advanced features
Unlike the other PDF editors on this list, pdfFiller from airSlate is an end-to-end document management software suite that provides users with the feature-rich tools needed to transform static PDF files into interactive documents and templates. Since this software is available through a web interface, you can import, convert, fill out, edit and export PDFs right from your favorite browser. iOS and Android pdfFiller apps are also available but they have limited functionality compared to the web interface.
If you're struggling to create a document on your own, pdfFiller has a vast online library of 25m documents for taxes, legal purposes, business and more that can be downloaded and customized to your liking. At the same time, you can also build fillable PDF forms that connect to a payment gateway for your small business. Once your PDF file is edited, you can securely share it with your teammates in just a few clicks. Besides sharing PDFs by email, pdfFiller also allows you to send them via text, by fax and through the mail with the option to have them notarized online right from your account.
Just like with Adobe Acrobat DC, pdfFiller is available via two recurring subscription plans. While the Basic plan offers PDF editing and cloud storage for your documents and is ideal for individuals, the Premium plan lets you create reusable templates, collect payments with PDF invoices and supports electronic signature workflows.
Read the full pdfFiller review
Best PowerPoint to PDF converters: FAQs
How to choose the best PowerPoint to PDF converter for you
Why you can trust TechRadar We spend hours testing every product or service we review, so you can be sure you're buying the best. Find out more about how we test.
The best PowerPoint to PDF reader for you depends on a few things. How often do you need to convert .ppt files to PDF? Do you want to convert other file types too? Would you like to edit the PDF files after conversion?
A free online tool could be all you'll ever need if you only want to make the occasional conversion. However, a tool with performant batch processing features would be more appropriate if your workflow demands more regular PowerPoint to PDF conversions. If you need to edit PDF files, a fully-featured PDF editor is the best way to go.
What is a PPT to PDF converter?
A PowerPoint to PDF converter transforms .ppt files into highly versatile PDF files. Why would you want to do this? PDF (Portable Document Format) files are widely supported, meaning people can view them using most modern devices without additional software.
What's more, PDF files are designed to ensure your presentation appears the same across all platforms. Images, fonts, and other data types are embedded into the file, and the layout is preserved regardless of screen size.
How do I convert PowerPoint to PDF?
The method used for converting PPT to PDF will differ depending on which app you use, but all the tools on our Best PowerPoint to PDF converter round-up are very simple. All you need to do is upload your .ppt file, wait for the platform to process your document, then download the output. In some cases, you may need to select which filetype you're uploading, but this will be signposted for you.
How we test the best PowerPoint to PDF converters
We installed or created an online account for each tool on our best PowerPoint to PDF converter list to gain hands-on experience with each piece of software. We converted several .ppt files, assessing how easy the program was to use and the accuracy of the final result.
We drew on the findings from our existing in-depth product reviews and explored the developers' sites to bring you up-to-date information on other key features and pricing models. We also looked at the level of support and quality of documentation provided for each PDF converter.