If you were hoping for refinement out of 2017's off-schedule MacBook Pro refresh, then you're in luck. However, if you were hoping for this year to hold some sort of redemption tour for last year's divisive MacBook Pro release, you likely won't find many words of comfort here.
This is the mid-2017, 13.3-inch MacBook Pro with Touch Bar. Year on year, the new model doesn't change much about the product short of a processor update as well as an increase in RAM speed.
As far as a needed update goes, the latest MacBook Pro ticks many of the right boxes while sticking to its guns on schismatic design decisions, like ditching the SD card slot and keeping the display resolution the same. The result is an unsurprisingly beautiful and impressive device that goes straight into our best laptop list.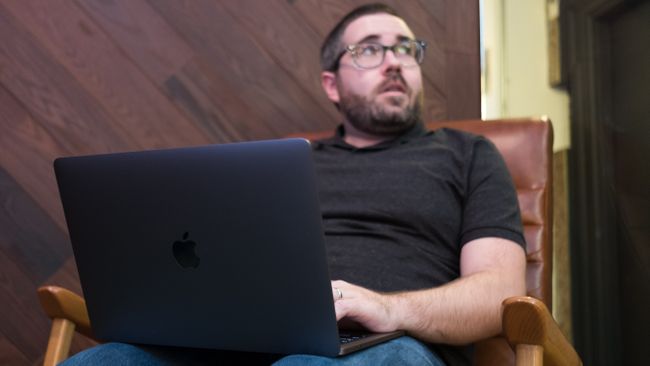 Spec Sheet
Here is the 13-inch MacBook Pro configuration sent to TechRadar for review:
CPU: 3.1GHz Intel Core i5-7267U (dual-core, 4MB cache, up to 3.5GHz)
Graphics: Intel Iris Plus Graphics 650
RAM: 8GB (2,133MHz LPDDR3)
Screen: 13.3-inch, 2,560 x 1,600 Retina LED display (IPS, 500 nits brightness, wide color P3 gamut)
Storage: 256GB SSD (PCIe 3.0)
Ports: 4 x Thunderbolt 3 (USB-C), headphone/mic jack
Connectivity: 802.11ac Wi-Fi, Bluetooth 4.2
Camera: 720p FaceTime HD webcam
Weight: 3.02 pounds (1.37kg)
Size: 11.97 x 8.36 x 0.59 inches (30.41 x 21.24 x 1.49cm; W x D x H)
Price and availability
While the 13-inch MacBook Pro calls for $1,299 (£1,249, AU$1,899) at the ground level, the model equipped with the Touch Bar and Touch ID asks for $1,799 (£1,749, AU$2,699).
There is a model in between that solely doubles the storage (for another 200 bucks), but the model we've tested has considerable upgrades over the entry level version, doubling the amount of Thunderbolt 3 ports – all of which support device charging – and upping the processor speed to 3.1GHz from 2.3GHz in addition to providing the Touch Bar and Touch ID.
That said, a similarly-priced – or more than $100 less in the US – Dell XPS 13 houses double the RAM and storage of what this $1,799 Apple laptop configuration has. It also packs a stronger Intel Core i7 CPU, a sharper 3,200 x 1,800 touchscreen as well as both Thunderbolt 3 and an SD card reader – not to mention a fingerprint scanner.
It's a likewise story for the brand new Surface Laptop, which can be configured with a stronger Core i7 CPU and equally capacious storage and RAM for a full 200 clams less. That's coupled with a slightly lower-resolution 2,256 x 1,504 touchscreen and only two legacy ports.
These comparisons make it abundantly clear that you're buying a MacBook Pro these days neither for the power nor the price, but the platform and pedigree. Regardless, these comparisons only grow more difficult to draw for Apple's leading laptop these days.
Latest news
Following its launch in June, there have been few changes to the mid-2017 MacBook Pro. Even the latest macOS High Sierra was more of an iterative tweaking of Apple's existing macOS Sierra released last year.
That may explain why Mac sales have experienced a dip in recent months. In fact, as of the third fiscal quarter of 2017, analyst firm Gartner estimates a 5.6% decline from last year's Q3 figures. The Cupertino firm currently has an overall global PC market share of 6.9%.
Peering into the future, we might see Apple begin to use its own ARM-based CPUs to shake things up, or at least rake in a higher percentage of profits. In the meantime, if your lavish taste demands the more substantial specs of a 15.4-inch MacBook Pro, you'll be elated to know these are now available for less in a refurbished capacity.
Design
Luckily, Apple's pedigree does wonders for maintaining the MacBook Pro's shining reputation as an absolutely beautiful and sensible computing device. That said, not much – if anything – has changed about the MacBook Pro design year over year, and that's A-OK.
Still available in Apple's standard space gray or silver colors (no rose gold yet), the MacBook Pro's unibody aluminum shell is as gorgeous as ever, giving off a subdued shine through the anodization.
In terms of form factor, Apple maintains its achievement of cramming a 13-inch screen into an 11-inch frame a la the Dell XPS 13, but this laptop's bezels are still a bit larger. Speaking of screens, Apple's Retina display is as sharp and color-rich as ever, even more so with its new, professional-grade P3 color gamut.
However, it's far from the sharpest out there, even among its strongest rivals, making its "Retina" claims tougher than ever to swallow. For instance, the XPS 13 can be configured with a 3,200 x 1,800 QHD touchscreen, easily outclassing the MacBook Pro in terms of pure sharpness.
This is a hugely important point for creative professionals working with media files that are high-resolution or require such a resolution to resolve minute details upon zooming in on a media file.
At any rate, the MacBook Pro is uniformly thinner than the XPS 13 by a hair, which starts from 0.6 inches and tapers off at 0.33 inches. The Surface Laptop, meanwhile, is marginally thinner than both at just 0.57 inches.
This is the thinnest and lightest MacBook Pro yet, and for that it feels right at home in our backpack – that is, assuming we don't forget it's even there. (Trust us, it has happened during this review, and it was horrifying.)
That Apple managed to craft a laptop this thin and still maintain top-firing stereo speakers, with deep and rich sound no less, should be commended when most other laptop makers just go for down-firing speakers. Instead, where speakers would normally go on an Ultrabook, Apple has placed intake fans that draw cool air in and spit it out the back just beneath the hinge.
Sure, the laptop heats up still right around that area, but said heat is far away from the more sensitive parts of your lap and far less dramatic than with previous models.
As for how Apple managed to make the MacBook Pro this thin, a key culprit is the laptop's new keyboard with Apple's 2nd generation butterfly mechanism, introduced in last year's model. The improved actuation device doesn't make the keys sit any more flush with the keyboard deck than they already were last year, but rather vastly improves the tactile feel of typing.
Feedback is much more forceful this time around, though the key travel doesn't feel as if it's changed much, which is the point ultimately. The keys are large enough so as not to miss given the lack of travel, though we're not fans of the Escape key being relegated to the Touch Bar – something we've accidentally pressed more than once – and the tight positioning of the up and down arrow keys.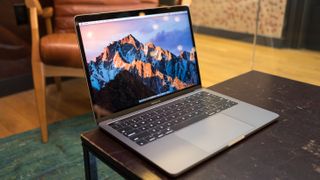 Also, we find typing on this keyboard to be louder than on Apple's older MacBook keyboards, but perhaps that's due to adjusting to the learning curve.
A mixed takeaway from the keyboard aside, the new-and-enlarged Force Touch trackpad was a welcome improvement last year and we're just as happy to have it this time around. Its large size and strong palm rejection help immensely with multi-touch gestures and, more importantly, navigating the operating system the easier way, i.e. with your index finger moving the cursor and your thumb clicking the buttons.
Speaking of which, Force Touch returns to the trackpad, naturally, and it's frankly remarkable. The vibration motors beneath the glass tracking surface vibrate so as to recreate the feeling of a mouse click, and, if Apple didn't make such a stink about, it we'd be none the wiser. This is Apple's "it just works" philosophy realized once again.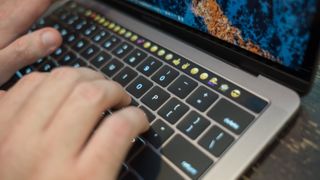 Touch Bar and Touch ID
While many have been quick to dismiss the Touch Bar since its introduction in last year's MacBook Pro model, we've come down on it with a bit more understanding. You see, while we admittedly didn't naturally come to use the Touch Bar much at all during the course of this review, its presence and potential are nevertheless noted.
While still relegated to supporting core macOS functions and a few, major third party apps (like Adobe Suite), the Touch Bar is incredibly fast at adapting to the task at hand. The strongest example of this is simply the Touch Bar's built-in spell checker, which is constantly suggesting words no matter how fast of a typist you are.
It's almost like having the iPhone's autocorrect function on your MacBook.
We've seen tech like this attempted before, but in no way this robust and quick. The OLED touch display is incredibly responsive, and its matte coating does well to shrug off glare from strong light sources – just don't expect much in direct sunlight. All said, we're impressed by the technological achievement that the Touch Bar is, but still believe it requires wider third party support to become a must-have feature.
Though, having Siri as a button for easy, constant access is a major plus, given the wide control it has over macOS in comparison to other digital assistants.
The second piece of the Touch Bar offering is, of course, Touch ID. While this is the second go around for the technology, we're nevertheless happy that biometric login is finally available on an Apple laptop. The tool works just like it does on iPhone, and it's just as quick.
That said, we've found Windows 10's iris-scanning Windows Hello tech to be faster and require nearly zero effort. (To achieve this level of immediacy with a Mac, you'd need an Apple Watch with the Auto Unlock feature activated.) Regardless, being able to securely log into the laptop, and pay for things through Safari via Apple Pay, are both features we'd be clamoring for if they weren't there.
First reviewed August 2017
The mid-2017 MacBook Pro is just one of the best Macs you can buy