Updated: Nintendo has the file sizes for its software lineup and they make it clear that fans of digital downloading are going to have to expand their console's memory.
Just how big are these files? Well, Dragon Quest Heroes 1 and 2 is a 32 GB download which is the exact amount of internal memory the Nintendo Switch has.
Considering some of this will already be taken up by the console's operating system and its pre-installed software there's no way you'd be able to digitally download the game without the addition of a microSD card.
You can read more below...
We got our first look at the potentially revolutionary Nintendo Switch console back in October of 2016 and although we finally got confirmation that the console would be a home/handheld hybrid, we didn't find out much more than that.
Thanks to the Nintendo Switch presentation that took place during Thursday night, we now know a lot more. Nintendo got the big news out of the way first, revealing that the console will be available on March 3 2017 and that it will retail for $299.99/ £279.99/ AU$ 469.95.
Despite the fact that rumors had suggested otherwise, we now know that the console will launch with Legend of Zelda: Breath of the Wild as well as 1-2 Switch, Just Dance 2017, and Skylanders Imaginators.
There will be other first and third party games further down the line including a brand new sandbox Mario adventure and Elder Scrolls: Skyrim with Nintendo stating that there are more than 50 companies currently working on over 80 games for the console.
Cut to the chase
What is it? Nintendo's newest console
When is it out? March 3, 2017 (pre-orders open now)
What will it cost? $299.99 in the US, £279.99 in the UK, $469.95 in Australia
Nintendo Switch release date
The Switch presentation revealed that the console will launch worldwide on March 3, 2017.
The system will launch first in the US, Japan, parts of Europe including the UK, Australia, Canada, Hong Kong and several other countries.
Nintendo Switch pre-orders have already started in the UK and the US, while in Nintendo's home country, Japan, fans have to wait until January 21 to pre-order the Switch.
Nintendo Switch Price
We now know that Nintendo Switch will cost $299.99/ £279.99/ AU$ 469.95 – a bit higher than some wanted, and matching the launch price of the Wii U. However, it's well within reason for a new console when compared to other companies.
For this price you get the console itself, left and right Joy-Con controllers (in your choice of slate grey or neon blue and neon red), wrist-straps, the Joy-Con Grip, the Switch Dock, HDMI cable and AC adapter.
The Nintendo Switch Pro controller will be sold separately for $69.99 (we're still waiting to hear UK and AU pricing).
You'll also get the chance to buy Joy-Con controllers separately. These have been priced at $79.99 in the US and £74.99 in the UK for a set. Australian pricing has yet to be confirmed.
It's been confirmed that the Joy-Con grip that comes included with the console won't be able to charge the controllers. If you'd like a Joy-Con grip that charges, this can be purchased separately for £27.99 in the UK though the US pricing is unconfirmed.
Nintendo's previous generation of consoles, the DS and Wii, gained traction by launching at $150 and $250 (£99.99 and £179.99) respectively, but the Switch is more similar in price to its PS4 and Xbox One competition. Potentially this could harm its chances if it's not able to offer a comparable experience.
Nintendo Switch features
Nintendo has always been a company willing to do its own thing. While Sony and Microsoft have fought over having the more powerful machines, Nintendo has focused its attention on interesting controllers and 3D displays.
The Switch looks like a very unique console indeed.
In recent years Nintendo has developed a bit of a problem with its attention being split across its consoles and its handhelds. The Nintendo Switch console will be a hybrid between the two, and might just solve this problem.
Fans have been waiting a long time for the console's hardware specifications and it seems they may have leaked online via Reddit. A recent post on the site containing leaked documents for the console suggests it has a 32-bit quad core CPU capable of handling 2GHz and a Tegra X1 GPU. The CPU news is positive, but the GPU is slightly underwhelming.
Overall, it makes the Nintendo Switch look like a solid console, sitting back from the cutting edge. Like any leaked information, though, these details should be taken with a generous pinch of salt.
The Switch will have several modes of play including traditional home console TV Mode, Tabletop Mode where the console stands up on its kickstand and Handheld Mode, where multiple people can play simultaneously.
When played as a handheld, you attach two controller portions to the side of a 6.2" 720p multi-touch screen, which feature a 'split' d-pad.
These can then be detached when your dock the console, at which point you can either play the console with a more traditional 'Pro controller', which features a classic Nintendo d-pad, or reassemble the detached controller handles into a gamepad using the 'Joy-Con grip'.
Nintendo says the Switch has a touchscreen, Wi-Fi, and can connect up to eight other Switch systems for a big local multiplayer experience.
Fans of foreign games will also be glad to hear that the console isn't region locked. That means you'll be able to access all the JRPGs you've ever wanted.
As far as battery life is concerned, you can expect your Switch's 4310 mAh battery to last between 2.5 and 6.5 hours in handheld mode. How long it last is entirely dependent on which game you're playing – games that force the processor to work harder will of course sap the battery quicker.
For example, Nintendo has confirmed that if you're playing The Legend of Zelda: Breath of the Wild you should expect to get closer to 3 hours out of a single charge.
Overall this is a similar battery life to the Nintendo 3DS so we're not all that surprised. Fortunately, unlike the 3DS, the Switch doesn't have a dedicated charger and instead uses a modern USB-C connector so it should be easier to charge on the go.
The battery isn't, however, removable so if you're looking for a replacement you'll have to go through Nintendo.
The dock for at home play will allegedly contain an additional fan, which will help to cool the console, allowing it to run at a faster clock speed while docked and not running on battery power.
This faster clock speed means that the processing power of the console will increase, allowing it to output at 1080p resolutions on external televisions.
When in the dock the Switch will charge via its USB-C connector.
Though you'll get a dock included when you buy the console, you'll also be able to buy more separately so that you can have them connected to every TV in the house for the ultimate level of on-the-go play. Unfortunately, the dock will cost a fairly expensive $90 but no pricing has been confirmed for the UK or Australia.
Nintendo CEO Tatsumi Kimishima has confirmed that the console will see a wide array of accessories, which some have taken to mean that we'll see multiple detachable controller types.
Nintendo has confirmed that you won't be able to use the tablet to create a dual-screen gaming experience similar to the Gamepad with the Wii U. Instead, the Switch will be an completely single-screen experience "on whatever screen you might choose."
The trailer also confirmed the fact that the console will feature games sold on a cartridge rather than a disc.
Unfortunately this means that the console .
Unfortunately the console will not support streaming services such as Netflix and Amazon Prime Video at launch. Nor will it have a browser for you to access these services in another way. Nintendo has justified the move by saying that its focus is on making a gaming system first and foremost.
Neither the presentation nor the trailer made mention of a major rumor that was doing the rounds about the console supporting VR after the company admitted it was "researching" VR technology, according to someone who was present.
Twitter's attended the meeting in Kyoto and claims Nintendo's Shigeru Minamoto said Nintendo was researching VR but has concerns about users playing for long periods of time.
Nintendo Switch Controller
The primary controllers are named Joy-Con, and they look like they could be the most capable pads Nintendo has ever introduced. These are the controllers which are attached to both sides of the touch-screen while the console is in tablet mode.
The Joy-Con Controller can be detached, forming two one-handed controllers. Each section can read amiibo figures and can be used as a fully functional gamepad, but each side has its specialty.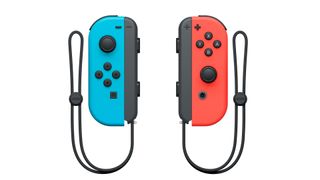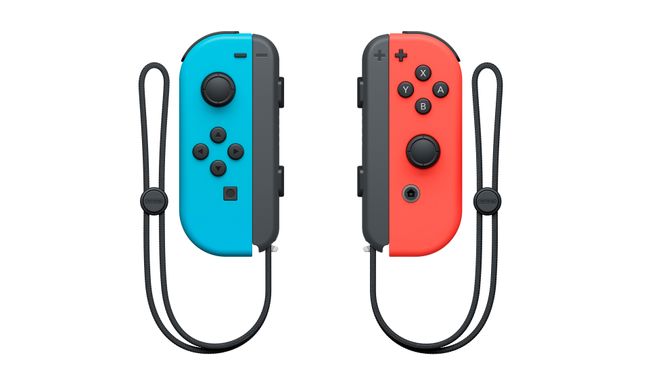 The right side has an IR blaster built into the bottom of the controller and scan objects. During the presentation Nintendo said the controller could recognize hand gestures, for example, and would know the difference between rock, paper and scissors.
Its joystick thumbpad will also have an amiibo reader built in.
The left side will have rumble HD, an advanced version of haptic feedback. Finally, the Joy-Con will come in two colors: neon red and neon blue.
If you want these different colors, the Nintendo Switch will be sold in two different versions, one with two gray Joy-Con Controllers and the other with neon red and blue controllers.
In addition to the Joy-Con controllers there is a Pro Controller, which appears to be a more traditional gamepad, featuring the classic Nintendo d-pad. This controller will be sold separately for $69.99 in the US and £64.99 in the UK with Australian prices yet to be confirmed.
Online Service
Here's a bit of bad news. The Nintendo Switch is going to be the first Nintendo system that's going to charge you money to play online.
The online service will start off free for Nintendo Account holders during the system's first six months after launch but, come the fall, it's going to cost you.
So far the online service has only been announced for North America (USA, Canada and Mexico), with no word yet on if, or when, it will be making its way to other territories.
The online service will include such features as online lobbies and voice chat, free NES and SNES games every month (although they'll only be playable for that month), and 'may' include exclusive deals and discounts.
You will not need to subscribe to the paid service to access the eShop, manage online friends or share screenshots.
Though details remain unclear, it appears that the Switch's online service will be heavily dependent on its smartphone companion app.
Not only will players have to use the app to access voice chat features, according to Nintendo of America president Reggie Fils-Amie and a recent Splatoon 2 announcement, they'll also be able to use it to organize playing with others online and find people they know by connecting it to their existing social media accounts.
Some good news is that the Switch will support wired LAN connection. A recent news announcement for Splatoon 2 revealed that players will be able to connect up to 10 docked consoles (8 players and 2 spectator screens) for local multiplayer without the need for an internet connection. True LAN play hasn't been seen in a Nintendo console since the GameCube so this is an exciting and convenient feature for the console.
That said, the console doesn't have a standard Ethernet port, so you'll need to use an Ethernet to USB adapter to take advantage of the feature.
We've contacted Nintendo to ask for more clarity on what exactly the companion app will enable and what form of online play will be possible without it and we'll update with any reply.
Nintendo Switch Games
We have a few different avenues to learn about the games that are coming to the Switch. The latest is from the Nintendo Switch presentation, which detailed Xenoblade Chronicles 2, Super Mario Odyssey and Splatoon 2, three totally unrevealed games.
Outside of the three first-party titles, you can also expect Project Octopath Traveler, Dragon Quest X and XI, Fire Emblem Warriors and FIFA (yes, it's just called FIFA) as well as The Elder Scrolls V: Skyrim on the Switch.
We also got the news that a remastered version of Mario Kart 8 (named Mario Kart 8 Deluxe) would be coming to the Switch in April with additional tracks and characters. You'll also be able to hold two items at a time, a feature that has completely divided the office.
The star of the show, however, will be the new The Legend of Zelda game, Breath of the Wild, which launches on the same day as the Switch, March 3 2017.
Since the live stream we've also had confirmation of a number of other Switch games including World of Goo, Little Inferno and Human Resource Machine which will be available as part of the launch lineup.
The announcement brings the total number of Switch games available at launch to 10: 1-2-Switch, The Binding of Isaac: Afterbirth+, Just Dance 2017, Human Resource Machine, I Am Setsuna, The Legend of Zelda: Breath of the Wild, Little Inferno, Skylanders: Imaginators, Super Bomberman R and World of Goo.
The games are beginning to appear on retailer sites as available for preorder where the prices appear to be ranging between £50 and £60 in the UK through retailer Game and set at $60 in the US through Amazon.
(Want the quick and dirty? Here's 6 things you need to know about the Nintendo Switch)
Beyond official announcements, there are a couple of other rumored games that have us excited.
A recent listing of the Switch console on the GameStop retail site has hinted that we could see a Pokemon title come to the console, adding to previous rumors that a directors' cut of Sun and Moon called 'Stars' was planned for Switch release.
Spotted by a NeoGAF user, the description of the console on the GameStop website read "Nintendo Switch games will include new title offerings from Mario, Splatoon, Zelda, the NBA and more! You will even be able to play Skyrim on the go, or Pokémon at home with the Nintendo Switch."
Interestingly a couple of these games, including Mario Kart, appear to be ports of Wii U games. In the weeks that followed the launch, further reports backed up the suggestion that Wii U ports would feature heavily in the console's catalogue. Switch leaker Laura Kate Dale reported that fan favorite Super Smash Bros. would allegedly be making the jump to the new console within six months of the console's launch, along with the game's remaining associated Amiibo.
Image 1 of 5
Image 2 of 5
Image 3 of 5
Image 4 of 5
Image 5 of 5
Dark Souls is apparently another series that might come to the Switch. Apparently Dark Souls 3 has already been made to run on the console, and discussions are occurring about whether to release the entire trilogy on the console with all its DLC bundled in.
We also saw games being played competitively in a multiplayer setting, which may indicate Nintendo's intention to make eSports a focus of the console.
At the presentation, Nintendo announced that it had 50 companies currently developing 80 games for the console.
Nintendo has announced a lot of companies that we're not surprised to see such as Activision, EA and Ubisoft, but it's more surprising to see a company like FromSoftware, developers of the Dark Souls series, mentioned, due to its focus on more adult games.
Given that the new console fully supports the Unreal Engine (so much so that Nintendo's own developers are getting acquainted with the engine), hopefully many more third-parties will follow suit.
Nintendo Switch accessories
At this year's Consumer Electronics Show in Las Vegas, third party gaming accessory manufacturer, Snakebyte, revealed that it would be creating accessories for the Switch console.
Considering Snakebyte has released accessories for the Wii U and the New 3DS, this is hardly surprising. On the CES show floor, the company is displaying accessory bundles it says have been "designed to enhance the portable nature of the Switch console."
Snakebyte is only announcing two products in the Switch accessory range which are a foldable gaming headset and a Starter Kit.
The headset has been designed to fold up, making it the perfect companion for the Switch when it's in its portable mode.
The Starter Kit has everything a new Switch owner will need to take care of their console and make the most of it, including a carry case, earbuds, a cleaning cloth, screen protectors, and game cases.
Snakebyte doesn't have price points for the accessories just yet, but they're expected to be released in Spring 2017 so that players can purchase them alongside the console on day one.
As well as these third-party accessories there'll also be the chance to buy Nintendo's own accessories which will include a Pro controller and separate Joy-Con controllers.
Here's the US prices of all the accessories we know about so far from Nintendo:
UK retailer Game has also started to list sold-separately accessories available for preorder.
These include Joy-Con controllers which are listed as £42.99 each or £74.99 per set, the Pro controller at £64.99, and Joy-Con straps for £4.99.
Game also has starter kits available for preorder. These are either Mario or Legend of Zelda-themed and include cases, screen protectors, thumb grips, earbuds, Joy-Con armor grips, and a screen cleaning cloth for £29.99.
Nintendo Switch specs
Thanks to a Nvidia blog post we know the console is powered by a custom Tegra chip, which was also found in the Nvidia Shield.
Nvidia's desktop GPU's have seen a substantial upgrade recently, and there was some home that this upgrade would carry through to Tegra, but this hasn't been confirmed, and seems unlikely given the specs we've seen.
We do know the clock speeds that the CPU and GPU will run at. The CPU has a clock speed of 1020MHz in both docked and undocked modes, but the GPU sees more of a change, dropping from 768MHz to 307.2MHz when running on battery power.
307.2MHz might not seem like much compared to the PS4's 800MHz or the Xbox One's 853MHz, but it should still be enough to outperform the Wii U, and we've all seen the performance Nintendo was able to squeeze out of its last console.
The blog post does mention that the chip has been optimised for "mobile use cases" which we hope means that it's not too battery hungry, but there are rumors circulating that the console only has a battery life of three hours when used as a handheld.
In terms of RAM, the Switch is rumored to have 4GB, which puts it in line with most major smartphones including the Samsung Galaxy S7 Edge and Motorola Moto Z, and is more than both the iPhone 7 (2GB) and iPhone 7 Plus (3GB).
Unfortunately this is half the amount of both the PS4 and Xbox One, which suggests the Switch might sit behind the current generation in terms of graphical fidelity.
The screen will have a resolution of 720p and be capable of multi-touch in a first for the company which has focussed on single-touch screens up until now.
The tablet will also feature a USB-C port for charging, as well as supporting micro SD, SDHC and SDXC cards, though you'll have to update the console when you take it out of the box for it to support the latter.
The console will support Micro SDXC cards with up to 2TB storage. Cards with a capacity this large aren't yet available but it does future proof the console in a sense for when they inevitably become available. Though it is an additional cost, it's good news for players who prefer to download their games as they'll find the console's internal 32GB memory far from sufficient.
This especially as Nintendo has confirmed the file sizes for its downloadable games and it's been revealed that Dragon Quest Heroes 1 and 2 will take up the entirety of the console's memory on its own.