Why you can trust TechRadar We spend hours testing every product or service we review, so you can be sure you're buying the best. Find out more about how we test.
Update: This page originally covered the games that launched alongside the console. However after five years on sale, the number of games on the Nintendo Switch has increased significantly – check out our guide to the best Nintendo Switch games for a constantly-updated list of the games you absolutely need to pick up.
Plenty of good games over the first 12 months
Eventual success will rely on third-party developers
Lack of graphical parity may harm long-term support
The Nintendo Switch's launch lineup comprised a combination of ports of existing games such as Shovel Knight, World of Goo and I Am Setsuna, new entries in existing franchises like The Legend of Zelda: Breath of the Wild and Super Bomberman R, and all-new games like Snipperclips, 1-2 Switch and Fast RMX.
All in all it wasn't a bad launch lineup, but the first 12 months that the Nintendo Switch was on sale also saw big new releases in the form of Super Mario Odyssey, Xenoblade Chronicles 2, Splatoon 2 and Arms.
Nintendo of America's now-former president, Reggie Fils-Aime, said in an interview that we could see more of Nintendo's big first party titles come to the console in one form or another. Since then, we've seen fan favorites like Super Smash Bros Ultimate, Luigi's Mansion, Kirby, Advance Wars and Mario Strikers: Battle League arrive.
How this will continue playing out isn't fully clear, but Fils-Aime did say that a main Nintendo development philosophy is to have at least one of its classic franchises on every platform. In its first year, the console received ports of big games like Minecraft and FIFA. Though hardly new, these remain important for consumers who don't plan on using the Switch as a second console, but their primary gaming device.
The real test in the long term will be how third-party developers (i.e. those not financed by Nintendo directly) embrace the console. Although its graphics are good for a handheld, we worry that a lack of graphical parity with PS4 and Xbox One will prevent developers from easily supporting the console alongside those devices, which may harm the number of game releases it gets in the future.
So far there have been some positive signs for third-party support on the Nintendo Switch. Rocket League developer Psyonix brought the game to the console, for example, and Snake Pass' launch suggests games can be brought over to the Switch without too many compromises.
Mario and Zelda have always been excellent games. Still, without the likes of franchises with more regular release schedules like Call of Duty, Assassin's Creed and Far Cry, you might find yourself lacking games to play in the long run. Thankfully, Nintendo usually releases at least one first-party game each month, so there's never a major drought.
We've had the chance to try out a select portion of the console's games at launch, so read on for our thoughts.
The Legend of Zelda: Breath of the Wild
Impressive modernization of a classic franchise
The Legend of Zelda: Breath of the Wild was undoubtedly the jewel in the crown of Nintendo Switch's launch lineup. Although the game also arrived on Nintendo's older Wii U console, the thought of being able to take a full-on, modern Zelda on the go was always going to be a compelling proposition.
But quite apart from being the best handheld Zelda game ever made, the game is also up there with being one of the best in the series too. It feels fantastically broad and open, with dozens of weapons to find, items to craft, and environments to explore.
Yes, the game breaks with tradition in so many ways but the experience still ends up feeling quintessentially Zelda, with all the charm that this entails. If you're picking up a Nintendo Switch or have done already, then Breath of the Wild is an absolutely essential purchase. It won't be long before its direct sequel, The Legend of Zelda: Tears of the Kingdom, also arrives.
1-2 Switch
An interesting showcase of the hardware, but doesn't quite have the staying power of Wii Sports
Like the Wii before it, the Nintendo Switch introduces new technologies to gaming that haven't been explored before. Whereas the Wii had Wii Sports to show off these new concepts, the Switch is banking on 1-2 Switch to demonstrate what the new hardware is capable of. The result is a mini-game collection, which cover everything from sword-fighting, Wild West gunslinging, and cow-milking.
It's a fun collection of games, but we don't think it has the same 'replayability' as the classic Wii Sports did. The fact this isn't a pack-in game and requires a separate purchase doesn't help it, either.
The games are more about performing in front of your friends than outright winning. For example, one game has you pulling yoga poses and trying to keep as still as possible for as long as you can, but since the Joy-Con is only tracking the movement of one hand, there's nothing forcing you to actually hold the pose specified by the game (aside from drawing the ire of your friends).
There's also no single-player mode for you to practise with when you're away from a group of pals. Overall the game is a bit of a mixed bag, but it's a fun one to use to show off your new Nintendo Switch to friends.
Snipperclips
A great little co-op indie game
One of the nice surprises of the Switch launch event way back when was Snipperclips, a small puzzle game in which two players solve puzzles by cutting sections out of each other and changing their character's shapes.
It's a delightful, charming, little game, and with its budget price tag we think it's another essential purchase for anyone who owns a Nintendo Switch.
Just Dance 2017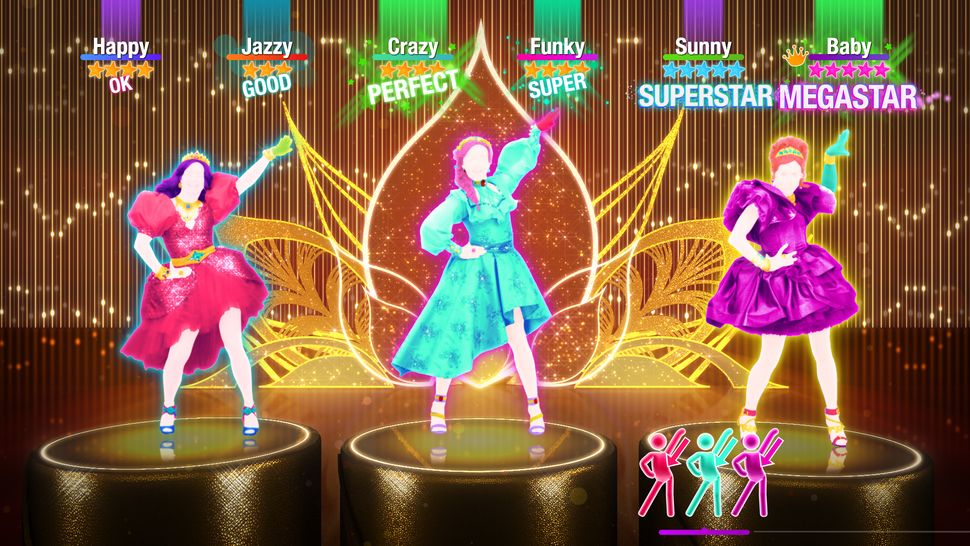 A competent entry in the series
You've almost certainly heard of Just Dance, the dancing series that first premiered on the Wii way back in 2009.
The game tasks you with completing various dance routines, either on your own or with a friend, and judges your progress based on the movement of a Joy-Con in your hand (unfortunately there doesn't appear to be a way to use two Joy-Cons simultaneously).
Much like 1-2 Switch, there's little to stop you cheating and not dancing with your whole body, but (also like 1-2 Switch) this is meant as a party game, so social niceties will hopefully stop you from spoiling the fun.
It's not the most feature-packed or technically advanced game in the world, but if you've enjoyed Just Dance games in the past then this appears to be a very serviceable version for the Nintendo Switch.

Jon Porter is the ex-Home Technology Writer for TechRadar. He has also previously written for Practical Photoshop, Trusted Reviews, Inside Higher Ed, Al Bawaba, Gizmodo UK, Genetic Literacy Project, Via Satellite, Real Homes and Plant Services Magazine, and you can now find him writing for The Verge.