Mac Pro (2019) vs Mac Pro (2023): which is better?
Is now the time to upgrade your silicon?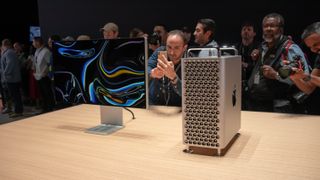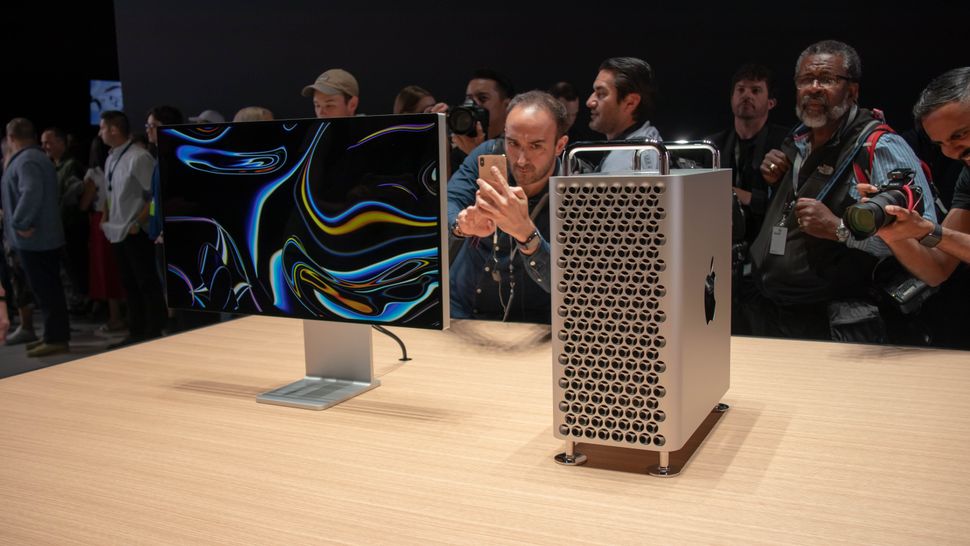 (Image credit: Future)
The Mac Pro series of computers have been developed by Apple since 2006 and have regularly hit one out of the park regarding raw computing power.
The 2019 Mac Pro was released on 10th December of that year to much fanfare. It was the first time the new 'lattice' tower design was featured and the very first Mac to be designed and engineered entirely in the USA.
In June 2023, the 2019 Mac Pro was discontinued in favor of the new Mac Pro, which features the ultra-fast M2 Ultra chip instead of an Intel CPU like the 2019 model.
If you purchased a Mac Pro in 2019, you may be wondering if now's the time to upgrade. If you don't have a desktop Mac just yet, you may wonder if buying an older Mac Pro might save you money while still being powerful enough to meet your needs.
In this guide, we'll compare both models to help you decide which is right for you.
Mac Pro 2019 vs Mac Pro 2023 : Price and Availability
The latest Mac Pro went on sale on 13th June 2023. The base model starts at $6,999. As we're writing shortly after the release date, Apple may offer one of its signature discounts on more expensive equipment so that this number may decrease further.
On checking the Apple website, we found that the 2023 Mac Pro is available in stores in the USA and for online orders, though we encourage you to check with your local Apple retailer if you're in another country.
As the 2019 Mac Pro has been officially discontinued, you can no longer buy new models directly from Apple.
However, their 'Certified Refurbished' program does list several 2019 Mac Pros for sale, with prices starting at $4,099. This is a considerable reduction from their original 2019 retail price of $5,999, though naturally, prices will vary based on the specs of the model you want to buy.
In theory, you can also buy the 2019 Mac Pro from other sources, but remember that Apple's 1-year limited warranty won't cover these. You also won't be able to purchase an AppleCare plan for refurbished Macs unless they're bought through Apple (see below).
Mac Pro 2019 vs Mac Pro 2023 : Dimensions
Whichever model you buy or own, the height of the Tower version of the Mac Pro is 20.8 inches (52.9 cm), although you'll need to add an extra inch or so (3cm) if you opt to add wheels. Its width is 8.58 inches (21.8 cm), and it's depth is 17.7 inches (45.0 cm).
Wheels aside, the 2023 Mac Pro is also not particularly portable, weighing 37.2 pounds (16.86 kg). The 2019 Mac Pro is slightly heavier at 39.7 pounds (18.0 kg).
Mac Pro 2019 vs Mac Pro 2023 : Specs
As you've read, the 2019 Mac Pro was released before the advent of the lightning-fast M-series of chips, so it came with an 8-core 3.5GHz Intel Xeon W CPU. This could be upgraded to 12, 16, 24, or 28-core. Apple does sell refurbished models incorporating these specs though none come close to the processing power of the M2 chip.
The 2023 model's default configuration includes a 24-core CPU with 16 performance cores, eight efficiency cores, a 60-core GPU, a 32-core Neural Engine, and 800GB/s memory bandwidth.
The 2019 Mac Pro's memory bandwidth and video processing power are determined by its graphics card. The default configuration included the Radeon Pro 580X, which includes 8GB of GDDR5 memory. The 2019 model also had 32GB of DDR4 ECC RAM. Still, even taking the CPU and graphics card together, these specs are dwarfed by the 2023 Mac Pro's default configuration of 64GB of Unified Memory.
Regarding storage, the 2019 Mac Pro base model comes with a 256GB SSD vs. the 1TB SSD offered by the 2023 Mac default configuration.
Mac Pro 2019 vs Mac Pro 2023 : Ports & Connectivity
The 2023 tower Mac Pro certainly doesn't disappoint in this area and represents some of the best customizations Apple offers.
There are no fewer than eight Thunderbolt 4 (USB-C) ports. In the Tower configuration, this means six ports on the back of the enclosure and two ports on the top of the tower enclosure.
Internal connections include one USB-A port (up to 5Gb/s) and two Serial ATA ports (up to 6Gb/s). Additional connections include:
Two USB-A ports (up to 5Gb/s)
Two HDMI ports
Two 10Gb Ethernet ports
3.5 mm headphone jack
The 2019 Mac Pro's offering varies depending on the type of graphics card installed, but its default configuration includes the following:
Two USB-A ports (up to 5Gb/s)
Two Thunderbolt 3 (USB-C) ports
Four 10Gb Ethernet ports:
3.5 mm headphone jack with headset support
Two HDMI 2.0 ports on AMD Radeon Pro 580X graphics card.
The 2019 Mac Pro also supports Wi-Fi 5 (801.11ac) and Bluetooth 5.0. The more modern Mac Pro supports Wi-Fi 6 (802.11ax) and Bluetooth 5.3 out of the box.
Mac Pro 2019 vs Mac Pro 2023 : Displays
Whatever Mac Pro model you have, you can opt for the Pro Display XDR. This 32" Retina 6K monitor provides stunning visuals and can rotate 90 degrees to view portrait mode. Despite having no internal speakers, microphone, or webcam, the bleeding-edge clarity of the XDR means costs start at $4,999.
If you decide this isn't for you, you can connect up to 8 other kinds of external displays to the 2023 Mac Pro.
Eight displays with up to 4K resolution at 60Hz
Six displays with up to 6K resolution at 60Hz
Three displays with up to 8K resolution at 60Hz
The situation is more complicated with the 2019 Mac Pro, as the number of displays supported depends on your graphics card. Further complicating things is the 'MPX' module which can be installed to support multiple GPUs. Assuming that you've chosen a 2019 Mac Pro with the default Radeon Pro 580X, it can support up to six 4K displays, two 5K displays, or two Pro Display XDRs.
Mac Pro 2019 vs Mac Pro 2023 : Performance
As you've seen, the recent developments of the M-series of chips combined with 'Unified' memory mean that the 2023 Mac Pro performs significantly better than the 2019 Intel-based Mac Pro with the installed graphics card(s).
Apple's own website says that the M2 Ultra alone performs up to 1.8x faster than the older Intel Xeon CPU. Its 76-core GPU also performs up to 3.4x faster than a 2019 Mac Pro using a Radeon Pro W6900X graphics card with 32GB of GDDR6 memory.
Apple used the same baseline to measure 3D video rendering using the program Octane Render and found the 2023 Mac Pro performed 2.7x faster.
As impressive as this sounds, if you don't make a habit of playing modern video games or processing high-definition videos, the performance improvement may not be as obvious.
Mac Pro 2019 vs Mac Pro 2023 : Upgrades
You'll need deep pockets to max out the 2023 Mac Pro Tower mode's full potential. The configuration allows you to upgrade to the M2 Ultra with a 24-core CPU, 76-core GPU, and 32-core Neural Engine for an extra $1,000.
You also have the same option to upgrade to 192GB of Unified Memory for another $1600 and to swap your SSD out to 8TB for another $2,200. If you want the stainless steel frame with wheels, that'll cost you $400 extra.
The 2019 Mac Pro's maximum specs are more modest, though there is a great deal of configuration options. As you've seen, the Intel Xeon W CPU can (in theory) be maxed out to a 2.5GHz model with 28 cores and 56 threads.
You'll need either a 24 or 28-core CPU to make use of the maximum available RAM (1.5TB), and you can max out the 2019 Mac Pro's graphics potential with two Radeon Pro Vega II Duo with 2x32GB of HBM2 memory each.
Both models of Mac Pro can be configured with up to an 8TB SSD. They both also come with PCIe expansion slots, but the number of these depends on your model and configuration.
The 2019 Mac Pro comes with eight PCI Express expansion slots. You can install Two MPX Modules or up to four PCI Express card slots.
Each MPX bay provides the following:
x16 gen 3 bandwidth for graphics
x8 gen 3 bandwidth for Thunderbolt
DisplayPort video routing
Up to 500W power for an MPX Module
Alternatively, each MPX bay can support:
One full-length, double-wide x16 gen 3 slot and one full-length, double-wide x8 gen 3 slot (MPX bay 1)
Or two full-length, double-wide x16 gen 3 slots (MPX bay 2)
Up to 300W auxiliary power via two 8-pin connectors
The 2023 Model includes six full-length PCI Express gen 4 slots: Two x16 and Four x8. This is reduced to one half-length x4 PCI Express Gen 3 slot with the Apple I/O card installed.
Considering the original retail price of upgrading the RAM on the 2019 Mac Pro alone came to $25,000, it's unlikely that even second-hand, you'll find it for less than a maxed-out 2023 model (currently $12,199).
Mac Pro 2019 vs Mac Pro 2023 : Support
Both these Mac models run identical versions of macOS, although the release of the latest version Sonoma (see below), has raised fears that macOS will no longer support Intel-based Macs in the near future.
There's extensive online documentation on Apple's website in case you get stuck.
You also benefit from 90 days of free Technical Support and a 1-year limited hardware warranty no matter which Mac you buy.
There is some discrepancy, however, when it comes to AppleCare Plus though. This program acts as insurance against accidental damage to your device. If you decide to go with a Mac Pro, this will set you back $179.99 for one year's coverage or $499 for three years.
If you choose to buy a refurbished 2019 Mac Pro, you should still be able to receive the 1-year limited hardware warranty and purchase AppleCare protection but rules for this may vary depending on your region, so make sure to check with Apple before buying.
Of course, there are other types of gadget insurance that may be easier to obtain.
Mac Pro 2019 vs Mac Pro 2023 : Which Mac is for you?
As you've seen, the Mac Pro 2019 and the Mac Pro 2023 are mighty machines.
The 2019 Mac Pro represents the pinnacle of Intel-based CPUs and powerful graphics cards. These can still be powerful enough to suit most desktop Mac users' needs in the correct configuration.
Still, the M-series of chips are the way forward, and the latest Mac Pro incorporates not only the M2 Ultra but Unified Memory. It's little surprise then that the 2023 model performs much faster than its predecessor. Of course, most users don't sit around trying to render high-quality video, so you may not need that extra power.
Still, another concern is that software designed to run on the M2 chips isn't always compatible with Intel-based Macs. For instance, the latest macOS Sonoma isn't compatible with 2017 iMacs and Macbook Pros. This means you may be left behind the next time you upgrade, as your CPU isn't up to scratch.
Buying a refurbished product can also mean you don't enjoy the same protections under Consumer Law if anything goes wrong with your Mac Pro. If you're considering doing this, check the law in your home country to find out what protection you have if your device performs poorly or breaks down.
Are you a pro? Subscribe to our newsletter
Sign up to the TechRadar Pro newsletter to get all the top news, opinion, features and guidance your business needs to succeed!
Nate Drake is a tech journalist specializing in cybersecurity and retro tech. He broke out from his cubicle at Apple 6 years ago and now spends his days sipping Earl Grey tea & writing elegant copy.