Weight: 206g
Dimensions: 147.5 x 71.5 x 7.9mm
Screen size: 6.1-inch
Resolution: 1179 x 2556
CPU: A16 Bionic
RAM: 6GB
Storage: 128GB/256GB/512GB/1TB
Battery: 3,200mAh
Rear camera: 48MP+12MP+12MP
Front camera: 12MP
The iPhone 14 Pro is a compact flagship with more power than any Android phone, an impressive new Dynamic Island, and an excellent main camera.
Its screen could stand to be a little sharper and its telephoto snapper is limited to 3x optical zoom - which is well short of the S22 Ultra's 10x, but in most other ways this phone seriously impresses.
For
Exquisite design
High-quality cameras
Clever Dynamic Island
Against
Still just 3x optical zoom
No USB-C
Premium price
Weight: 228g
Dimensions: 163.3 x 77.9 x 8.9mm
Screen size: 6.8-inch
Resolution: 1440 x 3088
CPU: Snapdragon 8 Gen 1 / Exynos 2200
RAM: 8GB/12GB
Storage: 128GB/256GB/512GB/1TB
Battery: 5,000mAh
Rear camera: 108MP+12MP+10MP+10MP
Front camera: 40MP
The Samsung Galaxy S22 Ultra is a feature-packed flagship with a massive screen and a stylus to help you make the most of it. With more cameras - and features - than most users will know what to do with, this phone basically has it all.
That said, for sheer power it can't match Apple's latest, and if you don't care about telephoto photography then you might find the iPhone 14 Pro's cameras are better too.
For
Incredible cameras and zoom
Excellent little S Pen
Gorgeous screen
Against
Pricey
No microSD slot
Battery life could be better
The iPhone 14 Pro and the Samsung Galaxy S22 Ultra are two of the very best smartphones on the market, offering cutting-edge specs and premium designs. But which is the better phone?
A quick glance at our respective reviews might not be enough to provide a definitive answer, as we scored them exactly the same (4.5 stars, if you were wondering). We're going to need to dive a little deeper here.
One is a super-sized power user's delight, the other a pocket powerhouse with a bold new approach to housing the front-facing camera. But which flagship phone should you buy as of right now?
iPhone 14 Pro vs Samsung Galaxy S22 Ultra: price and availability
The iPhone 14 Pro arrived in shops on September 16, 2022. Pricing starts at $999 / £1,099 / AU$1,749 for the base 128GB model, while $1099 / £1,209 / AU$1,899 will bump that storage up to 256GB. The 512GB model costs $1,299 / £1,429 / AU$2,249, while the range-topping 1TB unit costs $1,499 / £1,649 / AU$2,599.
The Samsung Galaxy S22 Ultra arrived earlier in the year on February 25, 2022. Prices start from $1,199.99 / £1,149 / AU$1,849 for the 8GB RAM/128GB model, moving up to $1,299.99 / £1,249 / AU$1,999 for 12GB/256GB, then $1,399.99 / £1,329 / AU$2,149 for 12GB/512GB, and topping out at $1,599.99 / £1,499 / AU$2,449 for the 12GB/1TB top dog.
Comparing like for like, then, the iPhone 14 Pro is the cheaper of the two in the US. However, it's worth noting that the iPhone 14 Pro actually flips to being more expensive outside of the US when you get to the pricier models.
iPhone 14 Pro vs Samsung Galaxy S22 Ultra: design
The iPhone 14 Pro looks a lot like the iPhone 13 Pro, which looked a lot like the iPhone 12 Pro. Apple's flat-surface design is pretty mature by now.
We like how it looks, all clean industrial lines and sharp corners. This Pro model also has a stainless steel rim, which is as tough (and heavy) as it is shiny. The front is tough too, with a Ceramic Shield glass cover seemingly proving tougher than the Samsung phone's Corning Gorilla Glass Victus+ equivalent.
At 147.5 x 71.5 x 7.9mm, and with a weight of 206 grams, the iPhone 14 Pro is the much smaller phone of the two. The Galaxy S22 Ultra measures 163.3 x 77.9 x 8.9mm and weighs 228g by comparison, making it rather tough to use at times.
It might be big and a little unwieldy, but our reviewer called the Samsung Galaxy S22 Ultra "an inarguably beautiful device". It doesn't look at all like the vanilla Samsung Galaxy S22, nor even the Samsung Galaxy S21 Ultra before it. Rather, Samsung has turned the clocks back to the gorgeous Samsung Galaxy Note 20 Ultra for its inspiration.
That's because the Galaxy S22 Ultra is essentially a new Note device, with a holder on the bottom edge for Samsung's S Pen stylus. This design feature alone marks the Samsung phone out as the better productivity device – for those who like to scribble down notes and reminders with a pen and paper, at least.
As for the most distinctive iPhone 14 Pro design feature, that would come from its new Dynamic Island. Out goes the intrusive Face ID notch that cuts into the display, in comes an extended cut-out that looks a little more like Samsung's punch-hole cut-out.
Apple's solution might be chunkier, but it's also smarter, with a heads-up widget system that morphs, expands, and contracts when various notifications come in. We're big fans.
This Dynamic Island still contains Apple's peerless Face ID system, too, so you'll be unlocking your phone and paying for stuff with a glance rather than a fingerprint. Samsung still relies on the latter, though its ultrasonic fingerprint sensor is one of the more secure on the market.
iPhone 14 Pro vs Samsung Galaxy S22 Ultra: display
The iPhone 14 Pro gives you a flat 6.1-inch OLED display with an 1179 x 2556 resolution. That makes it smaller and less sharp than the Samsung Galaxy S22 Ultra's curved AMOLED screen, which measures 6.8 inches, with an even sharper 1440 x 3200 (QHD+) resolution.
Both phones extend to a 120Hz refresh rate, so they're similarly silky in the hand. Only the Samsung can drop as low as 1Hz when appropriate, however, making it more efficient than the iPhone 14 Pro (which can only drop to 10Hz).
That's an important feature now that both phones can make use of always-on displays. Yes, Apple finally caught up - and its phone can get as low as 1Hz when using the always-on display.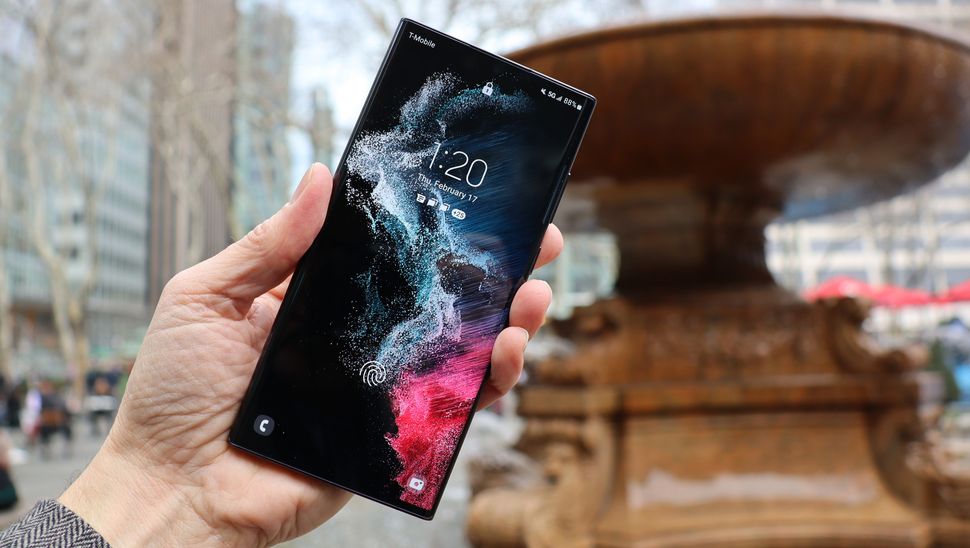 Another improvement Apple has made is that its display is brighter than ever, extending as far as 2,000 nits in High Brightness Mode. Even the mighty Samsung Galaxy S22 Ultra can't get that bright, though at 1,750 nits, you really won't be squinting even in the brightest of outdoor conditions.
As mentioned in the previous section, the big new innovation with the iPhone 14 Pro's display is its Dynamic Island, which offers shape-shifting heads-up notifications and widgets.
There are some clear differences between these displays, then. All we can say is that they're two of the best on the market, and that whichever you opt for, you won't be disappointed.
iPhone 14 Pro vs Samsung Galaxy S22 Ultra: cameras
The iPhone 14 Pro's triple camera setup sees a major digression from Apple norms. Most notably, out goes the 12MP main sensor and in comes a brand new 48MP alternative.
It still defaults to 12MP stills, however, using a pixel-binning technique. In this sense it's gotten a lot more like the Samsung Galaxy S22 Ultra, though Samsung boosts the overall pixel count significantly to 108MP.
This doesn't necessarily make the main Galaxy S22 Ultra camera better, however. Apple has a more advanced sensor-shift optical image stabilization (OIS), which combines with the company's new Photonic Engine to produce some stunning shots even in the most challenging of lighting conditions.
Both phones have strong 12MP ultra-wide cameras, but where Samsung wins its own photographic battle is with its telephoto provision. While the iPhone 14 Pro goes with a single 12MP telephoto with a mere 3x zoom, the Galaxy S22 Ultra gives you twin 10MP sensors – one with a 3x zoom and one with a massive 10x zoom.
Apple is still the video king, with super-steady 4K shots. The Samsung is good at capturing footage, but no one beats Apple at this stuff.
On the selfie front, the iPhone 14 Pro's 12MP sensor has made up some ground on the 40MP Galaxy S22 Ultra by adding autofocus. Both offer sharp, well focused shots with plenty of natural bokeh.
Overall, these are two of the very best camera phones on the market, and you won't feel let down by either. The iPhone 14 Pro is arguably better for close-up or regular shots – especially when you factor in Apple's more natural color science – while the Galaxy S22 Ultra is much better from a distance.
iPhone 14 Pro vs Samsung Galaxy S22 Ultra: specs and performance
These are two closely matched phones, but there's a clear performance edge in favor of the iPhone 14 Pro. Apple's A16 Bionic chipset hands out a hiding to all-comers, including the Galaxy S22 Ultra.
Samsung has equipped its phone with a Snapdragon 8 Gen 1 in most territories, which is the flagship chip found in most early–2022 Android flagship phones. Europe gets Samsung's own Exynos 2200, which offers similar performance, if a little less impressive than its off-the-shelf brother.
Any differences between these two chip variants is blasted away by Apple's A16 Bionic, which is way faster than both. Our benchmark tests reveal a quite remarkable gap here.
Of course, benchmarks don't mean much when it comes to actually using these phones, and in the hand you'll struggle to pick up any differences. Both phones can handle intense gaming and multitasking with similarly unruffled ease.
The Galaxy S22 Ultra offers 8GB or 12GB of RAM, which is more than the iPhone 14 Pro's fixed 6GB. Due to the different ways in which iOS and Android utilize their resources, however, that doesn't make a huge amount of difference.
More meaningful in this case is internal storage capacities, and on that front it's a dead tie. Both phones offer 128GB, 256GB, 512GB, and 1TB options.
iPhone 14 Pro vs Samsung Galaxy S22 Ultra: battery
Teardowns have revealed that Apple has equipped the iPhone 14 Pro with a 3,200mAh battery, which is significantly smaller than the Samsung Galaxy S22 Ultra's 5,000mAh cell.
Again, though, the two platforms use their resources so differently that it's barely worth mentioning. Especially given that the Galaxy S22 Ultra has a much larger and sharper display to power.
What matters is how well both phones will last in practical terms. In our testing, both phones could get through a full day of normal usage.
Neither is hugely impressive, if we're being brutally honest, with those super-bright displays capable of chewing through the charge on brighter days. Both phones stand up well enough that it's not a major concern, however.
Elsewhere, Samsung's phone supports faster 45W charging, while the iPhone 14 Pro only extends to a weedy 20W. The lower capacity of the Apple cell offsets that advantage somewhat, but the Galaxy S22 Ultra definitely has the edge on charging speed.
Both phones support wireless charging, but if you're using a standard Qi charger the iPhone 14 Pro only goes to 7.5W to the Galaxy S22 Ultra's 15W. Invest in a bespoke MagSafe charger for the iPhone and things even out.
Takeaway
We gave both of these phones 4.5-star reviews, and they remain two of the best flagship phones on the market. You really can't go wrong with either.
The Samsung Galaxy S22 Ultra is a power user's dream, thanks to its flexible camera system, integrated S Pen stylus, and huge display.
The iPhone 14 Pro meanwhile comes in a more compact package with superior power and an outstanding main camera. If you like your flagship phones compact and powerful, it's the best in the business bar none.
So the best of these handsets is rather subjective, and depends almost entirely on what you want from your phone - but they both comfortably rank among the best smartphones.