I bought this dash cam for under $20 and its Full HD video quality was anything but
$20 challenge: this cheap dash cam has Full HD video, but don't let the spec sheet fool you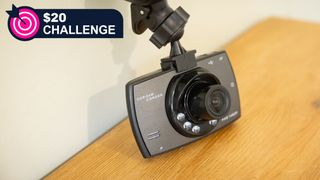 (Image credit: Future)
I've reviewed dozens of dash cams over the years, but none quite as cheap as the Dash Cam Front and Rear Wireless, which I snapped up at Amazon for £19.99, and is available from Amazon US for around $20. Dash cams mostly sit between $120 / £100 and $250 / £200, with the occasional tech-packed flagship crossing the $350 / £300 barrier.
Loaded to their suction cups with features like speed camera alerts and suites of driver assistance tech, they often promise to do much more than simply record video, yet often struggle to fully deliver on every promise. All too often, I wish they would just keep things simple, stick to the basics, and deliver the perfect dash cam experience without the bells and whistles.
So does this present an open goal for the $20 dash cam? Assumed to be mythical, at least until the depths of Amazon were truly plumbed, such a product does indeed exist.
$20 challenge
This is the second in a regular series of articles in which we test really cheap gadgets to see if they're worth even the small amount of money you'll pay for them. Read them all here.
On the box, it's called the Advanced Portable Car Camcorder (I bet you haven't seen that word for a while), and it's from a company called, erm, Wakerug. You know the one – it also sells mini thermal printers, body cameras, headphones, security cameras, dog beds, ankle braces, and, yes, rugs. A virtually identical camera is sold under a couple of brand names at Amazon US.
Wakerug also sells another dash cam in the UK, one with a cabin-facing lens attached to the main unit. It costs a bit more and has received a single review – one star, "Would not recommend to anyone" – but I won't let that cloud my judgment. The model I bought doesn't yet have any customer reviews, perhaps because the owners are so wowed by it they haven't had time to write one.
I digress. It's time to unbox the Car Camcorder, fit it in my car, and see if you really can buy a decent dash cam for $20.
What's in the box?
Dash cam
Suction cup windscreen mount
12V plug with integrated cable and mini USB connection
16GB microSD card
Bit of a shocker, that last one. This $20 dash cam comes with a 16GB microSD card. I know the price of storage has plummeted in recent years, but some much larger dash cam companies don't include a card in the box, so fair play to Wakerug for doing so. Shop carelessly, and Amazon could relieve you of $10 / £10 for that alone.
The dash cam looks and feels fine. It's small, light, and made from the sort of plastic that will graze your knuckles in a heartbeat. But no one expects to lovingly caress their dash cam like a titanium iPhone, do they? These are practical, utilitarian devices with a job to do. If the windscreen mount has the sort of fit and finish I suspect Tesla Cybertruck owners will soon be disappointed by, then so be it.
The 2.7-inch display is protected by plastic that arrived covered in scratches, and the ball-and-socket mount of the suction cup isn't great. However, the cup locks onto the glass pretty well, and the whole unit is small enough to hide behind the interior mirror of most cars. It's worth noting that some dash cams are so large now, so swollen with features, that fitting neatly behind the mirror of smaller cars isn't always a given.
There are six clearly labeled buttons on the bottom edge of the dash cam, all with a nice tactile clicking action. A bright orange button for manually saving video sits next to the screen (handy for when you've witnessed an incident but the dash cam didn't detect it). There's also a port marked AV Out, but I don't know what that's for and there's no cable supplied to fit it.
Swipe to scroll horizontally
Wakerug Car Camcorder: Specifications

| | | |
| --- | --- | --- |
| Resolution | Full HD (1920 x 1080) | Row 0 - Cell 2 |
| Field of view | 170 degrees | Row 1 - Cell 2 |
| Windscreen mount type | Suction cup | Row 2 - Cell 2 |
| Display | 2.7in TFT | Row 3 - Cell 2 |
| GPS | No | Row 4 - Cell 2 |
| Wi-Fi | No | Row 5 - Cell 2 |
| Bluetooth | No | Row 6 - Cell 2 |
| Storage | microSD (16GB card included) | Row 7 - Cell 2 |
| Battery | No | Row 8 - Cell 2 |
Performance and video quality
The dash cam is easy to install and set up. The simple menu system is quick to navigate and configure all the basics, like time, date, video resolution, and whether you want the microphone on or off.
This is where most of the good news ends, sadly, because the video quality is quite bad. Despite being tested on a bright and sunny day, recordings were devoid of detail to the point that street signs and vehicle registration plates were often tricky to read unless very close to the camera. Even the date and time added to the lower-left corner were grainy, while the sky was blown out and darker areas plunged into shadow. This all added up to footage that looked like it was shot on a decade-old laptop webcam, not a brand new dash cam claiming to operate at Full HD.
On that note, the recordings are curiously created at a 4K resolution of 3,840 x 2,160 but retain the grain of something closer to 460p.
I also tried the dash cam at night, and the results were even worse. It was now impossible to read signs and number plates at any distance. Had a car driven into mine, the footage would show this, but I wouldn't trust it to reliably capture smaller details.
Pressing the orange lock button didn't seem to do anything at first. But when you dig into the SD card, you'll find footage shot at that moment is given a different file name and bumped to the front of the queue (when viewed alphabetically), so it's easy to find later.
The $20 dash cam: Is it worth it?
The Advanced Portable Car Camcorder is hard to recommend, though not impossible. Perhaps I've been spoiled by the sharp 4K footage of much pricier models, but I wasn't prepared for quite how poorly this dash cam performed. The footage should help determine who caused a collision (providing you don't need to read the number plate from any distance, of course), and it'll help clear your name if it was actually the cyclist who was at fault, but finer details will almost certainly be lost.
I can live with the poor quality plastic and it does work as a very basic dash cam, and of course, it's incredibly cheap.
But this is a device designed to record footage that could one day be used as evidence in an accident, and for such a role I'd want sharper, more detailed footage. Road signs are often illegible, and even the number plate of a car I followed at low speed in broad daylight couldn't be read, let alone those of vehicles on the other side of the road.
I don't doubt that a $20 dash cam with usable Full HD footage will one day exist, but I urge you to save your money today and spend a little bit more tomorrow.
Get daily insight, inspiration and deals in your inbox
Get the hottest deals available in your inbox plus news, reviews, opinion, analysis and more from the TechRadar team.
Alistair Charlton is a freelance technology and automotive journalist based in London. His career began with a stint of work experience at TechRadar back in 2010, before gaining a journalism degree and working in the industry ever since. A lifelong car and tech enthusiast, Alistair writes for a wide range of publications across the consumer technology and automotive sectors. As well as reviewing dash cams for TechRadar, he also has bylines at Wired, T3, Forbes, Stuff, The Independent, SlashGear and Grand Designs Magazine, among others.