Verdict
If you're reading this review, chances are you're wondering whether the iPhone 7 is worth buying. It's no longer the latest and greatest from Apple - you'll want the iPhone XS, XS Max and iPhone XR - but the iPhone 7 is still a solid smartphone with a now lower price tag.
Having used the iPhone 7 for many weeks, it's been a pretty static Apple experience: there's very little that goes wrong after a longer-term test, unlike some Android phones, and everything is largely where it's supposed to be still.
If you're thinking about buying a new budget iPhone (and aren't interested in the larger frame of the iPhone 7 Plus), the question you should be asking yourself is: do I go for the 7 or the 6S?
Let's face it, Apple knows how to make great phones, and the foundations of the iPhone are excellent – that's why so many millions are instantly sold each year – so it comes down to whether you want to buy the newer model, or can get most of the same benefits by paying a bit less.
The biggest updates to hook onto are the fact the iPhone 7 is water-resistant and has more powerful dual speakers for showing off videos to friends. These are good upgrades, but don't seem to be enough to entice people we've spoken to.
The brighter and more colorful screen, the more powerful innards, the slightly larger battery and the upgraded camera feel more like the kind of changes we get on the S variants of the iPhone, not a new-numbered model.
It's hugely disappointing that only the iPhone 7 Plus got the dual-camera array, as being able to use optical zoom, create DSLR-esque effects and get improved snaps all round would have been a real reason to entice people to move to the latest iPhone.
The upgrades to the internal memory are thoroughly welcome though, with the doubling of the capacity for the same price (or a touch more in the UK as exchange rates fluctuate), a move we've been begging Apple to make for a long time.
The price is still high for what you're getting – but then again, we've said that time and again about a new iPhone, and people keep buying them… so perhaps at some point that argument ceases to be relevant.
Who's it for?
There are some clear indications as to the type of person who would enjoy the iPhone (beyond someone who's just going to buy the latest model because it's there).
The camera is probably the biggest hardware upgrade in terms of its low-light capability, and combined with the water-resistant nature of the iPhone 7 it's good for someone who just wants to capture the precious moments day by day – so if you've got kids doing adorable things constantly, want to document time with friends or are just obsessed with taking snaps of pets, you'll get something from this phone.
It'll also be good for those people who like to watch films without headphones, as the dual speakers really help sell the handset in that respect (although you'll need to be careful not to cover the speakers).
You'll also need to either be: a) someone who only uses bundled iPhone headphones, b) someone with a single pair of headphones they use daily, so you can put the adaptor on and forget about them or c) someone willing to invest more money in Lightning or Bluetooth options instead.
Should you buy it?
Apple has hit its marks with the iPhone 7, delivering upgrades in the right areas and to a decent level at times – it knows the level it needs to hit to make the iPhone seem new, and it's done just enough to achieve that.
The water resistance is mostly there to improve your confidence in the robustness of the phone, and you'll need to be ready to listen to your music on the new phone in a slightly different way.
Over time, we found that the water resistance is far more useful than anticipated, as you can take shots in the rain or just feel more secure around ponds.
Longer term testing has proved that the battery life is rather poor though - if you've got an iPhone 6 you'll find it improved, but overall it's still rather sub-par from Apple, which is disappointing.
If you have three pairs of 3.5mm jack-connected headphones in constant rotation, it'll be mere days before you get incredibly frustrated that you can't use your cans or buds with the iPhone 7 as you've left the sodding adaptor somewhere else.
But if you're someone who just uses the headphones in the box, or only has Bluetooth cans, then you'll not notice the change one single jot.
The real question you should ask yourself here is: should I just go for the iPhone 6S? That phone has the same sharpness of display, a similar camera, the same dimensions and the same iOS capabilities – plus a clickable home button and a headphone jack, familiarities some will love.
It's the same phone but just a paler version - it depends if that matters to you, as it's a good way to save money without losing loads of functionality.
The iPhone 7 isn't a huge upgrade; it's a few small – but useful – steps forward.
Of course, it's also not the newest model any more, so you might also be considering the iPhone 8 or even the iPhone XR. In which case, you should read on below for a look at how they compare.
Competition
If you're not set on the iPhone 7 then there are plenty of other decent handsets you should be checking out. These are some of the most popular that we think would satisfy those not impressed with the specs or price of the iPhone 7.
iPhone XR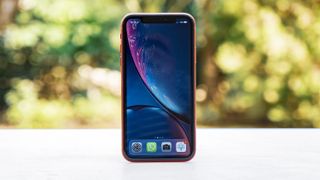 The iPhone XR is a substantially better phone than the iPhone 7, but it's also substantially more expensive, despite undercutting the likes of the iPhone XS, and it has a bigger 6.1-inch screen, which won't appeal to everyone.
But if you're happy with a big phone and can afford what this costs, you'll be able to take advantage of a much newer, more powerful chipset, a modern design with an-all screen front and no home button, Face ID in place of Touch ID, and better battery life.
Read: iPhone XR review
iPhone 8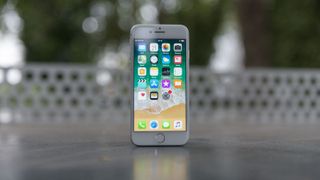 The iPhone 8 builds on the iPhone 7 with more power and a new glass rear (including wireless charging), but that's about it.
There's not a huge amount of difference, and with the iOS 12 update available on both the iPhone 7 and iPhone 8, you've basically got to make the decision on if the newer model is worth the additional outlay.
Read: iPhone 8 review
Samsung Galaxy S8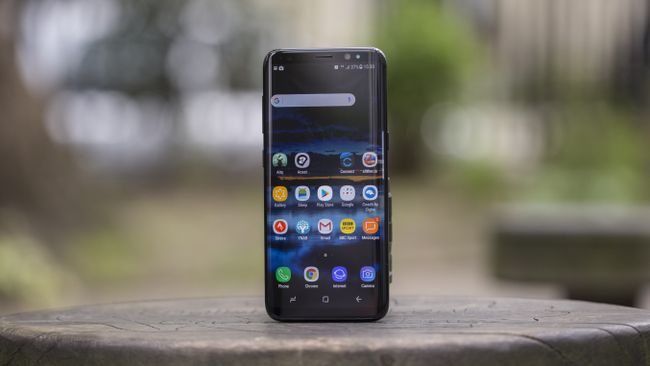 Six months after Apple released the iPhone 7, Samsung brought out the Galaxy S8.
The Galaxy S8 has a wraparound 5.8-inch screen but is still easy to hold and use with one hand. It features what were at the time top of the range specs under the hood, 64GB of storage as standard and the latest Android 9 software. Plus there's a 3.5mm headphone jack so you can use this with wired headsets.
If you're used to using an iPhone, you may find it difficult to switch to Android for the Galaxy S8 though. We'd recommend reading our full review before you buy it, but it may be a good fit for your next phone.
Read: Samsung Galaxy S8 review
iPhone 7 Plus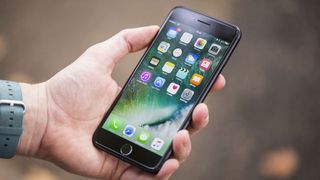 The reason to choose this phone is simple: it's got much better dual cameras. And the battery life is much longer (OK, there are two simple reasons).
Other than that, you're getting the same phone but bigger and with a higher-res screen (OK, three reasons...) but you're going to pay a lot more for the privilege.
Read: iPhone 7 Plus review
First reviewed: September 2016