Making affordable phones with good battery life, slick design and great screen quality has been Honor's niche for a while, and the Honor 10 Lite doesn't disappoint.
With only a Kirin 970 processor it definitely lacks the oomph needed for heavy multitasking and advanced 3D gaming, while there's also no waterproofing, fast or wireless charging, and no USB-C port.
What this phone does pack, though, is actually more important from our point of view: a usable camera, plenty of storage and great battery life.
Looking the part, and featuring a case in the box, not to mention a pre-fitted screen protector, for £199 ($255, AU$360), the 10 Lite is a piece of cake to recommend if you're looking for a fantastic-value, sleek all-rounder.
Who's it for?
The Honor 10 Lite is an ideal teenager's smartphone: it won't break the bank, it has a respectable camera and it looks sweet.
It's also a great all-rounder for anyone who's looking to spend less than £199 ($255, AU$360), and who likes the protection offered by the included case and screen protector, and who wants a big screen – great for YouTube or Netflix – and a headphone jack.
If anyone's thinking about picking up a next-gen smartphone like the expected iPhone 11, Huawei P30 Pro or Samsung Galaxy S10, and wants a comparatively inexpensive mid-ranger to tide them over, the Honor 10 Lite could also be an ideal solution.
Should I buy it?
If its looks float your boat and you can deal with the fact that its camera isn't flagship quality, the Honor 10 Lite is very easy to recommend. It packs a lot of features and some really nice hardware for less than we'd usually expect to pay.
Competition
Honor 8X
If you want to go a bit bigger, but like the blend of mid-range internals with all-screen design, the Honor 8X is the obvious alternative to the 10 Lite. It doesn't feature as new a version of Android, but it gives you more display and rich styling, as well as a dual camera and great battery life.
Read our Honor 8X review
Motorola Moto G6
The Moto G6 can be picked up for a little less than the Honor 10 Lite – and with half the storage and inferior design, that's little wonder. What Motorola does manage to deliver is a solid camera and fun gesture controls, not to mention a more stock version of Android.
Read our Moto G6 review
Nokia 6 (2018)
If you're looking for the purest Android device on a budget, it's got to be the excellent Nokia 6. As an Android One handset, it has a clean UI and guarantees buyers three years of security updates, as well as two software updates, so it'll get Android 9 and 10 down the line. Like the Moto G6 it packs half the storage of the Honor 10 Lite – but with an SD card slot on offer, it might be a sacrifice you're willing to make for a simpler Android interface.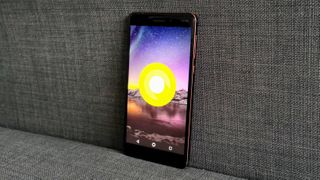 Read our Nokia 6 review