WordPress is often regarded as the easiest and best website builder if you're looking to build something that you won't outgrow in the long run. You can even start a website on WordPress for free. Most web hosting accounts include a '1-click installer' which will set up WordPress for you in seconds. All you have to do is sit back and watch.
Learning how to use WordPress is more difficult. It's a hugely powerful and configurable product, with a vast ecosystem of add-ons and extensions, so there's a lot to learn. And although a web host might have a few WordPress-related articles on its support site, don't expect any significant help. Run into real difficulties, and you'll be on your own.
WordPress.com makes life easier by handling all the technicalities for you. There's no hosting to buy, no installation to worry about, no updates to manage, no security issues – signing up with WordPress.com gets you a ready-to-go WordPress setup that you can use right away.
A free-for-life plan makes it easy to try the service out. Your site will have WordPress.com ads, just 3GB of storage space, and only access to basic themes and design options. It also restricts you to a WordPress subdomain (yourname.wordpress.blog), and comes with basic community support. Still, it's a decent system which is perfectly adequate for personal blogs, simple family sites, or just building up your WordPress skills.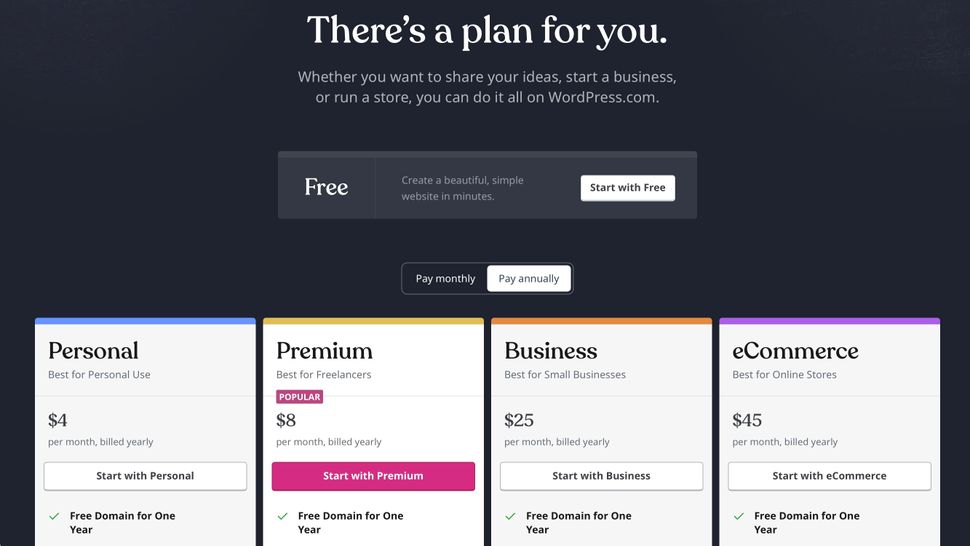 Plans and pricing
If you're looking for something with a few more features, you can upgrade to one of the paid hosting plans. WordPress website builder has four main options. However, there's tons of add-ons you can buy to add more tools and flexibility.
The Personal plan costs $4 per month when you purchase the yearly subscription. It includes up to 6GB of storage space, your own custom domain, no more WordPress ads, and an SSL Certificate. It also includes your own email address, you're able to take payments and provide subscriber-only content. This plan works great for anyone who wants to build a more customised site that's professional and easy to manage.
The Premium plan is $8 per month when you commit annually. It includes 13GB of storage space, access to unlimited premium website themes, and advanced design tools. If you really want to take your website to the next level and have access to social media support tools, then this plan is a great place to start.
The Business plan costs $25 per month after you sign up for the yearly subscription. This plan comes with a lot more storage space (up to 200GB) and includes 24/7 priority level support. For small businesses that want more help with SEO, this plan has more tools available. At this level you can add themes, plugins, and a backup feature to save previous versions of your website.
The eCommerce plan is designed for small or large online stores. It costs $45 per month when you sign up for the yearly plan. The biggest difference between this plan and the Business plan is the ecommerce features. Your website will be able to accept payments from over 60 different countries. Not too bad for an online store.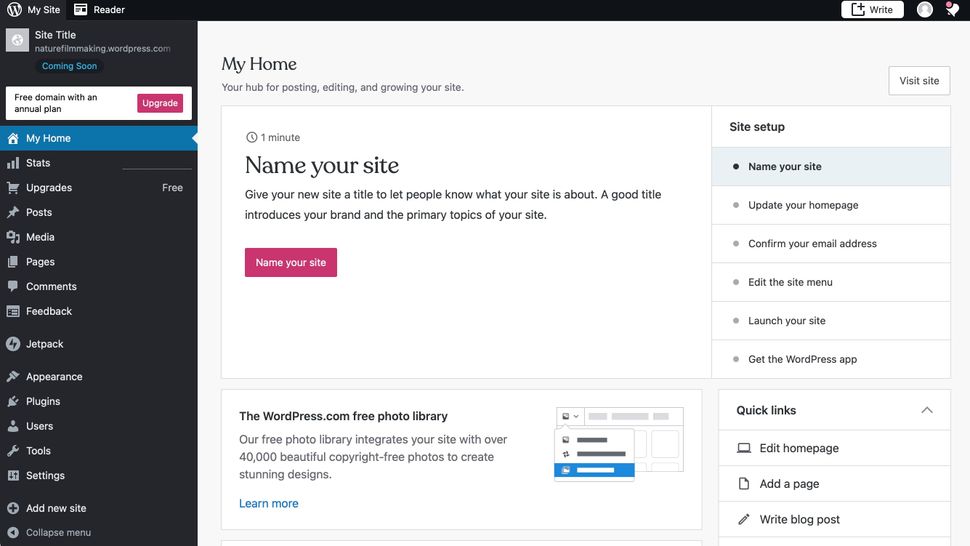 Getting started
Setting up a new site is pretty straightforward. The main part of the page focusses on you filling in a few details before you can get properly started. Each time you finish a section, you're automatically taken to the next one.
If you've any experience with using a PC at all, you'll complete the setup parts of the checklist within a few minutes. If you're unsure where to go, you'll also find a useful tutorial pop up which you're free to follow.
Editor
When you follow the checklist and 'update your homepage', you'll find yourself in front of the WordPress editor.
It feels more like you're working with a word processor than a web-based website editor. Just highlight the sample text and start typing to replace it (no need to click on an edit button for instance).
There's media support for images, documents, audio and video files. Images can be added from your computer, your Google account, via a URL, or by searching the excellent Pexels library of free stock images. Audio and video files can be linked from elsewhere, or hosted locally if you buy a commercial WordPress account.
The options offered to you are very straightforward.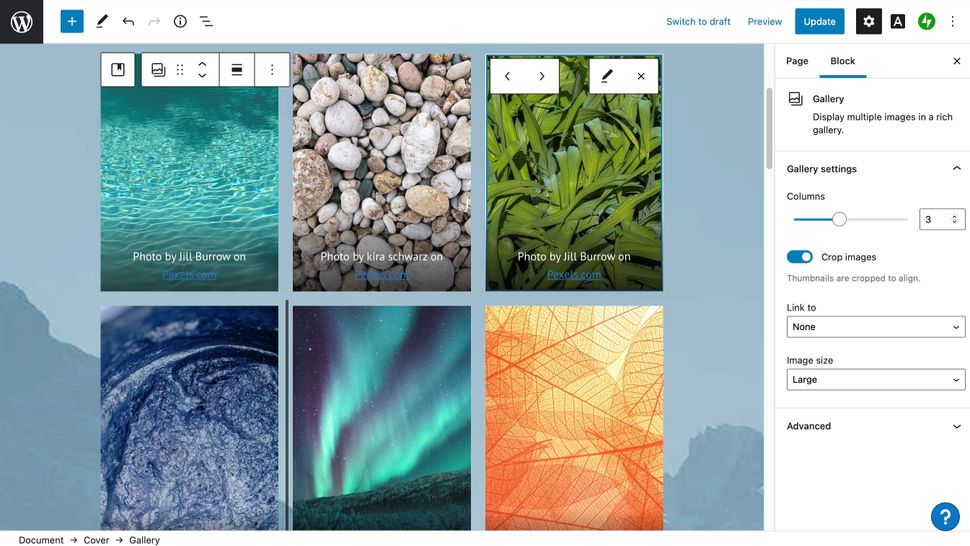 Choose a gallery, for instance, and once you've added your images, you can select how many columns you need, or even choose to have the photos automatically cropped with the click of a button.
Adding a single image offers you a few basic options, such as cropping, applying rounded edges, or even applying a duotone filter, if you're into that sort of thing.
The basic WordPress.com editor doesn't have many components to directly integrate with many other web services, but simple embedding of content is usually very easy. Simply paste in a URL from YouTube, Vimeo, Flickr, Twitter and more, directly onto the page, and the editor will generally display the linked content.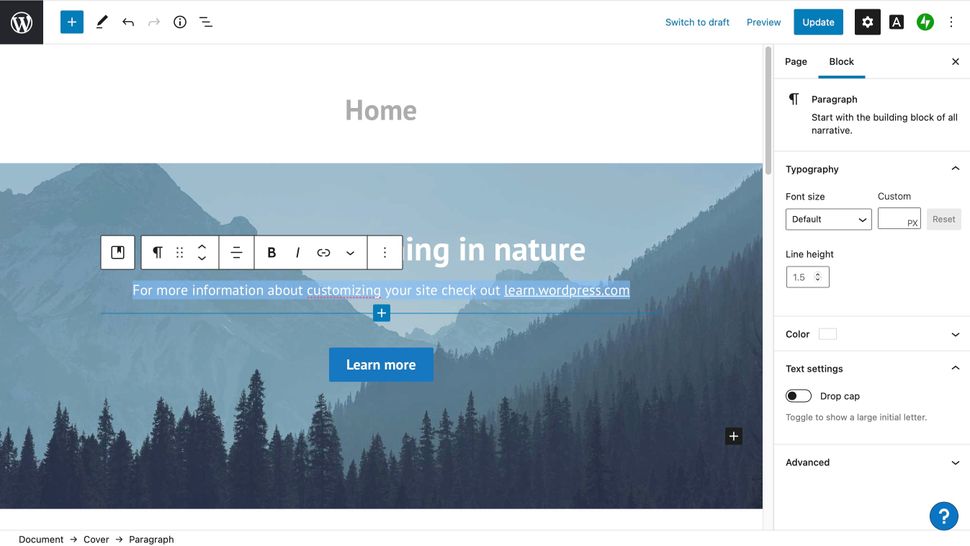 Writing a blog post, the interface feels clean and uncluttered. Usual keyboard shortcuts, like those to bold or italicize a word work. You can forget about all the complexities if you want to, and just focus on what you want to convey.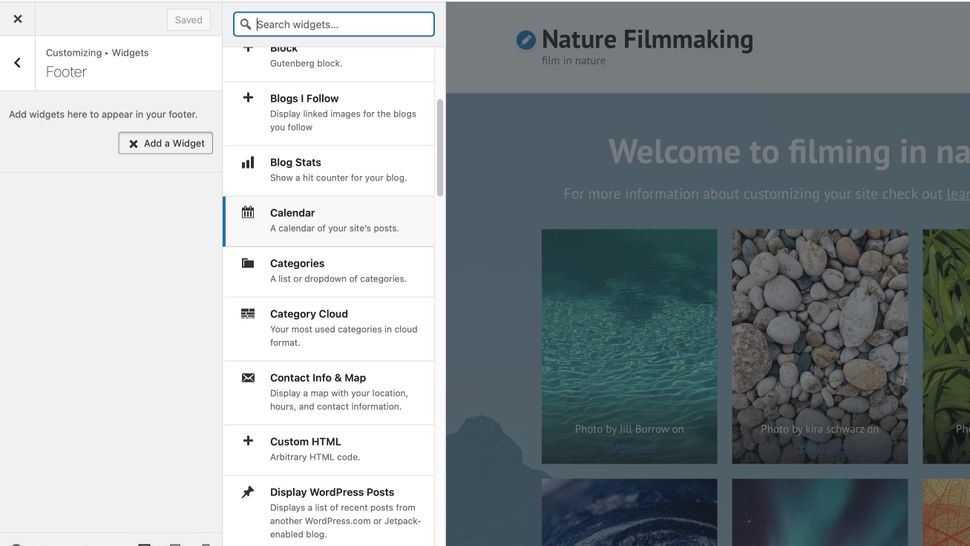 If you're interested in adding widgets to your site - small components which you can typically add to sidebars, headers, footers, and other widget-enabled areas of your chosen theme - you can access them via the Appearance > Customise menu in your left sidebar. These can't compete with the best of the website builder competition, but among the dozens of available widgets, useful integrations include simple audio and video embedding, Twitter timelines, Facebook pages, iCal-compatible calendars, Flickr and Instagram feeds.
If any of this doesn't work as you'd like, experts can instantly switch to an HTML view of the current page, and edit the code as required (via the 'Code Editor'). That gives you far more control than the usual 'custom HTML' widgets that you'll get with some website builders, although it will take some knowledge and experience to deliver good results without messing up the rest of the page. This is something we only advise advanced users to explore.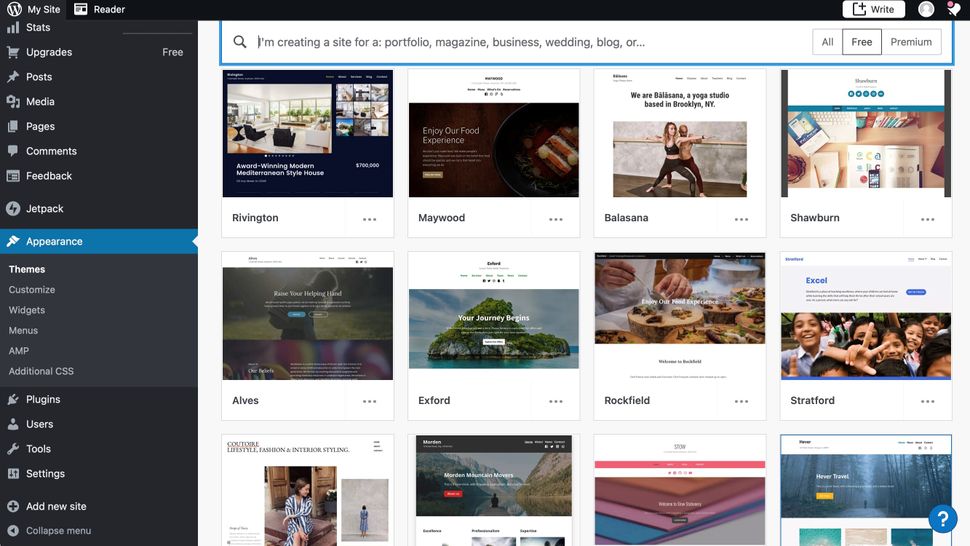 Advanced features
Standalone WordPress gives you free access to a huge library of themes, but only 112 are accessible on the Free plan.
Should you fancy one of the premium themes, you can usually get one for around $39 to $150. Upgrading to the Premium or above plans will get you free access to everything.
It's much the same story with WordPress plugins. Install regular WordPress on a standard hosting package and you're able to extend your setup with thousands of amazing add-ons, covering everything from convenient operational tweaks (redirect every '404 not found' error to your home page) to major packages in their own right (the WordPress-based WooCommerce is one of the best e-commerce platforms around). But although you can see all available plugins from the library, even when trying the free Plan on WordPress.com, the service won't allow you to install any of them unless you purchase the top-of-the-range Business plan.
While these could be major issues for some, there are always restrictions with free accounts, and WordPress.com does still have some interesting advanced features of its own.
A lengthy list of import tools enables importing posts, pages, comments and other content from Wix, WordPress, Medium, Blogger, Tumblr and other sites.
Blogging support tramples all other website builder blogs into the dust. Take just one example: blog comments which has a huge number of valuable features. You can control whether commenters must provide a name and email address; decide when and if you're emailed about new comments; intelligently allow comments from trusted posters, and block them when they look suspect; display comments according to your own rules (nesting levels, the number of comments to display per page); and moderate dubious comments yourself before they're published.
Capable Jetpack-powered analytics tell you all about how your website is performing. You're able to view numbers of visitors, page views, likes and comments, along with stats on referrers, countries, search terms and more, while an Insights area covers your posting activity, historical views, follower totals, and assorted other interesting figures.
Final verdict
WordPress offers a great website builder that's trustworthy with a free plan is great for simple websites. You can easily install WordPress on a regular hosting account and access more features for a lower price. With so many plugins and add-on options, you'll be able to truly customise your website to best reach your audience. You can always upgrade to a larger plan if you see that your site is growing and needs additional SEO tools.
You might also want to check out our other web hosting buying guides: