The new Nokia 5.1 offers up a large screen, a decent slug of power, solid snapper and a premium metal build for a price that won't break the bank.
It's the phone that slides into the middle of the renewed Nokia-branded smartphone family, sitting between the new Nokia 6.1 and Nokia 3.1.
Nokia Phones is officially referring to this handset as the Nokia 5.1, as it replaces the Nokia 5 from 2017 - but it's unclear if you'll actually see the decimal moniker on shop shelves.
Update: We now have the official Nokia 5.1 release date and price for the UK, and we'll soon be getting the phone in for a full review.
Nokia 5.1 release date and price
The Nokia 5.1 release date is set for September 12 in the UK, although availability in other countries is currently unknown.
The Nokia 5.1 price in the UK is set at £189.99, which gets you the 2GB of RAM with 16GB of storage model. In Europe the same model is priced at €189 (around $220, AU$290).
Some regions will also be treated to a 3GB/32GB configuration of the Nokia 5.1, with a price of €219 (around $255, £190, AU$330).
Watch our hands on video of the Nokia 2.1, Nokia 3.1 and Nokia 5.1 below
Design and display
The original Nokia 5 offering up a full metal body at an affordable price point, and the same is true of the Nokia 5.1 as it's machined from a single block of 6000 series aluminium.
It's smooth, sleek and feels premium in the hand, an impressive feat for a phone with the price tag of the new Nokia 5.
There's a rear fingerprint scanner that falls nicely under finger, and the power and volume keys on the right are easy to reach.
The Nokia 5.1 has also been slimmed down by almost 2mm versus its predecessor too, allowing it to fit more snugly in the hand. At 151.1mm x 70.73mm x 8.27mm the Nokia 5.1 isn't too overbearing either.
There are colored antenna bands at the top and bottom of the handset, and while they're relatively well hidden on the black and tempered blue versions, they're a lot more obvious on the satin copper model - which doesn't look quite so good.
On the base of the handset you'll find a single speaker and a microUSB port. It's disappointing that the Nokia 5.1 doesn't use the more common, and newer, USB-C connection - but it does mean you'll likely have a cable somewhere at home that will charge this phone.
Up top you'll find a headphone jack, allowing you to plug in a traditional set of headphones without the need for an adapter.
It boasts a bigger screen too, with the 5.5-inch display boasting the now-popular 18:9 aspect ratio. This makes the screen taller (when held in portrait), giving you more information on screen, while also offering an improved movie and gaming experience in landscape.
The screen resolution has also been given a bump, with the Nokia 5.1 boasting a Full HD+ (2160 x 1080) setup which results in a 443ppi pixel density. It means the screen is sharp and clear, with a good level of color reproduction.
Nokia 5.1 hands on gallery
Image 1 of 9
Image 2 of 9
Image 3 of 9
Image 4 of 9
Image 5 of 9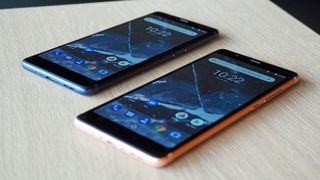 Image 6 of 9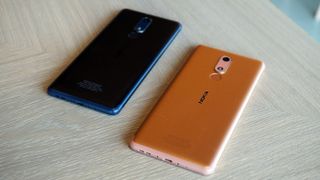 Image 7 of 9
Image 8 of 9
Image 9 of 9
Camera and battery
The Nokia 5 (2018) comes with a 16MP rear facing camera and an 8MP front facing selfie snapper.
The handset wasn't running final software when we got our hands on it, so we can't comment on the final image quality, but it is a step up from the camera experience offered from the first Nokia.
The firm's 'bothie' mode returns here as well, allowing you to snap a picture or video clip from the front and rear cameras simultaneously, putting them into a single image/video.
Round the front the 8MP camera features a 84.6 degree wide-angle lens, allowing you to cram more of your besties into shot.
Under the hood there's a non-removable 2,970mAh battery, which is actually smaller than the 3,000mAh power pack in its predecessor, but Nokia Phones says battery life should be similar thanks to greater efficiencies from the chipset inside the Nokia 5.1.
Performance and interface
The Nokia 5.1 is powered by a MediaTek Helio P18 2GHz octa-core chipset, which offers 40% more performance than the chip inside the Nokia 5.
That means Android 8.1 Oreo should run smoother and faster, and from our brief time with the handset (running non-final software) that seems to be the case.
We did witness some sluggish load times on its predecessor - which had an older MediaTek chipset - so the hope is this time round things are better.
There are two configurations with the cheaper 2GB of RAM with 16GB of storage option likely to fill up with apps, games and photos quickly.
The Nokia 5.1 does feature a micoSD slot allowing you to expand the storage with an external card up to 128GB in size, but for an all-round better experience you'll probably want the 3GB/32GB combination.
The new Nokia 5 is also part of the Android One family, which means you get a stock Android experience and guaranteed software updates for two years, and security updates for three years.
Another benefit of the Nokia 5.1 being on an Android One device is the free unlimited photo storage on Google Photos.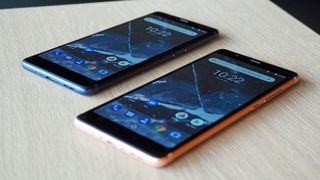 Early verdict
The new Nokia 5.1 is a phone that packs in a solid range of features into a premium body at a very attractive price point.
It's up against the likes of the Moto G6, Honor 7X and Moto E5 Plus, so it's not exactly plain sailing, but it arrives with the famous brand emblazoned on its rear and a real chance to appeal at the affordable end of the mobile market.