Box and remote
Make no mistake about it, those people who get their hands on a Virgin Media powered by TiVo box (we're going to call it Virgin Media TiVo from now) will be trying to tell you why it's better than Sky's best offering, and Virgin founder Sir Richard Branson told us that it was not only a weapon against the satellite rivals but that it would convert thousands of people.
The box is made by Cisco – to be exact it's a CT8685DVB – and looks-wise it's a very different looking box to its predecessor. The V+HD box was bedecked with a fairly pointless on-box screen and the shape could probably best be described as, well, boxy.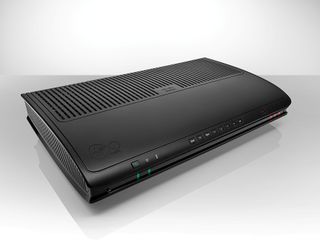 But the Virgin Media TiVo box is much closer in looks to the popular Virgin Media router – which in turn looked a lot like a PS3 – although a wise decision to go with matte black rather than piano shine means that you won't be quite so aware of the finger prints.
Virgin hasn't gone the whole minimalist hog and taken physical buttons off the front of the box. On top of the power button there are also buttons for 'Home' 'TV' 'Back' four arrow keys, 'OK' and a record button. There are lights for your connection, one for remote control action and one for power.
We still don't advise losing the remote though – because it's a nice piece of kit in itself.
Curiously peanut shaped, and very similar to the well loved TiVo version, Virgin Media's remote cannot be accused of being short on buttons. In truth, Apple man Steve Jobs would probably have a field day with just how many options are given rather than allowing the on screen menus to do the work.
To that end, on top of volume and channel up and down there is also a Home button to get to the main menu, a TV button to get back to the TV programme, a self-explanatory guide button, an info button, a text button (not in use yet) an expand picture button (more later) a sub titles button, a record button and TiVo's thumbs up and thumbs down.
And that's just the top half of the remote. We've heard of being thorough but quite honestly, there must have been a way to simplify the remote. The expand picture button, for instance, offers functionality that surely could have been rolled into other buttons and pressing the Home button twice takes you to My Shows (or once to the menu and then down one place).
It's a minor criticism, but on a box that is offering great power, a little simplification on the remote might have been a nice option.
Of note are the coloured thumbs up and thumbs down buttons on the remote, which allow you to grade programmes with up to three thumbs up or down. This is a key addition and we'll explain why when we get deeper into the functionality of the Virgin Media TiVo box.
The bottom half of the remote has, as you would expect, a numerical keypad, a slow button to slow things down, a skip back button, which take you back eight seconds or skips back a screen if you are in slow mo, a skip forward, play stop, fast forward rewind and, in a lurid yellow, pause.
This is an indication of just how powerful this box is as a PVR. For people who like live pause, who like skipping back to see something again (and in slow motion) or who want to not feel constrained by linear broadcast this is a fine, fine piece of kit.
It's also a good place to talk a little more about what having three tuners and a big hard drive does for this box. As opposed to Sky's double tuners, Virgin Media's three tuners also provide you with a neat multiple-buffer which means that you keep the rewind live TV option functioning not just on the channel you are currently watching, but also on whatever is running on another tuner.
That means you can be watching a couple of sporting events, for instance, and flicking between channels but still have the capacity to rewind on both to catch things you may have missed. It's a neat trick.
The back of the box is packed with various ports; the cable in (duh), SCART, HDMI, Optical Audio and USB and Ethernet ports that are not used for anything (yet). The card is inserted here and there is a power switch.