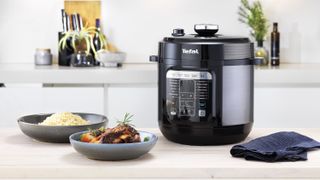 (Image credit: Tefal)
If you love to cook, chances are you're accumulating a whole load of appliances for different functions. And that means they're all eating (pun intended) into your storage space.
That's what makes a multi cooker an ideal solution. This countertop appliance can typically pressure cook, slow cook, rice cook, make yoghurt, steam, sauté, boil, simmer, stew, deep fry, grill and roast.
Uh-huh, that's a lot of cooking in just one appliance. But wait, it doesn't stop there! There are some that can even air fry.
That's not just bang for buck, but you even open up storage space by getting rid of a lot of older appliances, and you can save time cooking a meal as well.
It can be argued that Instant Pot launched the multi cooker to its current fame, but Crock-Pot too can take some of that credit. There are now so many different brands being sold around the world that it's hard to keep up. To help you choose, TechRadar's reviewers try out several multi cookers to see which one works the best, while also offering tips and tricks on how best to use your multi cooker.