But there's one big problem...
Where is Android Oreo? In a recent poll conducted by Xiaomi, the company's fans made it pretty clear that they'd prefer stock Android to MiUI. Yet, Xiaomi decided that Android Nougat is the way to go here. You still get MiUI 9.2, but I'd put this as one of the major disappointments about this phone, as it is with most Xiaomi smartphones.
Camera
The cheeky use of Apple's camera design here will probably get Xiaomi some eyeballs, but what really matters is the quality. And yes, the company has improved the camera from last year's devices. Improved, though doesn't mean upgraded. It looks like an iPhone (vertically placed bulge and all) but performs like a Xiaomi.
It's at par with the Mi A1's camera, which means the Moto G5 Plus still sports a better camera in this price range. The Redmi Note 5 Pro produces warm, punchy colours with reasonable image detail. It can do reasonably well in low light situations, though there's nothing to celebrate here. In some cases, the Note 5 Pro produces better colours under low light, as shown in our comparison with the Mi A1.
The Mi A1 is noticeably better in portrait shots though. That's because of the telephoto lens on that phone, that blurs the background better. The Note 5 Pro uses a 5MP depth-sensing camera, so it doesn't have as much background detail as the Mi A1.
The camera, though decent only, is probably the only real reason to choose the Note 5 Pro over the Note 5. If you really care about imaging on your smartphone, the Pro's camera is more versatile and dependable. It has more features, is noticeably faster and takes better shots.
Image 1 of 14
Image 2 of 14
Image 3 of 14
Image 4 of 14
Image 5 of 14
Image 6 of 14
Image 7 of 14
Image 8 of 14
Image 9 of 14
Image 10 of 14
Image 11 of 14
Image 12 of 14
Image 13 of 14
Image 14 of 14
Front camera
There's a 20MP camera on the front of the pro, which takes better selfies than most of its predecessors. Images aren't unduly softened, though details aren't very high either. Xiaomi has struck a balance between "beautification" and natural images. It's not as good as Oppo's "selfie experts", but it's not shabby either.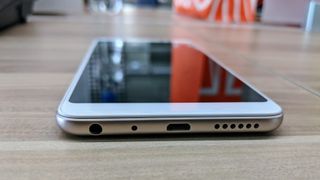 Battery Life
As with any Xiaomi smartphone, the Redmi Note 5 Pro has impressive battery life. It lasts 14 hours on regular usage, without fail. That, with 10 odd calls, a bunch of text messages, lots of IMs and some 15 shots using the camera. I even threw in some 20 minutes of gaming, but still ended my work day without requiring another charge. A full charge every night is all you will need, and idle battery life is incredibly long.
Verdict
Much like any "updated" smartphone today, the Redmi Note 5 Pro exists because it has to. This isn't a true upgrade to the Redmi Note 4, but it's certainly the best budget smartphone on the market right now. You get a good camera, dependable performance and incredible battery life. It would truly be the perfect budget smartphone, had Xiaomi provided Oreo out of the box.