Teamgroup T-Create CLASSIC: Two minute review
Specifications
Interface: Thunderbolt 3 or USB 3.2 Gen 2
Connector: USB Type-C
Colour: Silver
Drive: (1) NVMe SSD
Capacity: 1TB, 2TB and 4TB
Data Transfer Rate: Thunderbolt3 R/W up to 2700MB/s USB3.2 R/W up to 900MB/s
Size (LxWxH): 109.5mm x 65.0mm x 15.0mm
Weight: 180 g
Operating Systems: macOS 10.12+ (Time Machine Compatible), Windows® 10+, Linux
Box Contents: CLASSIC drive, USB-C to USB-C Cable
Warranty: 5-year limited warranty
Those wanting the best external drive performance opt for Thunderbolt connections over USB. With that choice, most are invariably directed to SanDisk Professional or OWC product lines to provide that connectivity.
Teamgroup has now thrown its hat in this particular ring with the T-Create Classic, a Thunderbolt and USB 3.2 compatible drive built to a very high standard.
As construction goes, the Classic's minimalist styling milled-from-solid-aluminium approach is like what we've seen from other brands, but it avoids the usual military cliches.
While it keeps the SSD inside safe, the enclosure isn't especially light, and the drive weighs 180g, including the cable.
There are no apparent means to take this enclosure apart, and if you found any, it would undoubtedly involve negating its warranty.
What we do know about inside is that this at its heart is an NVMe SSD, probably one to the PCIe 3.0 specification. Teamgroup sells branded NVMe drives, and it may be one of those, logically.
Avoiding smaller capacities, the Classic comes in 1TB, 2TB or 4TB options, and our review was performed with a 2TB drive.
The drive comes pre-formatted with the exFAT file system, avoiding the need to reformat the drive to have it recognised in Microsoft Windows and on the Apple macOS, a trick that SanDisk seems unwilling to embrace.
Depending on the interface used, either Thunderbolt or USB 3.2 Gen 2, the performance can vary significantly, with Thunderbolt being substantially faster at up to 2700MB/s. On USB 3.2 Gen 2, it's closer to 1000MB/s, and on a Gen 1 specification port, you might only see 500MB/s.
Therefore, spending the not-insignificant asking price of this hardware is probably only worth it if you generally use Thunderbolt equipment computers.
The T-Create Classic is an excellent example of a product that most people would choose if the price weren't an issue. For business customers, an argument can be made that a justification for greater productivity and an increased likelihood of a recent backup make it worth the high price.
But for most home users, this is way too expensive to consider.
Teamgroup T-Create CLASSIC: Price and availability
How much does it cost? From $320 / £450 for the 2TB model
When is it out? It is available now
Where can you get it? Widely available from the larger online retailers in most regions.
For whatever curious reason, we've seen several external drive makers inflate their European pricing to crazy levels, and Teamgroup has joined that bandwagon.
Where the US price of the 2TB and 4TB Classic are $319.99 and $639.99, in the UK, those numbers are dramatically increased to £449.26 and £920.78. Based on current exchange rates, those prices are about 180% of the current US ones.
The 1TB version appears to be missing in action on Amazon, so it may be that the smallest drive has been discontinued.
A comparable product is the SanDisk Professional PRO-G40, which also offers Thunderbolt and USB compatibility, resilience and high performance. The Classic is cheaper than the PRO-G40, but that is also a costly option.
It is possible to get Thunderbolt SSDs for less than this, with the Glyph Atom being a good example. Alternatively, the Envoy Pro FX is another option, although it is even more expensive in the USA but cheaper in the UK.
If you want to save lots of money, Sabrent makes a Thunderbolt 3 NVMe enclosure for just $99 that you can place any spare M.2 NVMe drive inside, although the top speed with that enclosure is less than the pre-built solutions.
Teamgroup T-Create CLASSIC: Design
Simple design
One cable
LED indicator
Some customers like futuristic designs or take cues from military hardware, but the T-Create Classic offers a remarkably simplistic design where functionality is elevated above aesthetics.
The milling of the aluminium enclosure makes most of the corners rounded, although the top and bottom edges of each end are still sharp. Therefore, I wouldn't be tempted to throw this drive into a bag with a tablet or laptop, as it would likely scratch the screen or lid in transit.
One end has the words Thunderbolt 3 on it, while the other has a USB-C port and the logos for Thunderbolt and SuperSpeed USB 10Gbits.
A 20cm single cable is included in the box that works with both Thunderbolt and USB connections but assumes that you have USB-C ports and not a legacy USB-A. Why, at this high price, Teamgroup couldn't include a USB-C to USB-A cable is a mystery, as this is something owners will invariably need at some point for this drive.
The underside has two rubber strips that prevent the Classic from damaging any surface it is placed, the drive capacity and Teamgroup branding that includes a QR code to take you to the company website.
On the topside is the T-Create logo, with a tiny hole for an activity LED to be seen and nothing else of note.
From a design perspective, there isn't much to the Classic, and it could well be argued that its simplicity gives customers less opportunity to dislike its styling when making a purchase.
Teamgroup T-Create CLASSIC: Features
Robust enclosure
No software
Up to 4TB of space
The T-Create Classic is patently durable, but there aren't any other special features.
However, scanning through the promotional material, no actual claims are made for how robust this drive is. We'd assume, mostly because of the lack of moving parts and solidity of the enclosure, that it could absorb the odd knock or fall, but no numbers are provided to back that conclusion up. The only hint that it is truly resilient is that a five-year limited warranty is included, and the company does accept that "TEAMGROUP's sole and maximum liability is to repair or replace the product or refund the money and is at TEAMGROUP's sole discretion."
What we did notice was that when the drive is used, the case gets warm to the touch, indicating that there is a good thermal connection between the internal drive and the enclosure. That should keep the drive inside from overheating, and that will ultimately extend its life.
When the product arrived with us, Teamgroup had already formatted it with exFAT making it suitable for both Windows and Mac computers. If you want, though, you can reformat it to NTFS for Windows or APFS for Mac. It's disappointing that you don't get any software with this drive since it's pricey - at least Mac users get Time Machine compatibility which is nice. Having some sync software for PC would have been great too, but none is provided.
Our review hardware had 2TB of capacity, but this drive can come with up to 4TB of storage space. While this might seem large by current SSD standards, new NAND wafers are being readied that will offer much greater capacities before this year is over. And, therefore while having 4TB as an option is good, in a couple of years, it won't seem especially large, and the price of a 4TB drive will be significantly less.
Teamgroup T-Create CLASSIC: Performance
Quick over Thunderbolt
Slower over USB
Software encryption only
Giving the Classic its best opportunity to shine, we connected it to a Lenovo ThinkPad Z16 Gen 1 laptop and its USB 4.0/Thunderbolt ports.
This optimal scenario returned read speeds of 3120MB/s reads and 1838MB/s writes using CrystalDiskMark 8.0.4. The less optimistic AJA benchmark scored reads at 2322MB/s and writes at just 1432MB/s, but that is still very quick by external drive performance standards.
The only small portable drive we've seen that is faster than this is the SanDisk PRO-G40, and that was much faster at writing, but only a little quicker at reads.
Compared to a typical USB 3.2 Gen 2 drive performance of around 1000MB/s, the Classic is far superior at reading and writing over Thunderbolt.
When connected via USB, the interface becomes the limiting factor in any file transfer.
The USB interface can operate in USB SuperSpeed and SuperSpeed+ modes, and those represent the 5Gbit/s and 10Gbit/s channels that are designated USB 3.2 Gen 1 and USB 3.2 Gen 2 under the current USB naming convention.
When we tested the Classic in those modes, it was oddly the read speed that declined more than the write performance. Our Gen 2 results showed around 700MB/s reads, but 1000MB/s writes. Not sure why read doesn't perform well under USB 3.2 Gen 2.
Going to Gen 1 USB resulted in lower than 500MB/s transfers in both directions.
The drive inside the Classic doesn't support hardware encryption, but you can use software encryption through solutions like Microsoft BitLocker to make the contents of the drive secure from anyone who might steal it.
Teamgroup constantly surprises us with products that exceed our expectations, and the Classic is undoubtedly one of those.
The issue for the T-Create Classic is that the scale of NAND wafers is about to increase substantially, while the cost per GB will probably fall dramatically. If buyer's regret isn't an issue for you, then the Classic is available now.
But those looking to invest for the medium to long term might want to consider less expensive options and buy again when larger and cheaper drives appear.
The T-Create Classic is a good product, but we're not convinced that it is great value even in the short term.
Teamgroup T-Create CLASSIC: Report card
Swipe to scroll horizontally
| | | |
| --- | --- | --- |
| Value | Outrageously expensive, especially in Europe | 2 / 5 |
| Design | Simple, portable and effective. | 4 / 5 |
| Features | Support for USB-C alongside Thunderbolt is ideal | 3 / 5 |
| Performance | Great performance only outpaced by the PRO-G40. | 4 / 5 |
| Total | A good drive but hardly a bargain from a cost perspective. | 4 / 5 |
Should you buy a Teamgroup T-Create CLASSIC?
Buy it if...
Time is money
Want the fastest read speeds and don't care about cost, then the T-Create Classic is for you.
You have Thunderbolt 3 or 4 ports
While the performance under USB-C isn't quite as spectacular, that over Thunderbolt 3 or 4 is excellent. Shows how useful Thunderbolt technology can be unit USB 4.0 becomes more common.
Cost is not an issue
The price of the Classic will put many off, but for those less constrained by their accounts department, it is one of the better solutions for the job.
Don't buy it if...
You only need space
A 4TB SSD can be bought for less than half what Teamgroup is asking for the Classic, if transfers of 1,000MB/s are acceptable.
You use USB-C and USB-A
The lack of a USB-A cable is annoying as most people exclusively use both that and USB-C these days. A bought cable can be used to get this connectivity, but that's more money spent.
The drive might get wet
The water and dust protection on this drive isn't a given, as it appears not to have weather sealing. It also doesn't have a drop or crushing rating. Being tough looking, and being tough, can be two different things.
Also consider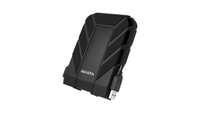 (opens in new tab)
ADATA HD710 PRO
Another classy external drive design with an integrated cable is more difficult to misplace. Its performance is similarly lacklustre, but it's cheaper than the T-Create Classic, and it comes with useful software tools.
Check out our ADATA HD710 PRO review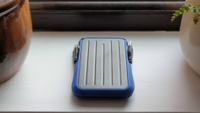 (opens in new tab)
Silicon Power Armor A85 5TB
A simple but largely effective design that provides a high degree of protection for the hard drive inside, with an IP68 rating. It's cheaper, but being a conventional hard drive, it's much slower and not as lovingly engineered.
Check out our Silicon Power Armor A66 review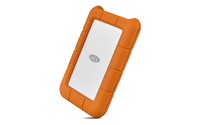 (opens in new tab)
LaCie Rugged USB-C
A high-quality design from a very reputable source, the LaCie rugged USB-C drive has decent performance for a conventional drive and comes in a range of capacities.
It's cheaper, supports both USB-C and Thunderbolt out of the box, and LaCie sells a USB-A cable for it. Though it isn't included by default.
Check out our LaCie Rugged USB-C review