Need a robust hard drive for fieldwork? The best rugged hard drives (and, more frequently now, rugged solid-state drives) might be what you need. These rugged external file storage solutions feature water resistance, drop-proofing, and dust-proofing, so they'll easily survive spills, dust, and the not-your-everyday knocks and bumps.
Many even feature military or aircraft-grade protection (IP68, MIL-STD-810G) enough to survive inclement weather and hard drops.
Such levels of build and construction make the best rugged hard drives the ideal storage solutions for when you're out on the field. They'll be able to withstand just about anything, including high and low temperatures and being submerged in liquids.
Whether you're a scientist working in difficult or dangerous environments, an extreme sports pro, or an outdoors photographer or videographer, only these can protect your essential files from accidents and harsh elements.
Ensure that your essential files survive in the harshest environments with one of the best rugged hard drives. These can withstand high temperatures, liquid spills, and knocks and drops while keeping your important information safe and secure.
In compiling our list of best rugged hard drives, we've compared cost, capacity, interface, and security features like dust and water resistance.
Make sure also to check out our reviews on the best portable SSD and best cloud storage.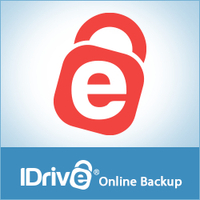 Backup your rugged drives with cloud storage
IDrive, the cloud backup veteran, delivers tons of storage online for an incredibly small outlay. 10TB for $3.98 for the first year is unmatched till now and so is the support for unlimited devices and the extensive file versioning system available.
We've also featured:
---
The best rugged hard drives of 2023 in full
Why you can trust TechRadar We spend hours testing every product or service we review, so you can be sure you're buying the best. Find out more about how we test.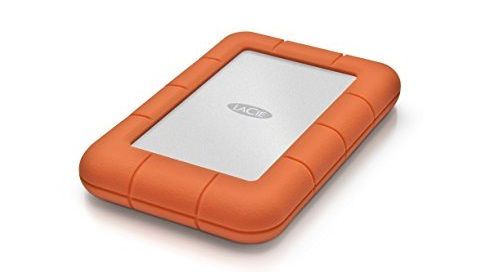 If you want something small but still highly durable, then the LaCie Rugged Mini might be your best rugged hard drive.
LaCie is a highly trusted brand for external hard drives, and with this device, its expertise shines through as brightly as its bright orange color scheme.
It's not an SSD, but it still performs exceptionally well regarding raw transfer speeds, and its small size means it's easy to carry around.
It comes with automatic backup software and AES 256-bit encryption. Although it is shock and drop resistant up to 1.2 m in non-operating mode, its diminutive stature also means it's not the most durable drive on this list, but for everyday usage, this is one of the best rugged hard drives you can buy today.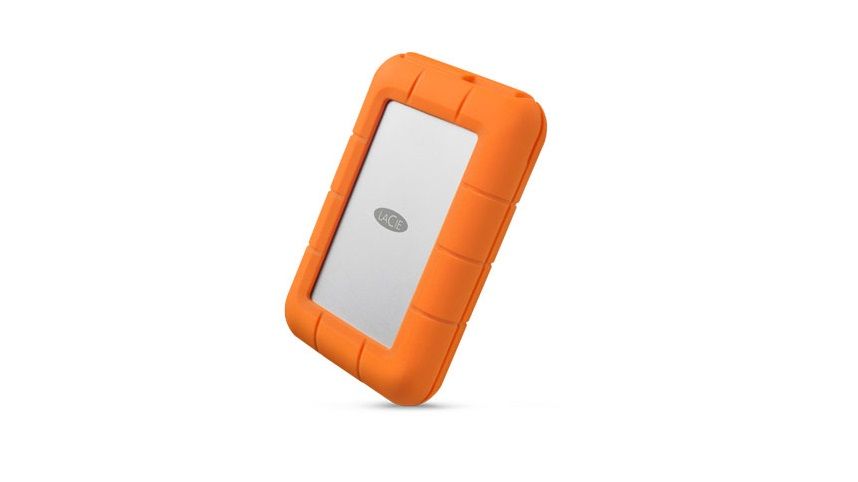 If you need to protect a vast amount of data with breakneck data transfer speeds, then the Lacie Rugged RAID is the best rugged hard drive for you.
For those unfamiliar with RAID levels, the term is an acronym for either 'redundant array of independent disks' or 'redundant array of inexpensive disks.' It essentially describes the methods of storage intended to increase the hard disk's reliability and bolster your data's security.
With two hard drives set up in RAID 0 configuration (which divides data into blocks), this drive can have an impressive 240MB/s speed. You can also use it in RAID 1, which mirrors your data to effectively give you a built-in backup in case one drive gets damaged. It's also built to last with water, dust, and drop-protected possibility.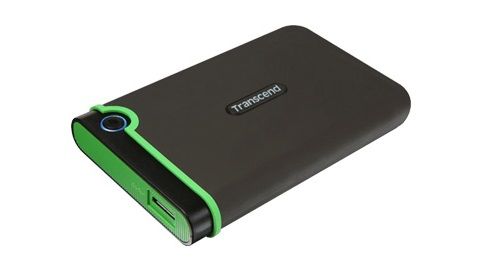 The Transcend StoreJet 25M3 is encased in three layers: a shock-absorbing silicone shell and a reinforced outer case. Like some of the others on the list of best rugged hard drives, it has also been drop-tested to US Military standards, and it shows.
This sturdy hard drive can take most knocks and drops - ideal if you often take your external hard drive traveling with you. It also has plenty of additional features, such as a quick reconnect button to ensure there arere no issues when you unplug it.
Moreover, the StoreJet 25M3's USB 3.0 compatibility gives data transfer speeds up to 5GB/s - comparable with internal drives. A 'back up button on the outer casing makes the process even quicker.
Read our full Transcend StoreJet 25M3 review.

The Adata SD700 will suit those looking for a rugged storage device that can provide ample capacity without costing too much. It performs superbly well and remains the only SSD we've seen that is IP68-rated.
Thanks to the solid-state drive that resides in this external hard drive, it's a lot faster than external drives that use traditional spinning hard drives - so you're getting incredible transfer speeds and rugged protection.
It also comes in capacities up to 1TB, so you don't have to worry about missing out on storage space just because it uses an SSD - this drive does hit all the right notes.
It is also significantly smaller and lighter than many of its rivals, weighing in at a mere 74g, and is a compact 85 x 85 x 14mm in size, making it a pocket-friendly option.
Read our full Adata SD700 review.

The Silicon Power A66 5TB portable, rugged hard drive nicely brings three critical attributes in anyone's quest for storage perfection: It is significant. In terms of sheer capacity, it is relatively inexpensive compared to other rivals (like the Sandisk Professional G-Drive ArmorATD). It will protect your data better than most external hard drives if you don't intend to immerse it in water (it is only IPX4 rated).
The A66 doesn't come with any bundled software, and the cable it comes with is a special one (Type-A both ways, which makes replacing it problematic). In actual world tests, it performs in line with the rest of the HDD-based competition; expect to spend far more on a rugged SSD if you want something speedier, more resilient, smaller, and which can be used with a mobile device.
Read the full review: Silicon Power Armor A66.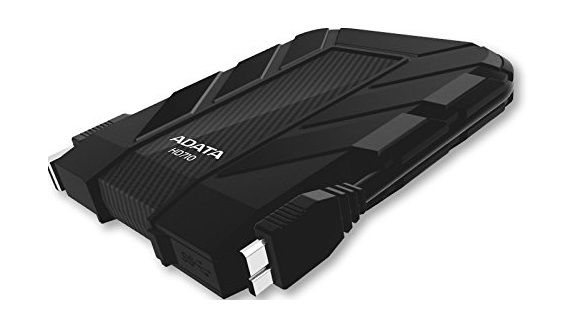 Offered in four color styles - each as bright as the next - the Adata HD710 is an eye-catching, rugged hard drive. It's also one of the best, thanks to a durable case made of a unique silicone material that includes military-grade shock resistance and is waterproof and dustproof.
As the advertising and product shots suggest, this device has been designed firmly with the outdoors in mind. It can withstand being submerged in up to two meters of water for up to 60 minutes, can handle drops of up to 1.5 meters in height, and boasts IP6X total dust-tight protection and G-shock vibration sensing technology.
Given the reassurance it provides as to its robustness, it's also helpful that it also provides a healthy 1TB capacity, meaning it also comes with no shortage of storage space.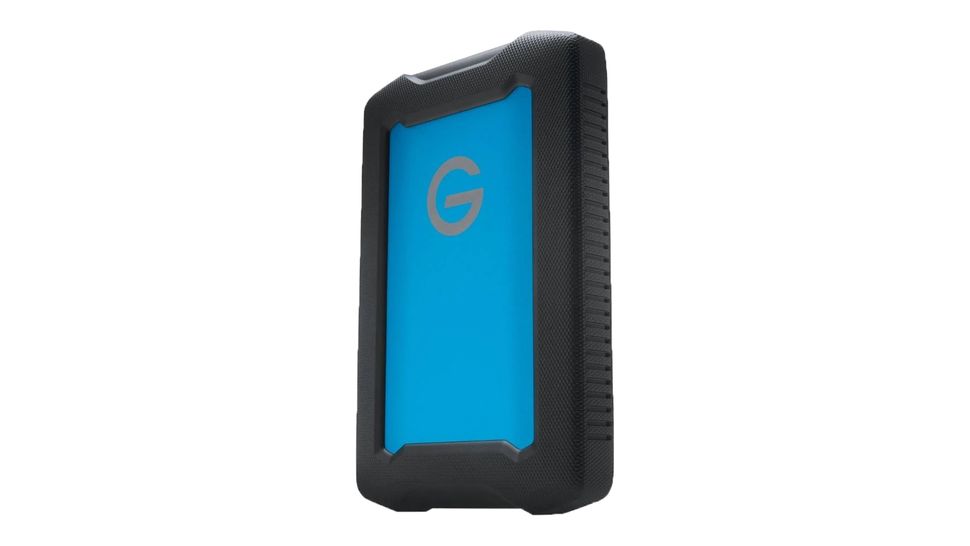 Western Digital's G-Technology brand is no stranger to ensuring that your data is kept safe, and G-Technology ArmorATD does so by offering several layers of physical protection.
It features a rubber sleeve and a solid aluminum enclosure and is available in 1TB to 5TH versions. It boasts three layers of shock resistance and is crush resistant for up to 1000lb weight, making it a top companion for anyone who's always out battling the elements.
The small print shows that this is valid for drops of up to 1.2m on a carpeted concrete floor for 1TB and 2TB capacities and up to 1m on a carpeted concrete floor for 4TB capacity. The latter has more platters which makes it a bit more fragile. Note that while it is rain and dust-resistant, it is not IP68, so don't take it swimming with you.
Read our full G-Technology ArmorATD review.
---
Why are SSD so expensive?
Anthony Spence, Marketing Specialist at Silicon Power, answers this question
Solid state drives can seem expensive because they are costly to produce and have to compete with other components for production lines. One way of reducing cost has been to increase the number of bits per cell.
This is a surefire way to reduce costs and increase capacity but it has considerably negative effects on performance, reliability and endurance, the latter being super important if you want to use your drives for Chia farming or as NAS drives.
Each additional bit makes it more time consuming to read and write from a cell, voltage needs also grow and so does power consumption. With higher voltage comes higher temperatures, which facilitate a phenomenon called electron leakage and might lead to data corruption.
Furthermore, every bit added to the cells increases the need for comprehensive error correction technologies. These solutions contribute to the maintenance of good data integrity, however they do so at the cost of higher latency and lower random performance (usually measured in IOPS).
Despite the drawbacks mentioned, the sizable reductions in terms of costs and an ever growing storage capacity make up for a fair trade off. Nowadays, most consumers can gain access to the blazing fast speeds of SSDs at very low price points, with in some cases prices starting from well under $100 for nearly 1TB (e.g. the Silicon Power PC60).
It is important to remember that NAND cells aren't the only element that has an effect on flash performance, things like the interface being used, over-provisioning (dedicating a portion of the available storage to the controller), SLC caching, controller, inclusion of DRAM, among others also play an important role.
As most purchases, in the end it all boils down the consumer and its specific needs. Just as QLC wouldn't make the cut for a 5G provider looking for storage options for their base stations, SLC solutions would be overkill for the average consumer.
How to choose the best rugged hard drives for you
Although it may seem daunting trying to pick the best rugged hard drive from such a vast selection, there are three simple ways to narrow down the field.
Firstly, begin with budget. After all, if you've a set cost in mind you're not willing to spend a penny over, there's little point looking too deeply at devices that cost three times as much.
Once this has whittled down your choice, decide just how much storage you're going to require. If you're, for example, a full-time photographer or filmaker who regularly needs terrabytes of storage to backup your work on while out in the field, you'll need to look at the options that provide at least 1TB or 2TB of storage, possibly more.
Lastly, consider how and where you'll typically be using your hard drive. Presumably you're on the hunt for a robust and rugged version because you're either constantly on the move, working in the outdoors, or are just particularly clumsy. But does it need to be dust-resistant? Will it regularly be exposed to water? Consider these factors before making your choice on the best fit for you.
The best rugged hard drives: how we test
In order to make our selection of best rugged hard drives we took several key factors into consideration. Cost was chief among them, or rather, value, as we judged which hard drives offer the most for their price.
As well as looking at each device's specs - such as storage capacity, portability, ease-of-use, connectivity options, and platform compatibility - we wanted to properly test the main selling point of each hard drive: its ruggedness. After all, if you're on this page, you're hunting for something that's going to last, even when severely tested.
And so we road-tested just how tough these hard drives are, analysing water and dust resistance, shock and drop proofing, and whether they boasted standardised certifications (such as IP68).