60 second review
Ever wanted to have a massive business monitor for a prospective outside office in the shade of a patio?
The Sylvox 55-inch DeckPro 4K display panel (a fancy name for a TV set) will fit the bill thanks to its relatively affordable price tag (for such a product) and its 1000-nits brightness.
It's a versatile screen that runs on Android TV and has enough connectors to plug in anything from a laptop, computer and everything in between. It is built like a tank with a down-to-earth, rudimentary design and a simple to operate remote control. It manages to produce colorful, bright, punchy and sharp pictures that it's hard to believe are really coming from a display under an awning.
All in all, a remarkably good, keenly priced all-rounder.
Sylvox DeckPro: Pricing and availability
Sylvox sells its product directly from its website to customers across the globe: the 2023 DeckPro series costs $1,899 on its own, $1,998 with a TV mount, $2,397 with an additional sound bar. This particular model also sells alone for the same price on Amazon. By default you get a free one-year warranty with free shipping. Retailers like Amazon also allow you to buy a protection plan covering the product for multiple years.
A smaller 43-inch model is available as well as a 65- and a 75-inch panel. Don't confuse the DeckPro with the Deck (which has a lower brightness and runs on Linux) and the Deck Pro QLED (which uses a QLED panel and runs on LG WebOS).
Sylvox DeckPro: Design
The DeckPro is designed for self-installation by the end user but will also appeal to AV installers and companies looking for large format displays that can endure harsher than average conditions (e.g. in humid conditions): think exhibitions, events, outdoor happenings, museums, zoos, gardens etc.
It is however a large item, and will need two people to handle; it's 1245 x 87 x 726mm high for a weight of almost 23Kg. Sylvox sent the TV in a clever cardboard box that protects the display very well without requiring extra protection (e.g. a wooden crate or reinforced plywood).
Instead of the usual plastic shell found on indoors TV, this one has a full stainless steel coated shell which resists corrosion and scratching; you won't find the same level of attention to aesthetics you'd find on say, Samsung's The Frame. The DeckPro is more about getting the basics right even if the end results - like having a thick profile - look industrial: It is designed to work in temperatures between -30 and 50 degrees centigrade which precludes its use in direct sunlight which could heat its components to very high temperatures.
Sylvox has also tested the DeckPro to IP55 standards. So it is protected against dust, debris and water sprays from a nozzle from all directions. That's not to say that the product is waterproof but it should withstand the occasional drizzle or rain showers. Sylvox mentions that it is designed to "beat the summer heat, the pouring rain, the blizzard cold, the heavy thunderstorms". We didn't test that extensively though.
All connectors are downward facing (gravity keeps water out, assuming you're not using the TV upside down) and located behind a detachable waterproof panel at the back of the TV, secured by 13 screws. Two thick pieces of foam wrap around any connected cable to create a pseudo-waterproof seal. There's three HDMI ports, an optical out, composite ports, an audio connector, two USB ports and even an Ethernet connector for wired connectivity. There's also a standard VESA mount at the rear.
Sylvox DeckPro: Features
The DeckPro has a 4K 55-inch panel that can reach 1000 nits brightness, making it a great choice for viewing content outside (even if Sylvox pitches it as a TV for partial sun exposure). A 2000-nits model, aptly named Pool series, can endure a full sun exposure.
That said, while brightness does matter, it's fair to say that it's not all about the numbers: higher is not always better and the immediate environment and location matters just as much, if not more.
Sylvox uses Google's Android TV and offers both Chromecast and Google Assistant (via Bluetooth and Wi-Fi) with full access to Google Play. Speaking of Wi-Fi, we were pleasantly surprised to find out that it is compatible with 5GHz networks which means faster speeds and wider coverage, great if, for example, you're planning to use the panel far away on an exhibition floor.
You can have a quick look at the online manual of the DeckPro here.
Sylvox DeckPro: In use
Other than the mere annoyance of having to deal with a dozen or so screws for the protective panel, the DeckPro was a doddle to set up. There's a single remote control: the more expensive QLED full sun version offers an extra one with a nifty scrolling wheel and an ergonomic body.
Setting up Android TV was also straightforward, and we were up and running in minutes. Surprisingly enough, we couldn't find the UK in the list of available territories. Sylvox told us they were investigating.
Given its brightness, the DeckPro 4K performed admirably under a patio with excellent picture quality, a rich black level response, plenty of sharpness and superb color reproduction, albeit slightly saturated out of the box which is understandable given the target audience. Display settings can be easily adjusted using the remote control and there's a plethora of options to finetune the screen to one's expectations.
A word on the sound capabilities: there's plenty of fans inside the TV to take care of the heat, both produced internally by the components and externally by, well, the sun. They can be slightly distracting but they're there for a reason. A pair of powerful 10W speakers deliver some punchy, well balanced audio in our very subjective testing. Listening to audio outside a controlled environment makes attempts to come up with anything rigorous a tad trivial.
How do we test display panels?
Outdoor display panels are different from traditional models so while we do look at the overall quality of the display output, connectivity options and pricing, the build quality and features that make it a proper outdoor display are objectively more important. For business users, we also look at after sales and support.
Should I buy the Sylvox DeckPro?
Buy if...
You want an affordable outdoor panel that runs on Android TV
The 55-inch Sylvox DeckPro is cheaper than rivals sporting a similar feature set (1000 nits and 55-inch display)
Don't buy if...
You plan to use your panel in full sunlight
Don't expect miracles should you purchase the DeckPro for extensive usage in a brightly lit environment.
---
Also Consider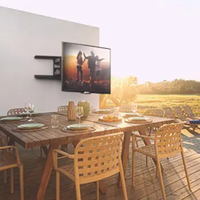 The Samsung Terrace:
The first outdoor TV to come from the world's biggest TV maker, and it's pretty notable for that reason. Samsung uses its award winning QLED technology for the picture to deliver 2,000 nits of brightness. It is twice as expensive as the Sylvox but comes with a five year warranty.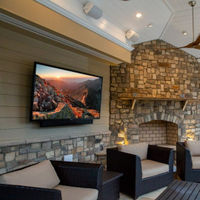 Sunbrite Veranda:
Another popular outdoor TV vendor, Sunbrite's Veranda is available in sizes up to 75-inch and can often be found at a discount from popular retailers. It has a lower brightness making it great for shaded spaces but will struggle in brighter areas. Do not confuse this with the far superior but more expensive Veranda Series 3.
---