60 second review
There's not much that differentiates one microSD card from another, and that's one thing Sabrent's Rocket V30 will have to contend with. If one excludes the range of dodgy-looking 1TB cards, Amazon lists 14 branded microSD models, including its own.
Yes, there are some performance differences to take into account (more on that below) but unless Sabrent gets realistic and slashes the cost of its cards further, it will have a very hard time selling them.
Sabrent Rocket V30: Pricing and availability
The Rocket V30 is available in three variants direct from Sabrent: 256GB ($30), 512GB ($50) and 1TB ($130), the one we're reviewing here. Sabrent orders can be shipped to most countries and international shipping prices vary by territory. As always, customers are responsible for the cost of any duties or additional taxes incurred. You can also buy from other popular online retailers (Amazon, Walmart, Newegg) although pricing and availability will vary.
Sabrent also offers the possibility to pay in four separate installments ,and bundles a three-year warranty when you register with the company. 1TB cards still carry a small but significant premium on 512GB capacities; remember that 1.5TB cards are already available with 2TB models on the horizon. They won't be cheap but will suit professionals and use cases that require as much capacity as possible.
Sabrent Rocket V30: Features
The card comes in a small box with a card adaptor and some protective foam. There's no software applications on the card and this is something we'd encourage vendors to bundle. Better have some sort of protection than none at all, either in the form of a data recovery service or a cloud storage or cloud backup.
The V30 has an A2 V30 rating; these are industry-wide performance standards that highlight the minimum speed expectations for the card. A2 means that it will reach 4K/2K IOPS on random read/write while V30 means that it will hit at least 30MB/s in sustained write speeds, enough for 4K video recording. Additionally, it is certified UHS-1, which means that it will reach speeds of up to 100MB/s on sustained read speeds. There's currently no agreed industry standard for endurance and reliability.
How do I test microSD cards?
To test the Sabrent Rocket V30, I used a card reader, the Startech SDMSDRWU3AC, which supports USB 3.1 Gen 1 (up to 5Gbps). It comes with USB Type-C and USB Type-A connectors and I used the former to connect to my test laptop, the Honor MagicBook 14 2022, which has a USB 4.0 connector. For storage-based benchmarking, I use the latest versions of the following popular, free software package. All can be downloaded by you, the reader, to build your own test bench. Bear in mind that benchmarks evolve and it can be sometimes tricky to compare performance when different versions of any particular benchmark are used.
AJA
Crystal Disk Mark
ATTO
AS SSD
Fastcopy
Sabrent Rocket V30: Performance
Sabrent claims to use the newest 3D flash NAND with improved endurance, which infers that some may be using some sort of inferior NAND components. The reality is that if you're not a manufacturer like Sandisk or Samsung, chances are that you will buy the NAND from one and are therefore at the mercy of demand and supply. The NAND that you used in a microSD card last year may no longer be available or you may have a better one for the same price.
The card huffed and puffed in our benchmarks, with some poor to average performance in synthetic benchmarks (AJA, CrystalDiskMark) but somehow managed a more than honorable score (77.1MB/s) in our real life file transfer, a serendipitous tie with the PNY Pro Elite.
Remember that your card performance will also depend on the host device, and we'd wager that the best performance can be had with a dedicated microSD card reader (connected to a type-C connector) rather than an integrated one.
Should I buy the Sabrent Rocket V30
Buy if...
You are a Sabrent aficionado.
Sabrent has risen over the past few years to become an impressive challenger brand that produces quality, cutting-edge storage products at an affordable price. This ain't one of them though.
Don't buy if...
You want the cheapest 1TB microSD card around.
It is one of the most expensive 1TB microSD cards in the market.
You want a five year warranty by default.
Shockingly enough you won't get a standard 5-year warranty as most of the competition. Why? We're not really sure.
---
Also Consider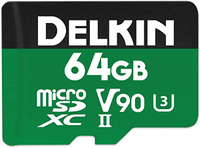 Delkin Devices 64GB POWER:
If speed is what you want, look no further than this card, it is probably the fastest microSD card on the planet but is plagued by two issues. It is expensive (about $1 per GB) and comes in small capacities. However if you want to record in 8K without any hiccups. This is the card you need.
---