The Huawei P9 Plus is this year's no holds barred top-end Android phone from Huawei that isn't part of the palm-stretching Mate range. A lot of the phone is familiar, with nods not just to the standard P9 but also Huawei's of the past. It's unmistakably a Huawei phone, for good and bad.
The Huawei P9 Plus is a very good phone. It's fast. It looks and feels expensive, and its very strong stamina is refreshing when some phones seem to have made regressive steps in this regard.
Read more: Huawei P20 Pro review
However, the problem is that this is a pricey device, and it sits in the shadow of the Samsung Galaxy S7 Edge. At this price, you have the best phones in the world to pick from. The Huawei P9 Plus's expandable memory, IR blaster and pressure-sensing touchscreen may clinch the deal for some of you, but our instinct is to side with the Samsung.
The S7 Edge forgets the tech gimmicks LG and Huawei have gone for, but in turn offers the best phone camera and screen around.
Who's this for?
There's a sense Huawei has not just made this phone to offer something for high-end buyers other than Samsungs, Apples and LGs, but for itself too. It's the first substantial attempt at a pressure-sensitive touchscreen Android device, a way to prove Huawei is at the cutting edge of phone tech even if its brand still doesn't have quite the clout of some.
It dipped a toe with the Mate S, but here it's more useful.
Should you buy it?
The P9 Plus offers a good impression of Apple's 3D Touch with its pressure-sensitive screen, but we'd advise not getting too excited about it.
Its applications are all Huawei's, so even if pressure sensitivity is the future, this is at best a very good tech demo of what's to come.
Add in software that many struggle to get on with - much as we've grown accustomed to it - and this feels like a phone to hunt down when some sweet deals are available, not while it sells at full price.
Competition
Samsung Galaxy S7 Edge
It's no great surprise that one of our favorite phones of the year outdoes the Huawei P9 Plus in a few respects. The screen is that bit sharper, the design more striking and the camera performs better at night. The Samsung Galaxy S7 Edge's software is also less likely to prove a turn-off as it includes an app drawer.
What the Samsung Galaxy S7 Edge doesn't have is a pressure-sensitive display. It's more conventional in that respect at least, though its curved screen is certainly eye-catching.
Huawei P9
How does the P9 Plus differ from its similar sibling? The Huawei P9 has a smaller 5.2-inch screen, no pressure sensitivity and a smaller battery, but is otherwise largely the same.
Much like the relationship between the Galaxy S7 and Galaxy S7 Edge, a lot of the difference comes down to size. However, thanks to its larger juice pack the Plus also seems to last longer between charges in this instance.
LG G5
The LG G5 is another phone intent on shaking things up a bit. It's a modular phone, although at present there's only a small number of modules available. One improves audio quality, the other adds a battery and some camera controls.
This phone feels a bit less dense and expensive than the Huawei P9 Plus, and doesn't last as long between charges. However, it does get you a very neat wide-angle camera on the back, as well as a very good normal sensor.
iPhone 6S Plus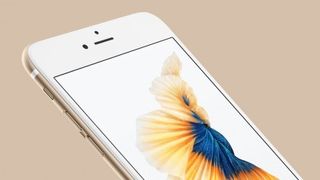 Many of you will prefer an iPhone 6S Plus to a Huawei P9 Plus, but Huawei shows Apple up here. The P9 Plus is far smaller than the Apple alternative even though the two have the same-size screen. It's smaller in every dimension, even thickness.
Apple wins on the application of pressure-sensing 3D touch screens, though. As it offers system-level support, you'll find uses for 3D Touch in third-party apps too. This is missing from the Huawei P9 Plus.
The iPhone 6S Plus also runs iOS of course, giving it a different feel and a different selection of available apps.
First reviewed: August 2016