Two minute review
This is our full review of the Garmin MARQ Athlete (Gen 2). The MARQ range represents a different Garmin, much more luxury in style without sacrificing your day-to-day training metrics. Each tool watch in the five-watch MARQ range is built on the same chassis, but the rotating bezel is designed to help you mark different metrics, such as running time, waypoints on a map, or holes of golf, depending on the theme of the watch.
Along with a suite of standard features, the watches also have features specific to their theme: the MARQ Adventurer, for example, has an orienteering widget, while the Aviator has an emergency mode designed to show you glide speed and distance for aircraft pilots.
This is the MARQ Athlete, the cheapest of the second-generation MARQ range, and like the Forerunner or Fenix watches it specializes in athletic training. It's one of the best running watch and best Garmin watch options outright if you value luxury quality and you're not too concerned about the price tag.
At first glance, this watch comes packing a build quality that helps to justify the steeper-than-most price tag. The domed sapphire crystal lens on the display gives this a high-end feel while the resolution and clarity on the AMOLED display also help to make this easy on the eye. Plus the grade 5 titanium metal casing and wide array of buttons make this a go-anywhere wrist accompaniment that's made to last, and still looks nicer than a traditionally chunky sports watch.
You have Garmin's multi-band GPS for super accurate tracking, but also a large battery to get you a good 16 days as a smartwatch – plus this offers charging faster than any other Garmin watch.
Add in features like offline Spotify direct to your Bluetooth headphones, mapping navigation, plus contactless payments and you can ditch the smartphone when you head out the door. Track running and cycling but also most other sports from pilates and surfing to SUP and skiing.
This features Jetlag Adviser, as a new feature, which aims to help you get your sleep patterns right when traveling internationally. Combined with smart sleep tracking, training readiness advice and training suggestions, this makes knowing when to train and when to rest easier than ever.
So is the Garmin MARQ Athlete (Gen 2) worth that steep price?
Swipe to scroll horizontally
Garmin MARQ Athlete (Gen 2) specs:

| Component | Garmin MARQ Athlete (Gen 2) |
| --- | --- |
| Price | $1,900 / £1,600 / AU$3,250 |
| Dimensions | 46 x 46 x 14.1mm |
| Case/bezel | Grade 5 titanium |
| Display | 240 x 240 px AMOLED sapphire crystal |
| GPS? | GPS, GLONASS, GALILEO |
| Battery life | 16 days, 28 hours GPS |
| Connection | Bluetooth, ANT+, Wi-Fi |
| Water resistant? | Yes, 100m |
Garmin MARQ Athlete (Gen 2): Price and availability
The Garmin MARQ Athlete (Gen 2) is out now in the US, UK and Australia. The suggested retail price sits at $1,900 / £1,600 / AU$3,250.
This is the most affordable of the MARQ range with the Adventurer, Golfer, Captain and then Aviator rising in price respectively.
Garmin MARQ Athlete (Gen 2): Design
Garmin MARQ Athlete (Gen 2): Design
Grade 5 titanium body
Domed sapphire crystal glass
1.2-inch AMOLED display
The Garmin MARQ Athlete (Gen 2) is priced high mainly due to the premium materials and complexity of its design and build. All of which go together to create a watch that is made to last longer while remaining new looking.
First up you have that domed sapphire crystal lens which immediately gives the watch a look that's more like a Swiss-made mechanical watch display than a smartwatch. While that is premium, it helps that the 1.2-inch display underneath is AMOLED. As such this is bright, rich with colors, and offers a resolution that's sharp – all while keeping battery drain to a minimum and offering clarity even in direct sunlight.
At 85g and with a super flexible silicone strap this is very comfortable to wear both day and night for sleep tracking. It only ever really comes off to shower, but doesn't have to as it is waterproof to 10 ATM, which is 100 meters.
The grade 5 titanium body is made to be super resistant to scratch damage, like that sapphire glass upper, but also to resist longer-term dulling from water or sunlight. There's a reason this is the metal of choice when placing it inside the human body for operations, or for high-end bikes – it's super non-reactive, shrugging off water with ease and never rusting.
While that color display is touchscreen, you have five physical buttons which can also be used two at a time to directly open shortcuts you set. All that means you can use this just fine without the touchscreen turned on, to save you battery and keep that display smear-free. Usefully, you can even set this to have a touchscreen on for workouts but not for general use, or the flip of that, as you need.
Garmin MARQ Athlete (Gen 2): Features
Tracks most sports with multi-band GPS
Heart rate variability
Full navigation mapping
The Garmin MARQ Athlete (Gen 2) certainly offers a lot of features but it's worth noting it doesn't offer much more than the Fenix, which is significantly more affordable. This does feature the new Jet Lag Adviser setting, but expect that to roll out to other models in the future. As the name suggests, this lets you input data about your trip and the watch advises you on best practices, including sleep timing, to avoid jet lag.
Other non-sport features include sleep tracking, with a useful breakdown of sleep type so you can know if you're recharged for the day. This is also given as a number in your Body Battery score, making a glance energy level expectations easy – useful if you're not sure to work out.
The Training Readiness feature is an upgraded version of the Body Battery score, and it probably has both because Body Battery is standard on the MARQ range, while Training Readiness is unique to the Athlete. It takes into account your previous exercises, sleep pattern, body battery, stress history and more data to tell you how ready you are to exercise.
This helpfully shows data like acute load and heart rate variability (HRV) as ways to help you judge how close to ready you are – although the color wheel which tells you at a glance helps with levels from Prime and Ready to Low. It even follows this up with advice like "listen to your body" leaving the decision down to you, of course.
The inclusion of offline Spotify is fantastic as you can easily pair playlists which download to the watch, directly using WiFi, so you can then listen without a phone connection, using Bluetooth headphones directly connected to the watch. The fact this also has contactless payments means you can go out the door on a run or ride without a phone and still be quite adventurous in exploring without feeling too cut off. Especially with navigation features like Back To Start, which routes you home, available whenever you need.
There is also the Garmin IQ Store with plenty of apps available to suit many tasks. The surf tracking app is helpful, so much so Garmin has preloaded a widget for this right on the watch. Once you've got all your widgets lined up it's a simple up or down selection to scroll through everything from checking your heart rate or the weather to finding the barometric pressure or seeing your watch notifications. These are great too, letting you check your WhatsApps or being notified there's someone at your door, even when your phone is in the next room.
The array of sports tracking options is so vast it's easier to say this tracks pretty much any sport. From running, cycling and swimming to golf, weight lifting, surfing, horse riding, pilates and even pickleball.
The Athlete places a big emphasis on running, and as such the watch is crammed full of metrics from speed and pace to running power, stamina and running dynamics like vertical oscillation. Usefully you can edit your display screens in every detail to get the readouts you need quickly available.
Navigation is fantastic on this watch as you have full TOPO maps preloaded and can have the watch guide you turn-by-turn, follow pre-set routes you upload or select, explore by panning and zooming, plus leave pins to find points again. It's very comprehensive and looks great on that bright and colourful display – making getting lost to explore while running a very real possibility.
Garmin MARQ Athlete (Gen 2): Performance
Super accurate multi-band GPS
16 days battery life with fast charging
Genuinely useful coaching
The Garmin MARQ Athlete (Gen 2) is one of the most accurate training devices you can buy right now thanks to the inclusion of its multi-band GPS. This means you have access to GNSS as well as Garmin's SatIQ satellites, all of which combine to give you pinpoint accuracy even in difficult areas like cities with tall buildings or in woods with large trees. There are some very powerful metrics that you can rely upon, much like Garmin's other premium watches, and that's before you get into health metrics.
One example is the stamina readout, which shows you a percentage of how much energy you have left – ideal if you're out running and want a more accurate idea of when you can expect to crash.
Crucially the display is large and clear enough that you can see all the data you need without having to slow down. And there is a helpful safety feature if you're really pushing the limits, where an accident detection mode sends, via a phone connection, a pre-written message of your choice to contacts you have set up. You can cancel this when it is detected, but if you were unconscious it would send with your location so you can be helped.
While it can't compete with the Garmin Enduro or the rest of the premium lineup (the Forerunner 955 offers around 21 days of battery life, for example), the MARQ Athlete (Gen 2) offers a solid 16 days in standby mode. So if you're not using GPS much, then you can realistically expect weeks of use before needing to charge. It's a lifestyle watch as much as a fitness tool, which accounts for the slight reduction, but still lasts around eight times longer than the Apple Watch Ultra.
If you go out with full GPS tracking on, playing music and have the display at full brightness then you can expect the numbers to drop. But you should be able to get a week of use, with training every day, before you need to charge. Usefully you can select the battery mode you want, while in your activity or before you start and the watch shows you how many hours each mode can offer you.
In Max Battery mode you can get up to 75 hours of GPS tracking, or go into Expedition Mode with fewer regular GPS pings, and you can last for 14 days. Usefully this watch offers a proprietary charger that is capable of a super fast charge to full in just one hour. So even if the battery is low, a top-up can be easily done while you're showering and getting ready to go out, letting you keep wearing at night for sleep tracking.
The navigation is genuinely useful to help you find your way and the coaching feature can also help. This makes suggestions of workouts that will suit your recovery and training levels and you can select that and follow or do your own thing. While that applies to running it also works in the gym where you can follow workouts with animated characters showing you the moves on the screen as you go.
During Free Train, the watch cleverly detects the type of movement you're doing so you can see how many reps and sets of chin-ups or squats you did easily at the end on the Connect app. This was pretty accurate but sometimes I'd have to edit in the app afterwards where it got dips confused with squats – fair enough really.
Buy it if...
You want a stunning look that's made to endure
This is one of, if not the best, looking fitness smartwatch. It's built with premium materials so it will last and keep looking like that for longer.
You don't want to take your phone
With stand-alone mapping, music and contactless payments, this lets you go out the door with no phone needed and you can still push your limits feeling secure.
Don't buy it if...
You want the biggest screen
This display is great but there are bigger in the Epix and Fenix ranges so if size is what you want above all else then you may want to try them – and save money too.
You want the ultimate battery life
This does have a super battery but without the solar charging it's never going to be as good as some other Garmin watches, especially the aptly named Enduro.
Also consider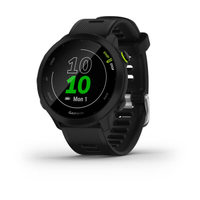 (opens in new tab)
Garmin Forerunner 55
An entry level Forerunner model that gets you lots of the smart running features, heart rate and GPS tracking as well as that fantastic Connect app support. The GPS and HR hardware isn't as advanced but you still get swimming tracking and it's a fraction of the price of the MARQ.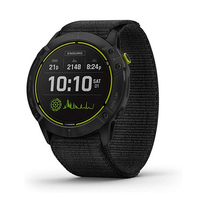 (opens in new tab)
Garmin Enduro 2
If you only want to charge your watch a handful of times a year rather than once a month, this is the watch for you. The Enduro 2 is fully kitted out for all manner of endurance athletes.
Swipe to scroll horizontally
Also consider

| Component | Garmin MARQ Athlete (Gen 2) | Garmin Enduro 2 | Garmin Forerunner 55 |
| --- | --- | --- | --- |
| Price | $1,900 / £1,600 / AU$3,250 | $1,099 / £929 / AU$1,749 | $199.99 / £179.99 / AU$329 |
| Dimensions | 46 x 46 x 14.1mm | 51 x 51 x 15.6 (mm) | 42 x 42 x 11.6 mm |
| Case/bezel | Grade 5 titanium | Grade 5 titanium | Plastic |
| Display | 240 x 240 px AMOLED sapphire crystal | 280 x 280 px MIP sapphire glass | 208 x 208 px MIP chemically strengthened glass |
| GPS? | GPS, GLONASS, GALILEO | GPS, GLONASS, GALILEO | GPS, GLONASS, GALILEO |
| Battery life | 16 days, 28 hours GPS | 34 days, 110 hours GPS | 14 days, 20 hours GPS |
| Connection | Bluetooth, ANT+, Wi-Fi | Bluetooth, ANT+, Wi-Fi | Bluetooth, ANT+ |
| Water resistant? | Yes, 100m | Yes, 100m | Yes, 50m |
First reviewed February 2023