I want to go freelance in the UK: this is the computer gear I'd pick for less than £1000
Freelance work is getting more popular – and here's the kit you should pick up to make the most of your new career choice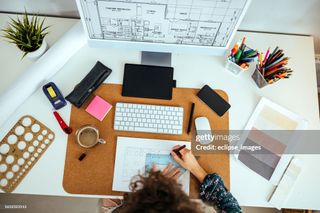 (Image credit: Getty Images)
If you go freelance, then you can experience more career freedom, the ability to be your own boss and you might even earn more – it's a compelling choice if you're fed up with the corporate grind.
But if you're going to make the leap, you need to ensure that you have the right computer equipment before you do it. There's no point setting yourself up as a sole trader if you're going to struggle with a creaking desktop PC or a laptop that's got a thirty-minute battery life.
And as I've been a freelance writer for more than ten years and have spent most of that time writing about technology, I should know.
Happily, you don't have to spend vast amounts of cash if you want to set yourself up as a freelancer and get the right tech to get the job done.
I've explored the tech you should buy below if you want to set yourself up for freelance life for less than £1,000. I've covered desktop and laptop options, peripherals, displays, and even some practical extras if you feel more flush.
A desktop always delivers
If you're going to be working from home most of the time and you want the most bang for your computing buck, then I'd recommend buying a desktop – you'll get more power than an equivalent laptop and usually for a cheaper price.
It's critical to get the components right and to ensure that you have enough speed for your work tasks. For Office and browser-based applications I recommend an Intel Core i5 or AMD Ryzen 5-series processor, and you'll want Intel Core i7 or AMD Ryzen 7-series for tougher work, like creative applications or database tasks.
Please don't just think about the processor. Make sure that your PC has 8GB of dual-channel memory for Office and browser-based tasks and 16GB at least for creative work. I would advise you use SSD storage rather than a hard drive – they're faster – and ensure that you have an Nvidia or AMD dedicated graphics card if you want a PC to use for freelance creative work.
This sounds like it could be expensive, but you don't have to spend vast amounts of money. It's tempting to want the latest components, but if you buy a generation or two behind the curve, you'll get plenty of computing power at a lower price. On the Intel side, you can get enough CPU grunt with a 12th-gen chip or newer; if you want AMD, I'd advise Ryzen 5000-series or newer.
A 12th-gen or 13th-gen Intel Core i5 PC with 8GB of memory and an SSD is achievable for less than £700, and if you shop around you can do that for less than £600. AMD prices scale similarly. I've even seen some PCs with mid-range CPUs like this cost less than £500, although you need to watch out for sales to get that kind of bargain – and except that you're getting a rudimentary PC that's fine for everyday office and browser-based work but not much else.
Unfortunately, prices rise slightly if you need a Core i7 or AMD Ryzen 7-series processor for creative tasks. For one of those rigs with 16GB of memory, I advise budgeting between £800 and £900.
Want an all-in-one? That's a smart move if you're going to be happy working on one screen. Add £50 to the prices I've quoted here if you want to give yourself a generous budget.
In terms of brand, I'll always recommend a big name like Dell, HP, Acer or Lenovo if you want a competent PC with minimum hassle. You'll often find that PCs from the big brands tend to be a little more affordable than bespoke rigs, too, thanks to the economies of scale enjoyed by the big names.
Of course, you can always specify your build, too, from a company like Chillblast, PC Specialist or Scan if you know what you're doing when it comes to picking components. That route will usually cost a little more, but you get the benefit of a bespoke build, local support and often a longer warranty.
A laptop for maximum portability
Most of that advice applies to laptops, too, but buying a Windows notebook has its own advantages and pitfalls.
If your freelance work demands portability, make sure that your next notebook has decent battery life and that it's not too heavy – 12 hours of longevity and a sub-2kg frame should stop you from hitting issues.
Evaluate the laptop itself: does it have enough ports and connections? Is the screen big enough? Does the keyboard have a numberpad? Does it have stress, drop and water tests to ensure it lasts through your working life? If you want a machine for creative work, is the display accurate enough? If you need a notebook for entertainment, too, are the speakers and graphics card powerful enough?
Unfortunately, if you want something for gaming, you'll blow your entire sub-£1000 budget in one go. But if you need a notebook for freelance work, you have loads of options.
A capable everyday Core i5 notebook from a big brand will cost you between £500 and £600, and I'd add £100 to those figures if you want a Core i7 model with a compact screen and low-power processor.
Unfortunately, if you need a bigger screen, full-power processors or discrete graphics cards for creative tasks then expect to spend all your budget on your laptop.
That's sadly the state of the market right now: if you want to go freelance and need a competent everyday laptop, then a sub-£1000 budget will be fine. But if you want maximum power or other high-end features, then that's where most of the budget will go.
As ever, stay on the lookout for laptop deals and discounts if you want your money to go further.
Refining my setup with peripherals
If you've got a laptop, then you've got keyboard, mouse, comms tools and a screen built-in – which is great. But if you've got a desktop, then you'll need to shop around for peripherals.
The good news is that much of this doesn't have to be expensive. A keyboard and mouse are easy to find for less than £30. A basic, capable camera and headset will cost around £100 overall.
The biggest peripheral expense will be a monitor. For home-based desktop workers, I recommend finding a 24-inch screen with a 1920 x 1080 resolution at the very least – that's enough space to avoid windows feeling cramped. For a basic, decent 1080p screen then, you'll need to spend between £100 and £150.
Double that if you want a dual-screen setup, and expect to spend up to £200 if you want a 27-inch screen with a 2560 x 1440 resolution. If you need 4K, anticipate up to £250.
Also, bear in mind that none of these screens are really good enough to handle pro-level creative work where colour accuracy is essential. If you're considering that kind of workload, then your screen and computing requirements will likely take you past four figures.
I want to go freelance in the UK: this is the computer gear I'd pick for less than £1000
If you want a desktop and you're going to be working in Office apps or browsers then try to spend less than £600 – that gives you £400 to get peripherals and a monitor. That's doable: you could buy two 1080p screens, a webcam, a headset and a keyboard and mouse for that money.
Unfortunately, if you want Core i7 or a Ryzen 7-series CPU then you may have to sacrifice a monitor from the dual-display setup to make it happen – or accept that the budget will stretch beyond £1000.
I'd argue that it's easier to get set up as a freelance if you're willing to work from a laptop. You don't need a keyboard, mouse, webcam or headset, and you don't need a screen unless you want a second display at home.
On the laptop front, I'd say to buy the best machine you can afford – whether it's a Core i7-based rig for maximum power or something with a better display or longer-lasting battery.
You could even save money on a more moderate machine – on the PC and laptop front – and devote more of the budget to a high-quality office chair or a new desk if needed.
Ultimately, going freelance is a gamble – just like any new business – and funds will likely be tight before you start to grow the new venture. But if you spend wisely on your computer gear, you'll give yourself a better chance of finding freelance success.
Are you a pro? Subscribe to our newsletter
Sign up to the TechRadar Pro newsletter to get all the top news, opinion, features and guidance your business needs to succeed!
Mike has worked as a technology journalist for more than a decade and has written for most of the UK's big technology titles alongside numerous global outlets. He loves PCs, laptops and any new hardware, and covers everything from the latest business trends to high-end gaming gear.