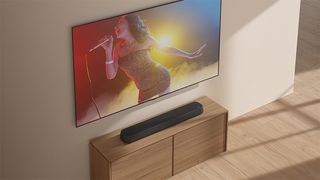 (Image credit: LG)
If you're serious about the audio experiences you get at home, you need an LG soundbar in your life. Not only do the company make some of the best OLED TVs on the planet, they also produce some of the best soundbars that can elevate any form of entertainment you listen to.
That leads us neatly onto the new LG Soundbar USC9S. Designed to be the perfect companion for the LG OLED C series, like this year's brilliant LG C3 OLED. The USC9S comes with an exclusive bracket that lets it seamlessly connect to both the LG C2 and LG C3 series of OLEDs, regardless of whether you're using a stand or wall-mounting one of these exceptional TVs. The bracket is compatible with the 55, 65, and 77-inch versions of the last two C series.
Audio that delivers a true WOW factor
If you crave the best soundscape possible, the LG Sound Bar USC9S deserves to live at the heart of your entertainment centre. By combining the sound from your LG TV and LG soundbar, WOW Orchestra creates truly captivating audio that fills your living room. If you want to hear every last little detail, the USC9S is the soundbar for you.
How does the LG Soundbar USC9S deliver such thrilling audio? By combining some of the most advanced audio formats around. It combines Dolby Atmos, DTS:X and IMAX Enhanced to bring a cinema-like sound experience to your front room. Who needs those sticky, popcorn-strewn theatre floors when you can experience such powerful, true-to-life sounds from the comfort of your own home.
The LG Soundbar USC9S credentials are further boosted by the fact it's the world's first Dolby Atmos soundbar with triple up-firing channels. What does this mean for your ears? They're set for quite the audio ride, with the USC9S delivering a wider and richer soundstage than you'll get on other soundbars. If you want the most immersive sound experience you can pair with your TV, the wide-ranging, powerful sounds of the USC9S are tough to top.
Bass to make you believe
If you love your ears being rocked by deep, room-filling bass, the wireless subwoofer of the LG Sound Bar USC9S can comfortably hit the low notes while delivering rich bass performance that transmits over longer distances.
LG soundbars are also seriously clever, and now boast wider compatibility to work with some of your favourite platforms, including Alexa, Apple Airplay 2 and Alexa.
The LG Soundbar USE6S is another product that smashes it out of the park. Thanks to WOW Orchestra, this bar syncs up perfectly with LG TVs to create a truly harmonious soundscape. Whether it's the quietest on-screen footsteps or the most almighty explosions in your favourite superhero movies, you'll feel the detail of every last sound.
Take control of your sound
One of the great features of the LG USE6S Soundbar is it offers complete control from the palm of your hand thanks to WOW Interface. Pair this awesome audio device with your LG TV, and with a simple click of your remote you can access the soundbar's menu and settings on your TV. Want to check your connection status or switch sound modes? It can all be done in easy, intuitive fashion with your LG TV remote.
When you buy the LG USE6S, there's really no need to go out and get additional speakers. Thanks to the All-in-One design of the USE6S, you can easily move this soundbar around your living room and it will deliver rich bass and compelling midtones, no matter where you place it. Throw in Dolby Atmos and DTS:X support and you're left with a cutting edge soundbar that delivers the sport of spatial audio that fills your room, instantly upping the immersion of watching your favourite films and shows.
Take your audio to the next level with spatial sound
But this is no ordinary spatial sound, on no. The USE6S boasts Triple Level Spatial Sound in order to provide the most accurate and impactful audio the most immersive blockbusters deserve. How is this achieved? Through an HRTF (Head Related Transfer Function) 3D engine. That sounds complicated, right? Well, all you need to know is this fancy tech creates a virtual middle layer that delivers the sort of ultra sophisticated surround sound that you'd normally only hear in your local cinema.
And if you're all about that bass, the LG USE6S Soundbar has you covered, too. With four Passive Radiators the bar serves up towering, completely consistent bass that will shake your ears and stir your soul.
Sign up to receive daily breaking news, reviews, opinion, analysis, deals and more from the world of tech.