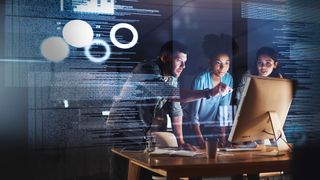 (Image credit: Getty)
In today's rapidly evolving business landscape, the collaboration between startups and established enterprises has emerged as a catalyst for innovation and growth, creating significant value and driving groundbreaking advancements across industries. In this context, recognizing and embracing the power of startups by the market and their collaboration partners becomes crucial.
These global technology companies have positioned themselves as platforms that connect promising startups with the necessary resources, expertise, and opportunities to thrive. Among them is OPPO, a global high-tech enterprise that goes beyond being a smartphone manufacturer. The company is striving to unleash the power of collaboration and create greater value through its second OPPO Inspiration Challenge.
Through this platform, OPPO aims to demonstrate how innovative ideas from startup teams, when recognized and embraced, lead to collaborative solutions that improve people's lives.
Let's explore interviews with two venture teams from last year's Inspiration Challenge to gain insights into how this platform can support you and your innovative ideas.
TangTangQuan: Diabetes Control in the Palm of your Hand
A key part of the philosophy behind the OPPO Inspiration Challenge is the belief that, with 'the power of being seen', together with professional support, startups have the power to change the world.
"Seven years ago, there were nearly 100 diabetes-related startups in China. Now many of the companies that received significant funding have failed, yet we have survived," shared Zeng Xifeng, the founder of TangTangQuan. As one of last year's OPPO Inspiration Challenge winners, TangTangQuan – a social enterprise sponsored by the World Diabetes Foundation – understands the challenges of the entrepreneurial journey well.
China ranks fourth globally in terms of the high incidence of type 1 diabetes among children and adolescents. TangTangQuan recognized this and developed a platform to raise awareness and support diabetics, particularly children, by offering professional patient education and management services. Additionally, they are currently developing a blood glucose monitoring watch for children and a groundbreaking artificial pancreas for type 1 diabetes, aiming to simplify and improve disease management.
"By integrating with OPPO hardware, we can successfully transform the service into a tangible product while enabling seamless remote data transmission and ensuring user-friendly access," Xifeng continued. Now, the company's groundbreaking blood glucose management has been integrated into the OPPO Watch 3, providing a whole new level of financial support and market exposure.
The success of this collaboration stems from the shared beliefs between Xifeng and OPPO, where the most compelling motivation behind all groundbreaking solutions is people-centered innovation. "I think an important factor is that my daughter has type 1 diabetes. So, from the start, our focus has consistently been on prioritizing people over markets and capital."
IDUN: Premier Sleep Health
Another previous winner of the OPPO Inspiration Challenge is Swiss neurotechnology company IDUN Technologies. A close-knit team with shared roots in academia, their groundbreaking wearable brain monitoring tech had broad-reaching applications in all sorts of medical and psychological fields.
To find the very best personal health application for their tech, IDUN chose to focus on the most universal of human needs – quality sleep. They aim to ensure healthy sleep for more people worldwide through the IDUN Guardian brain-sensing earbuds, leveraging OPPO's expertise in smart device development and the professional assistance of OPPO's lab. With more accurate sleep characterization algorithms and accelerated hardware development, they aspire to improve the sleep health of individuals globally.
Simon Bachman, CEO and co-founder, explains: "We really were struck by how many issues in the world lead back to sleep. It drastically impacts your health, your relationships, your productivity, your mental workload efforts and your stress level."
More efficient and less intrusive than previous devices, the IDUN Guardian fits groundbreaking neurotech into a pair of comfortable, consumer-facing earbuds, opening up a wealth of possibilities for the study and diagnosis of sleep disorders on a global scale.
Following OPPO's 2022 Challenge, IDUN were invited to showcase their story at the Mobile World Congress, bringing their tech closer to world-changing mass-adoption.
"This is an excellent showcasing opportunity, allowing us to engage with like-minded individuals at OPPO's booth, and we have received valuable feedback on how to improve and iterate our products." says Abigail Holland, Product Owner at IDUN Technologies.
Ideas meet expertise, and again, the world changes.
Investment, Support and Guidance for your Project
As the experiences of TangTangQuan and IDUN show, the OPPO Inspiration Challenge can significantly enhance the visibility and adoption of world-changing technologies.
Ready to get involved? Submissions for this year's OPPO Inspiration Challenge will close at the end of June, so you still have the chance to participate in this technology-for-people platform.
The 2023 OPPO Inspiration Challenge
This year the focus is on two areas, the personal and the planetary.
'Inspiration for People' encompasses tech, products and programs that enhance convenience and promote both physical and mental personal health, similar to the accomplishments of the TangTangQuan and IDUN teams.
'Inspiration for the Planet' addresses global climate issues, seeking to actively minimize the environmental impact of electronic product manufacturing and usage. Building on OPPO's commitment to achieve carbon neutrality across its global operations by 2050, the company aspires to foster increased collaboration among teams through innovation to attain sustainable development goals.
This year, OPPO once again graced the stage at VivaTech, joining forces with last year's global and regional winners, Alango and SignNow, to share their innovative solutions. The company also invited SolCold, an environmentally focused technology team, to share their insights. By leveraging this year's themes, OPPO aims to attract more like-minded individuals with a passion for scientific innovation to join the movement of creating a better life through technological advancements.
Ready to change the world?
"It is 'the power of being seen' that validates our social and business value," says TangTangQuan's Zeng Xifeng, highlighting the significance of the support received through last year's Inspiration Challenge. "We wanted to integrate the blood glucose monitoring app and the artificial pancreas app into the OPPO watch."
You don't need to have an exact product in mind, but awareness of the potential applications for your new idea is a crucial step along the path to adoption.
"Seize every opportunity that comes along." IDUN's Auriel Valtancoli, Business Developer at IDUN Technologies says. "While some startups apply mostly for the stipend, the real value lies in the friendships you'll make and the advice you'll receive."
This year, the top 15 teams worldwide from the OPPO Inspiration Challenge will be invited to participate in an Acceleration Camp, and then to enter the global final demo event. After the final event, the top 5 teams globally will be awarded grants of USD $50,000 to support the implementation of their projects.
For those teams that don't make it to the final, the OPPO Inspiration Challenge also offers a share of the USD $190,000 global incubation fund and additional collaboration opportunities with OPPO and its partners, depending on their innovative ideas.
What's more, establishing contacts and receiving industry support can often be as valuable as monetary resources. Exposure to new markets, partners, and audiences can likewise be more lucrative in the long term than an immediate cash injection.
Bring your ideas to life and push the boundaries of technology before June 30th with the OPPO Inspiration Challenge.
Get daily insight, inspiration and deals in your inbox
Get the hottest deals available in your inbox plus news, reviews, opinion, analysis and more from the TechRadar team.