Zoom is going to work a lot closer with one of its biggest rivals, and I couldn't be happier
You can finally join Zoom calls from Google Meet (and vice versa)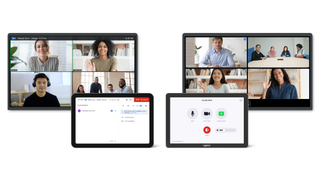 (Image credit: Google)
The wait is over, because Google Meet users will now be able to join Zoom calls straight from their own devices without needing to install the Zoom client.
Initially announced last October and destined for a late 2022 launch, Google has finally announced that users will now be able to join Zoom calls from compatible devices. Specifically, Zoom Meetings from Google Meet hardware devices, and Google Meet meetings from Zoom Rooms.
While this may come as welcome news to companies who prefer to use Google Meet as ther video conferencing platform, but interact with other organizations that use Zoom, there are some caveats.
TechRadar Pro needs you!
We want to build a better website for our readers, and we need your help! You can do your bit by filling out our survey and telling us your opinions and views about the tech industry in 2023. It will only take a few minutes and all your answers will be anonymous and confidential. Thank you again for helping us make TechRadar Pro even better.
D. Athow, Managing Editor
Use Zoom on Google Meet
"Zoom interoperability supports core video conferencing features. Some advanced features, such as polls, wired present, and dual-screen support may not be available when using Meet hardware to join Zoom Meetings and vice versa," An extract from the Google Workspace blog reads.
The company is set to support both scheduled join and join-via-code entries, and users will also be able to bypass the waiting room if a host so desires.
Arguably the most welcome news, though, is that users won't need to upgrade their package to be able to join Zoom calls, and it's set to be a free-of-charge feature to all eligible users, which includes all Google Workspace and G Suite accounts.
Account admins will be able to disable the feature, however it will be automatically enabled as standard. Rollout for these admin settings has already started but may take up to a week to show in some accounts, and end users will be able to get access starting 26 January, 2023. Likewise, the feature will become available to Zoom users wanting to join Google Meet calls on 26 January.
Besides this, Google Meet already supports interoperability between it and Cisco Webex, making it one of the most versatile platforms for many business users.
Are you a pro? Subscribe to our newsletter
Sign up to the TechRadar Pro newsletter to get all the top news, opinion, features and guidance your business needs to succeed!
With several years' experience freelancing in tech and automotive circles, Craig's specific interests lie in technology that is designed to better our lives, including AI and ML, productivity aids, and smart fitness. He is also passionate about cars and the decarbonisation of personal transportation. As an avid bargain-hunter, you can be sure that any deal Craig finds is top value!