Warzone 2.0 is finally here, allowing players to drop onto the brand new Al Mazrah map. There have been significant changes to gameplay, including a new Gulag system and tweaks to the circle collapsing mechanics.
Where Warzone prioritized mid-ranged skirmishes, Warzone 2 bolsters diversity and variety in its battles. The map is filled with tense chokepoints, and players are even able to fight in the water now. It's a big change for sure, but one that comes hand in hand with Call of Duty Modern Warfare 2, as the two games will share a progression system and arsenal.
Now that Activision has lifted the lid on Warzone 2, and since Modern Warfare 2 has launched its Multiplayer and Campaign Modes, there's plenty of details to take a look at. You'll find breakdowns of everything we know about the game so far, right here in this guide. Gameplay, map changes, weapons and vehicles will all be covered. As new info drops, you'll find it here, with this page staying up to date right up to launch.
Here's what you need to know about Warzone 2.
Warzone 2.0: cut to the chase
What is it? The follow-up to Call of Duty's popular battle royale
When can I play it? November 16, 2022
What can I play it on? PS4, PS5, Xbox One, Xbox Series X|S, and PC
Warzone 2.0: release times and platforms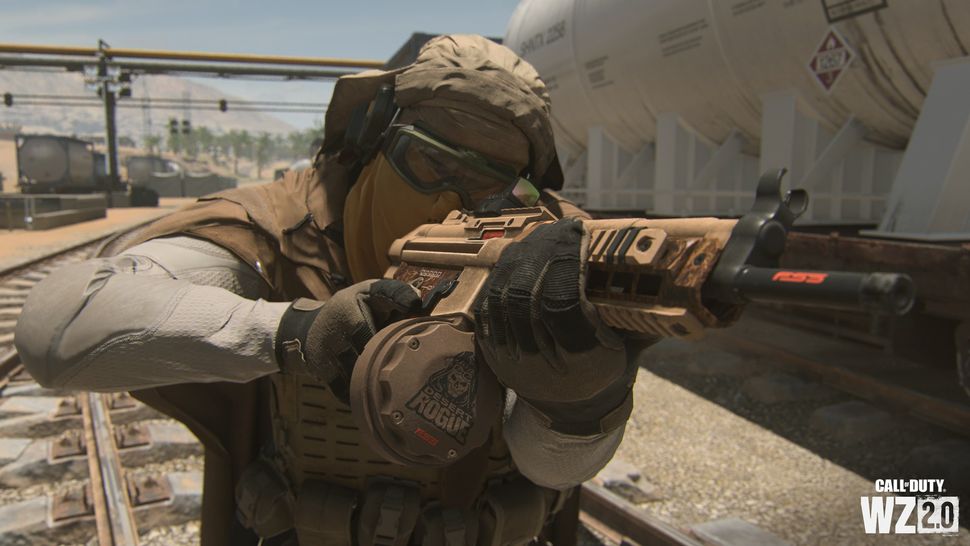 Activision provided a full Warzone 2.0 release date during its Call of Duty Next presentation. Arriving on November 16, 2022, Warzone 2.0 launches for PS4, PS5, Xbox Series X, Xbox Series S, Xbox One and PC. Here are the timings:
East Coast (ET): 1PM
West Coast (PT): 10AM
Australia (ACT): 5AM (November 17)
United Kingdom (GMT): 6PM
Europe (CET): 7PM
Despite previously tweeting (opens in new tab) that "a new generation" of Call of Duty is coming, this battle royale sequel isn't skipping last-gen consoles.
Warzone 2's release on PlayStation will come as a relief to many, following Microsoft's acquisition of Activision. While there's been no end of discussion regarding the future of Activision franchises, it looks like this particular series will stay multi-platform for the foreseeable future.
Warzone 2.0: gameplay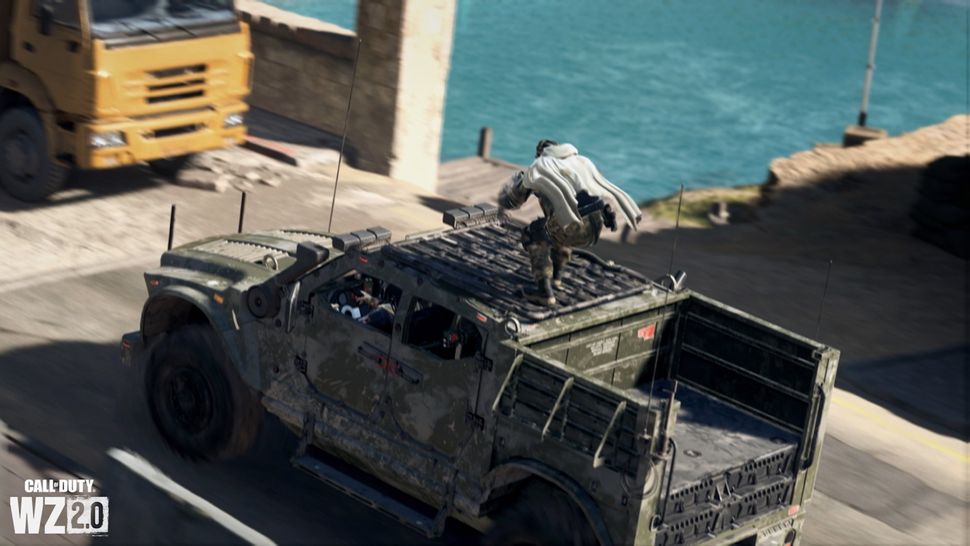 Warzone 2.0's core first person shooter gameplay functions similarly to its battle royale predecessor. But thanks to the Call of Duty Next presentation, we've learned a lot more. In terms of gunplay and weapon mechanics, it's sharing its setup with Modern Warfare 2. Shooting, movement and weapon progression will have parity across the two titles.
What this means for Warzone 2 is currently a little bit unclear. Modern Warfare 2 has an extremely low time to kill, but Warzone allows you to equip armour. Movement is generally a lot more bulky, and has weight to it. You can hand from ledges and fire with a sidearm, and even dive to the ground, straight into prone.
One huge change to gameplay is the new Gulag, which pairs you up with another player for a 2v2 gunfight. There's AI enemies around too, and sometimes an AI boss enemy called The Jailer will appear. The biggest change here is that there is loot around the Gulag, which is brought with you if you make it out alive.
Underwater combat has been seriously updated for Warzone 2. It's going to play a part in Modern Warfare 2, and it seems to have been moved into the battle Royale mode as well. You can swim, dive and shoot from the water. Gadgets and equipment all behave differently in the water. For example, the Inflatable Decoy soldier will appear to be swimming when activated in the water.
Strongholds can be found around the map, and serve as AI encamp ents containing rare loot and loadouts. In general there are many more AI enemy encounters on AL Mazrah when compared to the last game.
Finally, there's a new shop system that allows you to make purchases during a match. Here's the new features at a glance:
Squadmate Buy Back: Just like in Call of Duty: Warzone, you're able to buy back a teammate after they've been taken down either in combat, or failed to return from the all-new Gulag.
Buy Gear: Just like the function of the original Buy Station, you can purchase equipment such as Gas Masks, Killstreaks, Armor, and more.
Limited Equipment: Some items are likely to be limited in number, and once purchased, they are gone from the Shop.
Buy Weapon: Prior to a match, your main preparation is focused on creating a number of custom weapons for your next match in Al Mazrah.
You purchase these custom weapons from here. Note this takes the place of a full Loadout (your Primary, Secondary, Tactical, and Lethal as well as Perks).
Custom Weapons are constructed in the Gunsmith, and then bought here. They take up your weapon slots. Tacticals and Lethals are very common ground loot. Perks will not be available in Call of Duty: Warzone 2.0 at launch.
Vehicles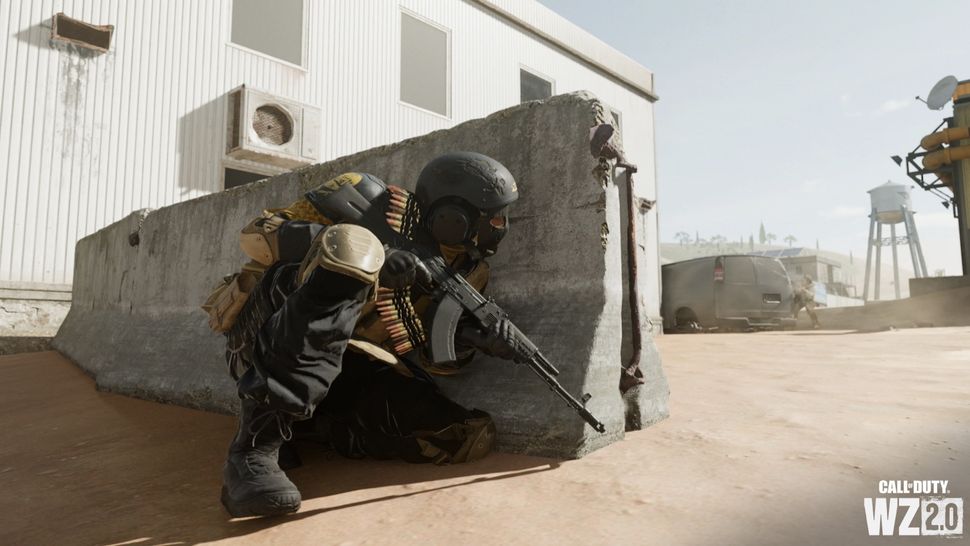 Expect plenty of vehicles in Warzone 2, such as boats, tanks, and helicopters. Each feature new physics models, supposedly making them more authentic to both drive and destroy.
"Some vehicles are heavier, some will slide more, have more traction, or less traction and as you're driving them around and you're encountering them and other squads of playing with them, you can choose to shoot off the tires to kind of impact the handling, you can have them – they react to explosive differently based on their weight," we were told during the Call of Duty Next presentation.
Given the more varied landscape of Al Mazrah, with its rivers, hills and motorways, it's likely that vehicles will be a huge part of traversal. Here are the vehicles we know about so far:
Hatchback car
Cargo truck
Rigid inflatable boat
ATV
UTV
Tactical vehicle
Light tank
Gunship
[REDACTED] EV
Warzone 2 map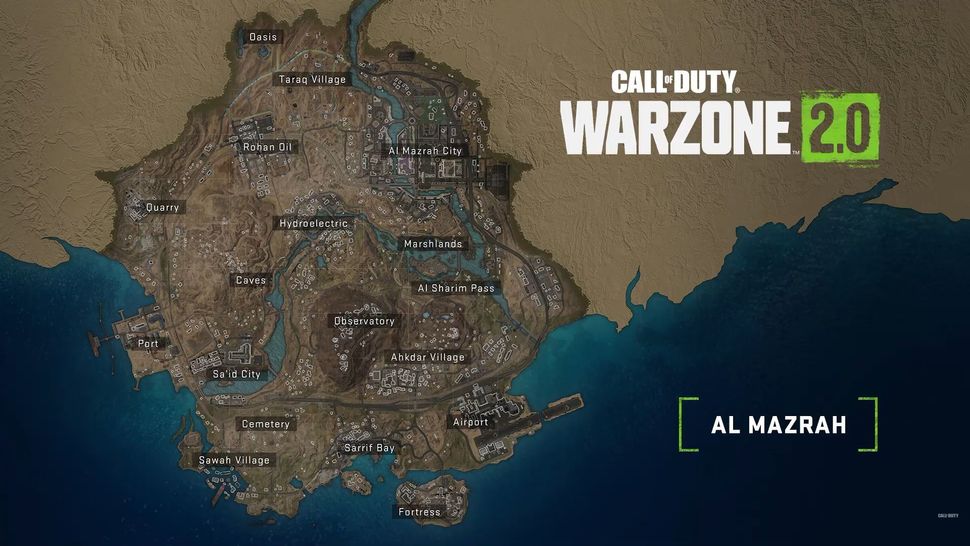 Alongside the Warzone 2.0 release date, a Modern Warfare 2 multiplayer reveal, and further news on the mobile Warzone spinoff, Activision revealed Warzone 2.0's map.
Called Al Mazrah, it's the biggest COD battle royale map yet and this first leaked back in May. Referred to as an "interesting mix of geography," mixing the desert with industrial areas, towns, a city, water, and "cool elevation." You'll find plenty of explorable caves and subterranean spaces, letting you swim across points of interest (POI) across the map.
Activision also outlined a huge change to the battle royale's circles. Traditionally, we've seen battle royale games like Fortnite and Apex Legends employ one large circle that gradually decreases, ensuring games don't get drawn out. However, Warzone 2.0 opts for a different approach, using multiple circles which separate and eventually rejoin.
Al Mazrah offers up 18 POI locations, which we've detailed below:
Oasis
Taraq Village
Quarry (Al Safwa Quarry)
Rohan Oil
Al Mazrah City
Hydroelectric
Marshlands (Mawizeh Marshlands)
Caves (Sattiq Caves)
Port (Hafid Port)
Sa'id City
Observatory (Zaya Observatory0
Al Sharim Pass
Cemetery (El Samman Cemetery)
Ahkdar Village
Sawah Village
Sarrif Bay
Al Bagra Fortress
Airport (Al Malik Airport)
Warzone 2.0: trailers
Launch trailer
Warzone 2 finally received its launch trailer. And it's set to Freebird, no less. You should check it out below, it's a pretty action-packed.
Reveal trailer and Call of Duty: Next
While we'd known about Warzone 2.0 for some time, we only got our first real look at this during the Call of Duty Next presentation on September 16. Giving us a full Modern Warfare 2 multiplayer reveal too, you can watch this below, and we've also linked the full showcase:
Warzone 2.0: news and rumors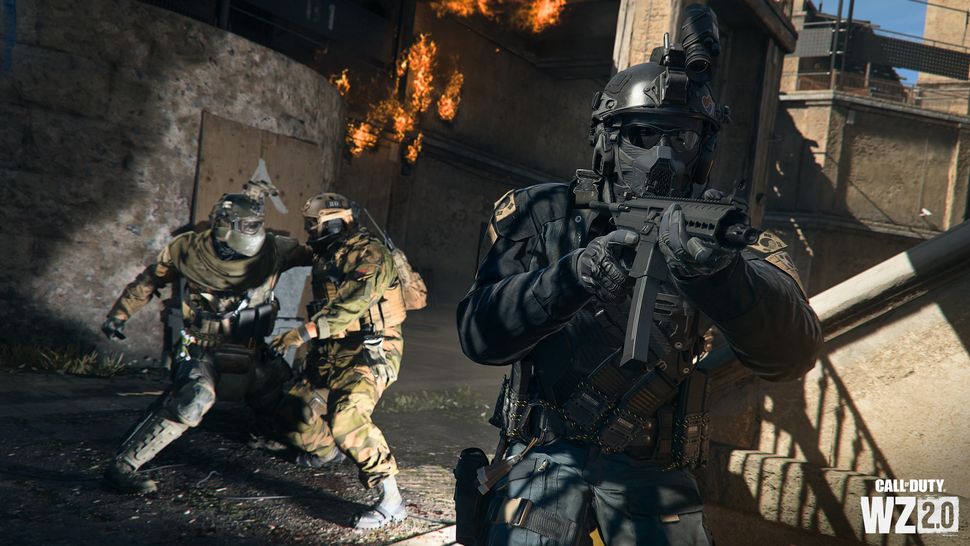 Summer Game Fest provides a small Warzone 2 update
We got some further details at Summer Game Fest 2022, though Call of Duty: Modern Warfare 2's campaign was the focus. Speaking to Johanna Faries, GM for Call of Duty and Jeff Negus, cinematics lead at Infinity Ward, we got a small update on the planned sequel.
Asked what fans can expect by host Geoff Keighley, Faries called this a "transformational moment for the entire franchise." Continuing on, she explains future games will be created on one shared engine, which includes, as she calls it, Warzone 2.0.
So, what will that bring? Faries explains "there will be a standalone experience of Warzone for existing players." Asked for further details , Faries replies that Warzone 2.0 will "be an extension of the Modern Warfare 2 universe". Sadly. she doesn't confirm any gameplay specifics, but you can watch this interview in full below:
Lessons learned
In a call with press and content creators in February 2022 (via CharlieIntel (opens in new tab)), Warzone's developers admitted they "f****d up" with Warzone and called the battle royale's state at the time "embarrassing".
Activision Game Director Josh Bridge admitted that the team wasn't happy with the state of the game and that it had "learned the upper limits of their technology" when trying to integrate other Call of Duty games into Warzone over the years.
According to the developers, trying to build Warzone into future Call of Duty titles following its release caused "significant development challenges" and saw the free-to-play game suffer from major issues -- as well as losing its own identity.
The developers said they are "determined to fix the issues with the game", which is something that was emphasized in the blog post confirming Warzone 2 is in development.
"Naturally, we have exciting plans in the works across the franchise this year, but currently the team's focus is strictly on the Warzone experience we are all playing today, addressing current frustrations, and tackling several important requests from our community," the post reads.
It sounds like, even with a new generation of Warzone in the cards, players of what could become known as "Warzone Legacy" won't be left behind.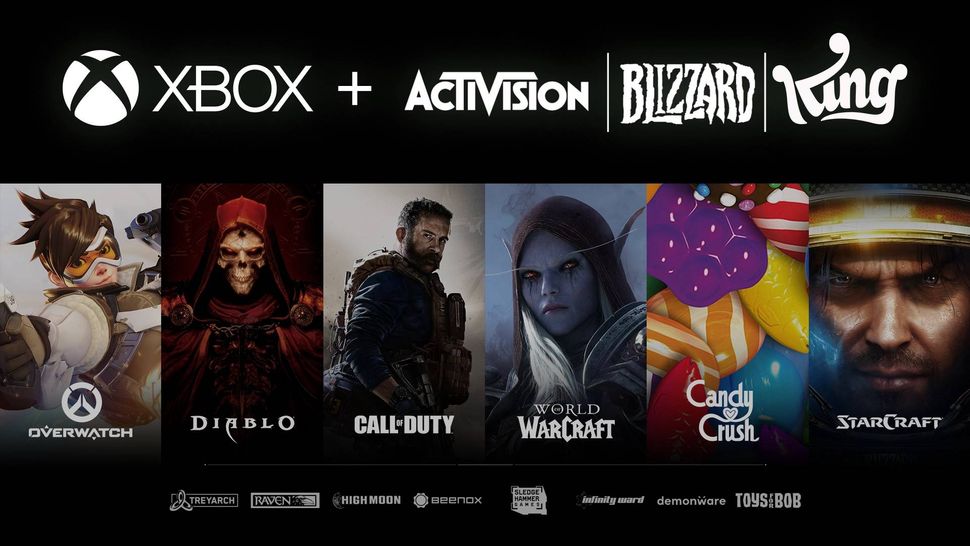 Not an Xbox exclusive
Following the announcement of Microsoft's planned $69 billion acquisition of Activision Blizzard earlier this year, there was uncertainty over what the takeover would mean for the future of the Call of Duty series. The main question: Will future games come to PlayStation?
Good news for PlayStation players: it's looking like they will for the foreseeable future.
In a blog post (opens in new tab) announcing the deal, Xbox head Phil Spencer said: "Activision Blizzard games are enjoyed on a variety of platforms and we plan to continue to support those communities moving forward". This ambiguous statement didn't exactly confirm whether current Activision Blizzard franchises, like Call of Duty, will become Xbox exclusives at a later date.
Spencer then tweeted (opens in new tab) that he had "good calls" with leaders at Sony and had confirmed Microsoft's "intent to honor all existing agreements upon acquisition of Activision Blizzard" as well as the company's "desire to keep Call of Duty on PlayStation". "Sony is an important part of our industry, and we value our relationship," Spencer wrote.
Had good calls this week with leaders at Sony. I confirmed our intent to honor all existing agreements upon acquisition of Activision Blizzard and our desire to keep Call of Duty on PlayStation. Sony is an important part of our industry, and we value our relationship.January 20, 2022
This didn't exactly instill confidence among Call of Duty PlayStation players; many worried about what these "existing agreements" are. After all, Spencer didn't explicitly say future Call of Duty games will be on PlayStation.
In a report by Bloomberg (opens in new tab), four anonymous insiders, who claim to have knowledge of the deal, told the outlet that the next three Call of Duty games are slated to release for PlayStation as well as Xbox consoles. The sources told Bloomberg that Activision had already committed to these releases before the acquisition and so Microsoft intends to honor it.
These three games are apparently the now-confirmed Modern Warfare 2 reboot (aka Call of Duty 2022), another Call of Duty game from Black Ops Cold War developer Treyarch (potentially delayed to 2024) and Call of Duty: Warzone 2.
Clearing things up even more, though, is a blog post published by Microsoft in February 2022 that offers more clarification and addresses Call of Duty specifically. That post says it will stay on PlayStation even beyond these existing agreements.
The post states that, "to be clear, Microsoft will continue to make Call of Duty and other popular Activision Blizzard titles available on PlayStation through the term of any existing agreement with Activision." Further to that, Microsoft "have committed to Sony that we will also make them available on PlayStation beyond the existing agreement and into the future so that Sony fans can continue to enjoy the games they love."