The world's hottest tech towns – and what makes them tick
Silicon Valley is still hot, but it now has plenty of rivals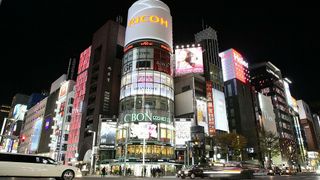 (Image credit: JNTO)
Introduction
We've all heard of Silicon Valley – home to headline-grabbing US firms like Apple, Google, Facebook and Twitter among many others – but there are several other global cities that are just as important in the worldwide electronics and IT business.
We are talking about the places where electronics are actually manufactured, where tech startups are sprouting like nowhere else, and where the IT sector dominates. Silicon Valley might be where it all started, but California has plenty of competition.
Santa Clara County: Silicon Valley
Let's start with the capital of computing for the Western world, which gets its name from the humble silicon chip (Semiconductor Valley doesn't sound nearly as good) despite it being increasingly a centre of startup, venture capital, product design and tech concepts rather than finished products.
Although it represents one of the world's biggest ever entrepreneurial explosions, Silicon Valley has become such a generic term for the US-based tech industry that it's easy to forget its geography. Silicon Valley is the nickname for the Santa Clara County area around the city of San Jose in Northern California, which is part of the greater San Francisco Bay Area.
Stretched over 45 miles, Silicon Valley towns like Palo Alto, Cupertino, Sunnyvale and Mountain View are home to the HQs of Apple, Google, Intel, HP, Oracle, Facebook, Evernote, eBay, Agilent, Adobe… the list is endless.
As a visitor there's little to see unless you're an industry bod with a stack of meetings, but near to Google's HQ in Mountain View is the Computer History Museum.
It's now as much about wise investment decisions and innovative services as about engineering degrees and technical know-how, but why is there an unbeatable entrepreneurial ecosystem here?
Hewlett-Packard (created in 1939 and generally thought of as the initiator), Stanford and Berkeley universities, the US Navy's early experiments with radio, all played a critical part in creating a post-war tech industry where teams of engineers moved between companies and helped create names that still reverberate today, such as Intel and Apple. It also didn't hurt that the area was all fields and orchards, so land was cheap.
Shenzhen: Electronics capital of the world
Shenzhen is where capitalism and communism bust into each other – and an iPhone pops out. The iPhone might say 'designed in California', but what it should say is 'born in Shenzhen'.
The home of Foxconn (maker of gadgets for Apple, Microsoft, Sony and scores of others) and hundreds of other manufacturing facilities that together create 90% of the globe's electronics, the vast and growing metropolis of Shenzhen has become the world's major manufacturing hub in the twenty-first century, taking over from Taiwan.
It's just a short drive or train ride from Hong Kong in the vast Pearl River Delta, and it's growing exponentially fast. Why is it here? The city's success can be traced back to the Special Economic Zone status conferred on a tiny fishing village back in 1979, China's first. It's attracted so many people that overcrowding is now a serious problem; the population of Shenzhen now stands at 15 million.
It's a city that is attempting to make the transition from industrial centre to tourist hotspot, though events like the Shenzhen Open provide only sporadic reasons to visit. If you are in town – likely as a side-trip from Hong Kong – check out the bizarre recreations of the Eiffel Tower, Taj Mahal and the Pyramids at the Window of the World, as well as Sung Hing Square and the vast Luohu Commercial City shopping district.
Shenzhen is increasingly a place of startups, product designers and capital – as evidenced by the presence of the Shenzhen Stock Exchange – and China's Silicon Valley is nothing short of the electronics capital of the world.
Stockholm: Home of the subscription economy
Did you know that Spotify, Linux, Candy Crush, Skype and Minecraft creator Mojang are all from Stockholm in Sweden? Increasingly known for far more than the Nobel Prize, Abba and Volvo, the 800,000-strong capital of Sweden is fast becoming famous for some of the globe's most recognisable and successful tech services and apps.
Stockholm has almost as many tech startups as Silicon Valley, with as much as €2.6 billion (around £1.9 billion, or $2.9 billion) being generated per year from Nordic tech company exports, more than half of this coming from Sweden.
A nation of digital natives, Sweden has an outward-looking perspective, fast broadband (1,200,000km of fibre optic cable that could wrap around the planet 30 times) and great English skills – three key ingredients for effective competition in the tech industry. It also has a historically strong engineering sector and a high internet penetration rate.
However, a further innovation that has helped put Stockholm-based companies on the front-foot is the subscription-based business model pioneered by Spotify. The key physical landmarks tech-wise are Stockholm's Kista Science Park and the Royal Institute of Technology.
Tokyo: High-tech innovation HQ
Can Tokyo still claim to be one of the world's hottest tech cities? Despite the incessant competition from China and especially from Seoul in South Korea, Tokyo remains a digital city like no other. Where else do you get iPads instead of menus, electronic toothpick dispensers, robotic toilets and bullet trains?
However, there is a good argument to be had over how long Tokyo can retain its grasp on all things tech. For now it's the home of Sony and its PlayStation empire, though the glory days of Japanese consumer electronics giants like Sony, Panasonic, Sharp, Fujitsu and Hitachi in TVs, laptops and smartphones are surely on the slide. However, the likes of Nikon, Canon, Epson and Yamaha are bucking that trend, and the precision robotics and automation industry is booming.
Japan is a country where people of all ages are completely at ease with technology, and it shows in Tokyo. Easily the most fun of all the cities featured here to visit, a trip around Tokyo's Akihabara Electric Town is a must-do for any visiting tech-head. Expect instant language translation tech and more to debut at the Tokyo 2020 Olympics, which could also see the birth of Ultra HD 8K.
Bengaluru: India's Silicon Valley
Bengaluru (formerly known as Bangalore) in the southern state of Karnataka, India, is home to a host of 'Bangalore tiger' companies like InfoSys, Tata Consultancy Services and Wipro who handle operations, database management and much more for global brands.
The epicentre of India's high-tech and outsourcing industry, and a hub of software and services development, the highly skilled IT workforce and unrivalled market opportunities (India has a population of 1.25 billion) is making affluent Bengaluru an IT investment hotspot.
The IT market in India is booming, with massive growth in big data and analytics software and services expected to help make the sector worth around $12 billion (about £7.8 billion, or AU$16.5 billion) in 2015. That's no wonder; half the population of India is under 35 – the biggest proportion of youth anywhere in the world – and the country has the third largest online population in the world. It's also got a fast growing middle class.
Aside from the 43-acre Infosys Campus at Electronic City – where 20,000 people live in a self-contained town – green and spacious Bengaluru is a great place to visit, with Tipu Sultan's Summer Palace and the grand Graeco-Roman styled Vidhana Soudha high on tourist itineraries.
However, wherever you go in India the huge gap between rich and poor is inescapable – this is a place where the tech industry's reputation as being at the sharp end of capitalism rings truer than anywhere else.
Are you a pro? Subscribe to our newsletter
Sign up to the TechRadar Pro newsletter to get all the top news, opinion, features and guidance your business needs to succeed!
Jamie is a freelance tech, travel and space journalist based in the UK. He's been writing regularly for Techradar since it was launched in 2008 and also writes regularly for Forbes, The Telegraph, the South China Morning Post, Sky & Telescope and the Sky At Night magazine as well as other Future titles T3, Digital Camera World, All About Space and Space.com. He also edits two of his own websites, TravGear.com and WhenIsTheNextEclipse.com that reflect his obsession with travel gear and solar eclipse travel. He is the author of A Stargazing Program For Beginners (Springer, 2015),