EA Maxis has confirmed The Sims 5, codenamed Project Rene, is finally in production – but don't expect to get your hands on it any time soon.
According to EA Maxis, The Sims 5 will have a greater focus on customization and multiplayer play and will let you play fluidly across PC and mobile for the first time in the series' history.
Early playtests have started for the long-awaited next generation of The Sims, but the developer has stated that "this is just the start of an incredibly long journey". Want to know more? Read on for everything we know about The Sims 5 so far.
The Sims 5: cut to the chase
What is it? The next generation of The Sims
When can I play it? TBC
Which can I play it on? PC and mobile confirmed so far
The Sims 5: release date and platforms
The Sims 5 currently doesn't have a confirmed release date or window, but it's likely we won't get our hands on it for a few years yet.
During the Behind The Sims Summit Stream Event (opens in new tab) in October 2022, Maxis confirmed the next generation of The Sims (AKA Project Rene) is in the early stages of development. "Over the next couple of years, we'll continue sharing updates with all of you on Project Rene", Sydnay Pearson, VP of franchise creative for The Sims, said in the video. These updates will also go alongside early access software being opened up to select groups over time.
The Sims 5 will be available on PC and mobile, according to EA Maxis. While not confirmed, it's likely The Sims 5 will come to PS5 and Xbox Series X|S eventually, given this will be a "next-generation The Sims game". Historically, main entries in The Sims series have been released on PC first and then are reworked slightly for consoles and other systems.
The Sims 5: Trailer
Latest Trailer
The latest teaser for The Sims 5 was released in January 2023 and provides a behind-the-scenes look at Project Rene as well as an interview with product manager Grant Rodiek – alongside updates on The Sims series generally.
The video shows early concepts for Project Rene, including customization of rooms and furniture, while Rodiek discusses anticipated updates to The Sims and findings from early Project Rene playtests.
The Sims 5: gameplay
Thanks to the Behind The Scenes video, we can better understand what The Sims 5's gameplay could look like. So far, we know that platform compatibility, multiplayer, and greater customization will be critical to Project Rene.
With platform compatibility, "you can now play The Sims, wherever you are without barriers and restrictions", Rodiek said. Gameplay across platforms will also be fluid as you can instantly switch between PC and mobile. However, the experience on a PC will be "the true rich experience you're used to", Rodiek said.
The Sims 5 will have a greater emphasis on multiplayer rather than just single-player. "We think we can be both", Rodiek said. However, "one thing to keep in mind is that Project Rene is not an MMO (massively multiplayer online game)".
On the other hand, the Behind The Sims Summit showed detailed editing tools. A bed was broken down piece by piece and built up, with customization looking much more profound than what we've seen from the series. Next was a sofa, and we saw patterns applied to individual pieces. Interestingly, the edits were saved across a PC and mobile game file.
The Sims 5: news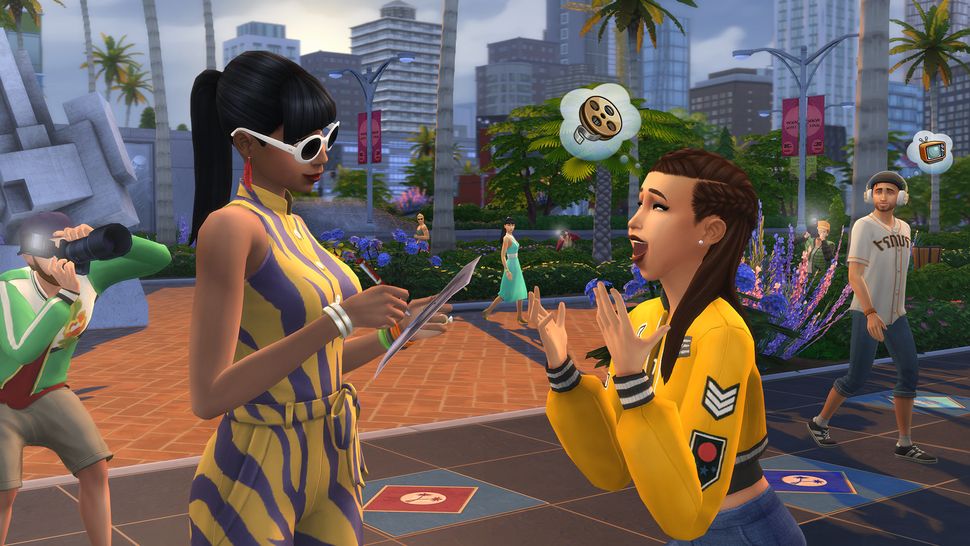 Will it make use of AI technology?
A patent filed by EA (opens in new tab) back in April 2020 and approved in October 2021 reveals AI technology could be used in The Sims to turn pictures of people into in-game characters.
Reported by Sims Community (opens in new tab), the patent discusses the AI technology, explaining that it will allow players to upload photographs of themselves or characters, which can then be converted into an accurate Sim.
EA owns the patent outright, so we'll have to wait and see how and if they'll implement the tech. It also isn't clear if this will be implemented in The Sims 4, which is expected to have fresh content churned out for a few years yet, or if development is far enough away for The Sims 5 to be where it makes its debut.
EA continuing to improve The Sims 4
Following the release of The Sims 4: Cottage Living expansion, EA Maxis hasn't revealed exactly what its future plans for The Sims 4 look like, but the developer stated in a March 2021 blog post (opens in new tab) that its roadmap "continues to be focused on improving content that is in the game". It didn't entirely dismiss the idea of future expansions that could involve "werewolves, faeries, and zombies".
Unfortunately, this doesn't bode particularly well for The Sims 5 release any time soon, and we'll probably be lucky to get our hands on it before 2024. The Sims 4 was in development for over three years, so it makes sense that EA Maxis is continuing to maintain The Sims 4 in the meantime. It's been making improvements to the base game for those who have already spent their hard-earned cash on it, kits, game packs and expansions.