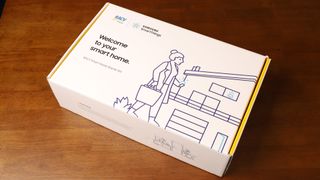 (Image credit: Future)
Sponsored by RACV
To many people, it may seem like basic home security hasn't advanced much in recent years. Apart from professionally-installed monitoring setups in mansions, most people will be left thinking that the same, basic, ineffective alarm systems that were available 20 years ago are still the only choice for securing your home. However, thanks to the latest smart home technology, this simply isn't the case anymore.
With the RACV Smart Home Starter Kit, you can quickly and easily set up and monitor a powerful smart home system using just your phone – and priced from just $249 (with no ongoing fees), it's also incredibly affordable.
Everything about this Samsung-powered kit is designed to be accessible and easy to understand – even the packaging is friendly, with straightforward, easy-to-follow instructions. Inside, each of the six components is individually packaged and comes with its own quick start guide. Follow these and you can literally be up and running in 5 to 10 minutes.
Tying it all together
The most important component in the RACV kit is the SmartThings Wifi hub, but it's not difficult to set up – it simply plugs into your existing Wi-Fi router. This enables the other five included sensors to connect to your Wi-Fi, so that you can communicate with them via your home network or the internet. It's needed because smart home sensors use special low-power wireless technologies to communicate with each other. The benefits of using this over Wi-Fi and Bluetooth are that battery life doesn't last for a few days at a time... depending on the sensor, the duration is instead measured in months or even years! So, once set up, the sensors typically require less maintenance than a standard smoke alarm.
The hub can communicate with SmartThings sensors within a roughly 140m2 range. If your premises are larger than that, you can simply buy a second hub to extend the range. Five additional sensors are included in the Starter Kit. There are three Motion Sensors, which can detect movement up to three meters away. These come in two parts, with each sensor magnetically snapping onto a sticky-backed base. The latter can be mounted almost anywhere, and once snapped on you can angle the sensor to point in almost any direction. Also included in the kit are two 'Multipurpose Sensors'. These each consist of two sticky-backed parts, which are designed to detect when doors and windows are opened with an internal magnetic switch. They can also detect vibrations and measure temperature.
Easy to monitor and manage
Everything in the kit is controlled and monitored via the SmartThings app, which is available for both Android and iOS devices. The app will walk you through the entire setup process, starting with connecting the devices by simply scanning a QR code that's located on each box. Scanning codes and placing all of the sensors via this method is exceptionally easy and takes just a few minutes for each. For easier management, the app then allows you to organise the sensors into different 'virtual' rooms to match their real-world placement. Once that's done you can immediately make use of the kit's security features.
For the latter, the SmartThings app comes with a tool called Home Monitor. This preconfigured applet can be armed or disarmed in just one touch. 'Disarmed' mode is self-evident but there are two armed settings: 'Stay' and 'Away'. When set to Away, any time one of the sensors are tripped, the app will send notifications to your phone just a few seconds later. When set to Stay, you can secure the boundaries of your home – i.e. the sensors on windows and external doors – but not worry about triggering alarms and notifications from movement or activity inside the home.
Recent updates to the app mean that optional smart smoke alarms and moisture detectors (which detect flooding) are also preconfigured with the Home Monitor too. However, thanks to the universal nature of smart home technology, you can add pretty much any type of smart device – from any manufacturer – to your network and monitor it in the app.
Customise it to your exact needs
This universality means that more-elaborate responses are possible too. For example, by adding smart light bulbs or smart speakers (including Google Assistant and Amazon Alexa devices) to your network, you can do things like automatically turn on lights when motion is detected or sound an alarm if a window is opened when no one is home. SmartThings again makes this easy through using what are termed 'Automations'. These are simple, "if x then y" commands, where you decide what the trigger is (motion detected, for instance) plus what the response is (turn on lights and send a notification, for example).
These responses and triggers needn't be all about security either: the same smart home technology can allow for a bit of fun. This might be triggering mood lighting at a certain time of day, or playing a message on a speaker that says, "Daddy's home" when his smartphone's location is registered as being nearby. If that's not enough, Google Assistant and Alexa devices also allow everything to be voice activated too!
Create your smart home today
The RACV Smart Home Starter Kit is much more than the sum of its parts. With six components, some of which can cost $80 or more when sold separately, it's a great value way to get all the devices you need to create a cutting edge smart home. And if you're located within the metropolitan Melbourne area, you can even have an expert come to you and set everything up for a flat fee of just $79.
So, whether you want to set up a secure smart home, a fully-automated one, or both, make sure the RACV Smart Home Starter Kit is the foundation of your system by checking it out, here.

TechRadar was provided with a Smart Home Starter Kit for testing by RACV.
Sign up for Black Friday email alerts!
Get the hottest deals available in your inbox plus news, reviews, opinion, analysis and more from the TechRadar team.