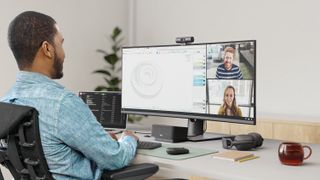 (Image credit: Logitech)
If you're looking for ways to make working from home work a little better, we'd advise not jumping straight to researching an exercise bike likely to end up a clothes hanging device. Instead, let's look at a few of the products that can actually make the work part of the day more pleasurable.
Logitech has just released the Logitech BRIO 500 webcam and the Logitech Zone Vibe 100 headset. These new products provide huge benefits whether you are at your desk in the office or at home, especially if your job involves participating in video calls and using platforms such as Zoom and Microsoft Teams.
You can pick up either from Currys. Let's take a closer look.
Level-up video meetings
The Logitech BRIO 500 is a new webcam, designed to perch on top of a monitor. We're particularly interested in it because Logitech is the OG of aftermarket webcams, and the BRIO series is home to its top-of-the-line models.
This new family member has a 4MP sensor that produces clear Full HD video and has a native field of view of a wide 90 degrees. Two key elements make it far more flexible than the average laptop webcam too.
First, using Logitech's LogiTune software it can automatically crop into your face, and follow if you move around within the camera's view. This enables you to behave more freely, whilst keeping your face within the video call frame.
Secondly, its lens also uses autofocus, keeping your face in focus if you move further away from the camera. It's like a built-in cinematographer for video calls.
Aside from these great features, there's also Show Mode. By tilting the camera down, you can present and include physical items in video calls, meaning you never have to worry about scrambling around for your demonstrations.
The more you use a quality webcam, the more you realise it's not just about presenting a professional-looking image. A preview image of your own face during 9am Zoom meetings in a home office with somewhat dingy lighting can be a knock to your confidence, solved by a quality webcam much better equipped to deal with these situations, like the Logitech BRIO 500.
A webcam can be a form of self-care. Who knew?
The Logitech BRIO 500 also avoids one of the perennial issues of add-on webcams that otherwise look good on paper: sound quality. This webcam uses a pair of quality microphones with noise cancelling to remove unwanted audio from your stream and make it easier to be heard.
Better audio for work and relaxation
The Logitech Zone Vibe 100 headset lets you take your work, and play, audio to the next level, though, with its immersive audio technology. Plus, one of our favourite aspects of the headset is that, unlike most we see released these days, it's not aimed solely at gamers.
Its design is more subtle, more grown-up, getting away from a look that suggests you might be about to jump into a Fortnite match after each meeting.
The Zone Vibe 100 has tasteful fabric on its headband padding and ear pads. This helps to avoid the excess heat that can build up with synthetic leather padding and, well, it just looks good if you ask us.
The cups are of the large "over ears" style, which we recommend if you want a pair for all-day wear. It avoids any pressure on your actual ears, and the inner cup padding is sumptuous cloud-like memory foam.
Logitech Zone Vibe 100 headset has it all on the tech side too. This is a Bluetooth 5.2 wireless headset with 30m range and up to 20-hour battery life.
Its boom mic arm houses two microphones with beam forming, to avoid picking up unwanted sound. These are also quality MEMs microphones, able to pick up sudden loud noises without distortion — hopefully, that won't be you swearing during a work meeting.
We wouldn't consider the Logitech Zone Vibe 100 as a meetings-only headset either. Anything but. The mic arm can be folded away, and the headset uses quality 40mm dynamic drivers, perfect for listening to music or podcasts.
You can also use the same LogiTune software the Logitech BRIO 500 employs to customise its picture to tailor the Zones Vibe 100 sound to your liking. It offers powerful 5-band EQ. More bass? More treble? No problem.
The Logitech BRIO 500 webcam is available to order from Currys for £129.99, while the Zone Vibe 100 headset costs £109.99.
Get daily insight, inspiration and deals in your inbox
Get the hottest deals available in your inbox plus news, reviews, opinion, analysis and more from the TechRadar team.