The Huawei Mate 20 and Mate 20 Pro launch date is expected to be sometime in October, and while the Chinese firm is yet to say when it will announce its next phablets, it has confirmed that the Mate 20 series is on its way.
There's as an increasing number of Huawei Mate 20 leaks appearing online, and we're collecting them all here alongside our expect commentary on what exactly you can expect, and which Mate 20 rumors are more fantasy than fact.
Update: Huawei has confirmed that its new Mate 20 series will pack its new Kirin 980 chipset.
The Huawei P20 and Huawei P20 Pro are only six months old, but we're still expecting to see the Huawei Mate 20 and Mate 20 Pro (or Mate 11 and Mate 11 Pro as they might - but probably won't - be called), the latter of which could be the firm's most powerful and feature-packed phone yet.
Rumors suggest we'll also see a less powerful but more affordable Huawei Mate 20 Lite launch at the same time as well.
News of the three new phones is coming in regularly and we're beginning to see consistent Mate 20 leaks that you can read about below. You'll find everything we've heard so far , plus we've taken some educated guesses about the likely specs, features and release date.
You'll also find our wish list for the phone below, because while the Huawei Mate 10 Pro is a great handset there's always room for improvement, and its successor could learn from some of Huawei's more recent phones.
Cut to the chase
What is it? Huawei's next flagship phablet line
When is it out? Probably November 2018, that may change
What will it cost? Probably over £799 (about $1,110, AU$1,450)
Huawei typically starts selling new entries in the Mate range in November, most recently with the Mate 10 and Mate 10 Pro in November 2017, though those two were announced in October.
It's likely that the company will sell the Huawei Mate 20 and Mate 20 Pro from November 2018, but with an announcement in October 2018.
However there aren't any actual release date rumors yet, and if you're in the US we wouldn't count on being able to buy it, as Huawei's recent handsets haven't hit the states.
There also aren't any price rumors, but the Mate 10 Pro launched at £699 / AU$1,099 / $799, so we'd expect the Mate 20 Pro will cost at least that much.
In fact it will probably be more, given that the Huawei P20 Pro costs £799 (about $1,110, AU$1,450) and the Mate 20 Pro is likely to be more powerful than that phone.
Huawei Mate 20 or Mate 11?
We are fairly confident of the name, as not only did Huawei name its latest P phone the P20, but it has also now trademarked the name Mate 20 (as well as Mate 30 through to Mate 90).
So in all likelihood we'll get the Huawei Mate 20 and Mate 20 Pro this year rather than the Mate 11, and it sounds like next year the name might jump to Mate 30 rather than Mate 21.
Huawei Mate 20 display
One early rumor pointed to the standard Mate 20 featuring an in-display fingerprint scanner, and if the Mate 20 has one the Mate 20 Pro should do too.
Leaked firmware details from FunkyHuawei and published by XDA Developers shows there is likely to be an in-display fingerprint scanner in the Pro version of the phone too.
Industry sources claim the phone will use a Qualcomm ultrasonic scanner, which can work when greasy or wet. It's a believable claim too, given that the super-premium Huawei Mate RS Porsche Design had an in-screen scanner.
The claim of an in-screen scanner has emerged again recently, accompanied by images of the front panel, showing off a curvy design and a large notch which apparently houses a 3D-sensing camera for facial recognition.
We've also heard that the Huawei Mate 20 Pro might have a 6.9-inch OLED screen, as the company is apparently in the process of sampling screens of that size from Samsung Display, for use in a smartphone. That could make the Mate 20 Pro the biggest mainstream phone yet.
That said, other reports suggested this could actually be for the Honor Note 10 instead.
The big firmware leak published by XDA Developers claims the Huawei Mate 20 will come with a smaller 6.3-inch AMOLED screen, but we don't currently know if it'll have a notch or what resolution it'll be.
A TENAA listing in China shows off the design and display for the Huawei Mate 20 Lite, but there's no clear sign of the specs for the device's screen.
We can't be certain, but one of the images - hosted by SlashLeaks - seems to show the Mate 20 Lite has a small notch at the top of the screen.
Huawei Mate 20 design
We've yet to see any photos of the Huawei Mate 20 or Mate 20 Pro, while the best look at the design of the Mate 20 Lite is above with some blurry images of the phone passing through its TENAA certification.
Therefore we don't know much about the design and look of any of these phones.
We're expecting each to have a glass design - that's for wireless charging, which we talk about more below - but apart from that we don't know much about the size, materials or colors Huawei will choose.
Huawei Mate 20 specs and performance
The Huawei Mate 20 (and presumably the Mate 20 Pro as well) will pack the new Kirin 980 chipset. Huawei has confirmed this in a press release, announcing the 980 will be the world's first 7nm silicon and boast an octa-core setup.
Huawei claims that the Kirin 980 chip will deliver 20% better performance and 40% better battery efficiency over its predecessor that's found in the P20, P20 Pro, Mate 10 and Mate 10 Pro.
We expect to hear more about the HiSilicon Kirin 980 at IFA 2018 as Huawei is expected to launch its new chipset at the show.
The Mate 20 is also expected to feature 6GB of RAM alongside 128GB of storage, but we don't know if there will be other variants of the device or if there will be microSD support.
We'd expect this newer chipset to feature in both the Huawei Mate 20 Pro and Mate 20, but it's more likely the Mate 20 Lite will feature a different chipset.
It's expected all three of these devices will launch with Android P software onboard as Google will have released it by then, but it'll probably be with Emotion UI 9.0 on top that's designed specifically by Huawei for its devices.
Huawei Mate 20 battery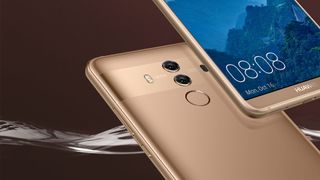 According to the firmware files found by FunkyHuawei, the Mate 20 will come with a 4,200mAh battery inside. We'd expect a slightly bigger one inside the Mate 20 Pro, but we don't have any evidence for that.
If this is true, that'd make it bigger than the batteries inside the Mate 10 and P20 Pro, so hopefully that'll translate as longer battery life.
A teaser sent directly to TechRadar suggested it'd be a bigger battery than the previous generations of handsets.
There's no clear sign of how big the battery will be, but as you can see in the diagram above the company is making it clear it'll be larger than 4000mAh.
For charging, it's rumored the Mate 20 will have wireless charging onboard too and by that logic we'd hope to see the feature on the Mate 20 Pro as well. That may be something that's missed off the Mate 20 Lite.
What we want to see
As we wait for more news about the Huawei Mate 20 and Mate 20 Pro to come in, we've come up with the wish list below for what we want from the firm's next phablets.
1. An in-screen fingerprint scanner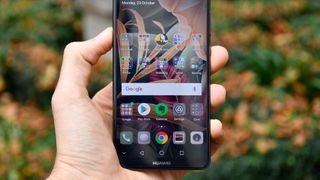 The Huawei Mate RS Porsche Design has a fingerprint scanner built into the screen, but the phone is beyond expensive, so we're hopeful that Huawei will bring the tech to a more mainstream phone before long.
Sticking it in the Mate 20 Pro would help the phablet stand out from other late 2018 flagships like the iPhone XI and Samsung Galaxy Note 9 (which is rumored to have an in-screen scanner of its own).
2. A QHD display
The Huawei Mate 10 Pro has just a 1080p screen, which was especially odd as the standard Mate 10 has a QHD one.
Huawei seems in no hurry to make QHD its flagship standard, but as such many of its phones feel a bit lacking compared to Android rivals, at least when it comes to resolution, so we really hope the Mate 20 Pro will up the resolution to QHD.
It could make a significant difference on the 6-inch+ screen that we're likely to get.
3. A headphone jack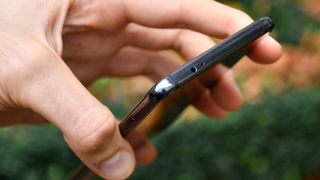 Huawei has ditched headphone jacks on its flagship phones, but we'd like to see them make a return so we can use wired headphones without an adaptor.
We're not optimistic that this will happen since Huawei might see it as a backwards step, but we live in hope.
4. Wireless charging
While the Mate 10 Pro has a big battery and fast charging, one thing it can't do is charge wirelessly, which many modern flagships – and even some mid-rangers – can, so we'd like Huawei to add the feature to the Mate 20 Pro.
There's hope that the company might, as the Mate RS Porsche Design has recently launched with wireless charging, so it's possible that the tech will trickle down to other Huawei phones soon.
5. A new chipset
The P20 and P20 Pro are powerful phones overall, but they launched with last year's chipset, specifically the Kirin 970 which first appeared in the Huawei Mate 10 range. If Huawei uses that chip again in the Mate 20 Pro we'll be really unimpressed.
But this is one wish that we think will come true, as Huawei often sticks new chipsets in the Mate series, so we're expecting to see the Kirin 980 (or whatever Huawei ends up calling it) in the Mate 20 Pro.
6. A gradient finish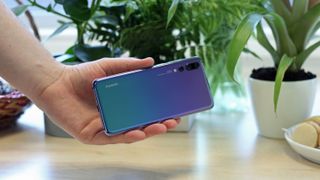 One of the more eye-catching features of the P20 and P20 Pro is the 'gradient finish' that you get with certain shades of the phones.
This essentially melds several different colors, with different ones visible depending on the lighting and what angle you look at the phone.
It's a good look and one we'd like to see offered on the Huawei Mate 20 Pro.
7. A bezel-free design
The Mate 10 and P20 ranges are already fairly light on bezel, but we want to see even less from the Mate 20 Pro.
One slight issue with that is the fingerprint scanner, as we're not huge fans of rear-facing ones and putting a scanner on the front tends to mean a large bottom bezel, but if Huawei does build the scanner into the screen as we've wished for above then there's no need for that.