The Huawei Mate 20 launch is tomorrow, and we'll be reporting live from the London event to bring you everything you need to know about the new flagship handset.
A whole host of Huawei Mate 20 leaks have hit the web over the past few months, meaning there's little left for the Chinese firm to actually announce on October 16 - unless all the Mate 20 rumors are way off the mark.
Update: The Huawei Mate 20 launch event takes place tomorrow in London, UK, and TechRadar will be reporting live to bring you all the latest.
If you're ready for a big screen, big battery and notch-toting handset, you've come to the right place. Here's what we know so far about the Huawei Mate 20.
Cut to the chase
What is it? Huawei's next flagship phablet
When is it out? Announced October 16 2018, probably out soon after
What will it cost? Probably over £799 (about $1,110, AU$1,450)
Huawei Mate 20 release date
Huawei Mate 20 launch date: October 16
Huawei Mate 20 release date: In the weeks after launch
The Huawei Mate 20 launch date is October 16, which is tomorrow, after the Chinese firm confirmed it is hosting an event in London on that date to announce its new Mate 20 series. Things don't come clearer than that, folks.
The Huawei Mate 20 launch event kicks off at 2pm BST (9am ET, 6am PT)
Huawei typically starts selling new entries in the Mate range in November, most recently with the Mate 10 and Mate 10 Pro in November 2017, so there's a good chance there will be a couple of weeks to wait before you can get your hands on the new devices.
If you're in the US we wouldn't count on being able to buy it, as Huawei's recent handsets haven't hit the States.
Huawei Mate 20 price
A leaked price for the Huawei Mate 20 suggests that it might cost roughly $855-$905 / £655-£700 / AU$1,210-AU$1,280, though this is based on a conversion from Swiss Francs, so may not be accurate.
That said, reputable leaker Roland Quandt says to expect it to cost around 750 euros, which is roughly in line with the prices above.
#ExperienceSmarter with the #Kirin980. Reach a #HigherIntelligence with the #HuaweiMate20 Series. Mark your calendars NOW… 16.10.18. pic.twitter.com/9KhTMj0BXHAugust 31, 2018
Huawei Mate 20 display and design
Perhaps the best design leak yet takes the form of a supposedly official marketing image, which you can see below.
It shows a teardrop notch and a triple-lens rear camera, both of which have been rumored before, but also shows a rear-facing fingerprint scanner, suggesting that only the Mate 20 Pro will get an in-screen one, despite an early rumor pointing to the standard Mate 20 also having one.
The same source as this image also says that the Mate 20 will have a 6.43-inch 1080 x 2244 LCD screen.
However, that's at odds with a big firmware leak published by XDA Developers, which claims the Huawei Mate 20 will come with a 6.3-inch AMOLED screen.
We've seen the 6.3-inch rumor surface for a second time after code relating to the Mate 20 was found on Huawei's website, which also revealed the Huawei Mate 20 would have a Full HD+ resolution.
We've also seen leaked renders shared on XDA Developers, which match the image above. Note also the existence of a headphone jack at the top edge of the phone.
We've also seen a leaked image claiming to show what appears to be the front panel of the Huawei Mate 20.
The panel for the Mate 20 seems to sport a teardrop-shaped display cutout, as shown above.
We're expecting the Huawei Mate 20 to come with a glass rear - which should allow for wireless charging - but apart from that we don't know much about the size, materials or colors Huawei will choose.
Huawei Mate 20 specs and performance
The Huawei Mate 20 will pack the new Kirin 980 chipset. Huawei has confirmed this in a press release, announcing the 980 will be the world's first 7nm silicon to be used in an Android phone and that it will boast an octa-core setup.
Huawei claims that the Kirin 980 chip will deliver 20% better performance and 40% better battery efficiency over its predecessor that's found in the P20, P20 Pro, Mate 10 and Mate 10 Pro.
That's believable based on an early benchmark, which shows the Huawei Mate 20 beating any Android rival (though notably the iPhone XS still tops it).
The Huawei Mate 20 is also expected to feature 6GB of RAM alongside 128GB of storage, but one source says there could be other variants, with between 64GB and 512GB of storage.
It's likely that the Huawei Mate 20 will launch with Android Pie, as the Mate 20 has been certified by the Eurasian Economic Commission with Android 9 Pie mentioned in the listing.
That said, the Huawei Mate 20 will probably have Emotion UI 9.0 on top - an overlay which is designed specifically by Huawei for its devices.
Huawei Mate 20 battery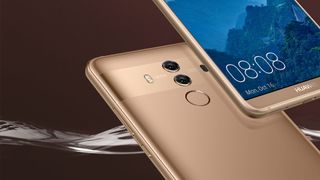 According to the firmware files found by FunkyDesign, the Huawei Mate 20 will come with a 4,200mAh battery inside.
If this is true, that'd make it bigger than the battery inside the Mate, so hopefully that'll translate as longer battery life on the Huawei Mate 20.
A teaser sent directly to TechRadar suggested the Pro model at any rate will have a bigger battery than the previous generations of handsets.
There's no clear sign of how big the battery will be, but as you can see in the diagram above the company is making it clear it'll be larger than 4,000mAh. That said, according to another leak 4,000mAh is exactly what the standard Mate 20 model will get, so you might have to go Pro if you want more.
For charging, it's rumored the Mate 20 will have wireless charging onboard too.
Huawei Mate 20 camera
Leaked images that we've seen suggest the Huawei Mate 20 may have a triple-lens camera, albeit one with a different lens arrangement to the Huawei P20 Pro.
But we also have an idea of some of the new camera features, as an APK teardown has revealed that there might be an underwater shooting mode.
The Huawei Mate 20 could also boast an AI Zoom (which automatically adjusts the zoom so that the subject stays focused), an AI Cinema mode, which adds filters to videos as you're recording, and a Video Bokeh mode, which lets you blur the background in videos.
These have all been found in official Huawei software, so they're being worked on, but it's not final software, so they may not all be supported ultimately.
Huawei Mate 20 other features
While not a feature as such, we've seen plenty of evidence that Huawei could launch 'Freebuds 2 Pro' wireless earbuds alongside the Mate 20 range, and the company may even pack the buds with them.
Leaked images (which you can see below) have shown the AirPods-inspired buds, and we've also learned that they might offer three hours of battery life, as well as having a case that can keep them juiced up for 20 hours.
If you need to recharge the case this can apparently be done either on a wireless charging mat or via USB-C. Interestingly though you can supposedly also put the case on the back of the Huawei Mate 20 and use your phone as a charging mat.
Image 1 of 2
Image 2 of 2