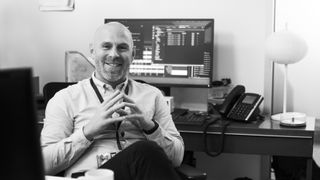 (Image credit: Foxit)
Documents will forever be a way of life in the business world and managing them can sometimes seem like a full-time job. For many people, managing documents is by committee. This involves different people, different opinions and constant collaboration.
The worst part is getting documents to their final stage, which often requires navigating through multiple different software programs, each with their own unique UI and features.
Foxit streamlines the process and makes your workflow their workflow through developer solutions. Their solutions are built and tested to adapt to your IT ecosystems and work with your content management systems.
Forget a one-size-fits-all approach. Foxit understands that you know what's best for your business and offers flexibility and savings that allow you to choose what you need to optimize performance and grow confidently.
Security and usability are often two of the biggest concerns when using PDF software so you need an easy-to-use solution designed to protect your sensitive information.
Foxit fully integrates with Microsoft Active Directory Rights Managements Services and Azure Active Directory Rights Management to ensure all your information is safe and secure.
With familiar features—like a Microsoft Office ribbon UI—your users will intuitively know how to use Foxit's solutions, which helps scale productivity and reduces the learning curve that naturally comes with new software. Additionally, your users can access training tailored to how you do business and 24/7 live support to keep your business going.
Foxit is also fully compatible with all your existing PDFs so you don't have to worry about converting existing files, saving you and your team time and unnecessary headaches.
The best part is you make the choices. You decide on when to save and which subscription is best for you all while getting the same features for one low price. Foxit doesn't hide features or force you to upgrade. You get what you need at a reasonable price.
Managing documents and PDFs will continue to be a vital part of business for a long time to come, but you don't have to be stuck using an expensive, cumbersome solution.
Foxit offers powerful, secure, intuitive PDF solutions with a price that lets you stretch the same budget across your entire organization. No more picking and choosing who gets to use which features or trying to fight to get a few more licenses. Everyone in your company can take advantage of the same software to get more done fast.
Foxit PDF solutions
Foxit's PDF solutions are powerful, lightweight, secure and easy to use so everyone in your company can be up and running fast. All at a price that's 30% less than competitors to give you more choice than ever before. Better Flex. Better Fit. Better Deal. Let's Foxit. Get your quote today.
Sign up to receive daily breaking news, reviews, opinion, analysis, deals and more from the world of tech.