Advertisement Feature
Chromebooks are fast, secure, easy to use – and now on offer with cashback on selected models at Currys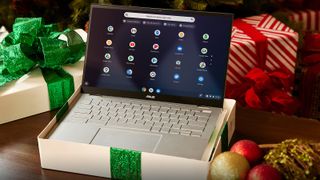 (Image credit: Currys)
If you're on the hunt for a new laptop – or are fed up with your current PC or MacBook, perhaps because it's getting long in the tooth, and feels sluggish these days – then you might want to consider a Chromebook. There are a number of compelling reasons to do so, as we'll explore here, and if any of these points resonate with you, the good news is that Currys has some seriously good offers on Chromebooks, not to mention extra cashback if you buy selected high-performance models.
For the uninitiated, Chromebooks are laptops powered by Google's Chrome OS (rather than Windows, or macOS). They are designed to be slick and fast machines simply because Google's operating system is built from the ground-up to be streamlined, and as a result Chromebooks can reflect that in their price tag because they don't need particularly powerful hardware to run at a great speed. These powerful laptops can be extremely affordable indeed.
Other major positives for Chromebooks include that they're very easy to use, and perhaps most importantly of all, they are also built not just for speed, but for security, with built-in virus protection, preventing the likes of malware from compromising your device and your data and no costly add-ons that you have to buy.
Third, they're also designed to be helpful, making your life easier. Login directly with your Google account, and your Gmail, Google Docs, Google Photos and Google Play account are automatically synced, meaning Chromebooks are easy to use with tonnes of apps and content ready to download from Google Play.
Let's break all this down in a bit more detail.
Super-secure laptops
On the security front, Chromebooks boast layers of protective measures to keep you safe, and that starts with the very way these devices work at a nuts-and-bolts level with software. They run any app in a sandbox, which is an isolated container, so if there is anything amiss with the application in question, it's kept away from the rest of the system.
Secure boot technology further ensures that a Chromebook checks for any possible compromise right from when it's switched on, and Chrome OS automatically takes care of any software updates to ensure that everything is up-to-date – and that means better security, of course, because all the latest patches and fixes are always in place.
In short, you don't have to worry about Chromebook security as all this happens seamlessly in the background, with no effort required. This allows you to simply get on with what you want to do with the Chromebook, rather than fretting about possible vulnerabilities and the like.
All this is part of the user-friendly design of these Chrome OS-powered laptops, and this simplicity is a theme carried through the whole Chromebook experience. When it comes to setting up a Chromebook, for example, that's a breeze: when first starting the machine, all you need to do is sign into your Google Account, and all your related preferences, Chrome browser bookmarks, passwords, wifi passwords and extensions, plus files stored in Google Drive will be linked across to the device.
Easy to use and speedy too
What's more, beyond setup, Chrome OS is designed to be very simple to use, and the desktop interface is clean and clear. The Everything Button is on hand and can be tapped to give you quick access to search for an app, a file, or a particular system setting, pulling up the most likely suggested results (from the device, and the web) as you type. If it's ease of use you want, then Chromebooks really score here.
Another strong suit is the sheer speed of a Chromebook. When you open these laptops, because the OS is so lightweight, it boots up in mere seconds – you definitely won't be doing any thumb-twiddling and looking at a black screen or spinning circle wondering when you'll get to the desktop. Using apps is similarly snappy, and what's more, over time, Chrome OS is not an operating system that will bog down – it'll continue to run speedily and slickly.
A further argument in favour of Chromebooks is the sterling levels of battery longevity that these devices offer as a rule, with a typical battery life of up to 12 hours (that's claimed longevity, and it will naturally vary between devices, and also depending on what it's used for).
And finally, it would be remiss not to mention the software ecosystem for Chromebooks as a major boon. The curated Google Play store has a huge array of apps available for download, and that includes not just serious stuff – of course Google's office suite is integrated with Chromebooks, or you can use Microsoft's Office web apps when online – but lots of games, and even apps for streaming services such as Netflix and Disney Plus. Whether it's work or play, a Chromebook has you covered.
Claim £50 to £150 cashback on selected Chromebooks
Chromebooks can be very affordable, as we've already mentioned, but the bonus at the moment is that those buying a Chromebook from select retailers, one of which is Currys, between 1st December and 24th December can benefit from cashback.
Disclaimer: Limited cashback offers available. Cashback only applies to selected models with a final purchase price (including any available discounts or offers) of £349+.
Exactly how much cashback buyers in the UK and Republic of Ireland will get depends on the cost of the Chromebook.
For a machine priced from £349 (or €349) to £499.99 (or €499.99), you'll get £50 (€50) cashback. For a device that costs from £500 to £699.99 (€500 to €699.99), you will receive £75 (€75) cashback, and any machine costing £700 (€700) or more will mean £150 (€150) cashback.
If you're looking for a new Chromebook, then – a laptop which is secure, fast, and supremely user-friendly, not to mention easy to switch over to from a Windows PC or MacBook – it's a great time to hop on over to Currys and check out the various competitively priced models available with a nice chunk of cashback as a cherry on top.
Sign up to receive daily breaking news, reviews, opinion, analysis, deals and more from the world of tech.