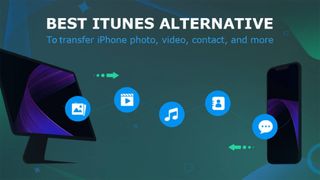 (Image credit: WinX)
Apple is certainly a great company for making tasks minimal and therefore simple. But when it comes to moving files from your iOS iPhone or iPad, that's where things can get very complicated very quickly.
The traditional tool of iTunes, for example, is just such a tough way. Not any more, with this useful iOS file transfer guide which gives you an iTunes alternative.
Transfer any iOS files using an iTunes alternative like DearMob iPhone Manager. This will allow you to get important files off your iPhone or iPad, which iTunes may not be able to offer - that means the ability to get your contacts onto a computer, or photos onto multiple machines, for example.
So to better understand what you need, let's first of all make sure iTunes can't do it for you.
Why not use iTunes?
Apple has created a wonderful music player in iTunes, but as a file transfer system it's closed and doesn't offer a lot of control. There is an ability to sync between your computer and mobile device, which allows you to transfer music, movies, podcasts, books and app sharing files.
This works well for transferring from computer to the iPhone or iPad, but not so much for the other way around, where you can only move app sharing files to the desktop.
Apple did previously use iTunes for photo transfers as well but that function has since been removed. So now you can't easily move your pictures from your phone to your computer using iTunes.
The other major restriction of iTunes that's worth mentioning is its inability to move important back-up files like text messages, contacts, voice memos and the like. So, if you want to create a copy of these as a backup on your computer you'll be stuck using iTunes alone.
The final major issue with iTunes is its inability to offer easy selective file transfers. Instead you are generally forced to sync large amounts of grouped data all at once.
Why to transfer any iOS files using this iTunes alternative
If you want to move files in a two-way sync between your iPhone or iPad and computer, then DearMob iPhone Manager is a great option. While iTunes is generally useful for computer to iPhone transfers, this system lets you move files anyway you want and in a far more expansive manner.
This not only offers the selective file transfers, lacking on iTunes, but also encompasses far more files - meaning you can backup your iPhone or iPad far more comprehensively to your computer.
What can DearMob iPhone Manager transfer? The extensive list includes – deep breath – photos, music, videos, Pages, Keynotes, Numbers, Files, contacts, SMS, podcasts, books, ringtones, voice memos, app sharing files, calendars, bookmarks and more.
This software won't rely on the usual limiting Apple Support Service or Apple Mobile Device Support, meaning you can move files freely and without being restricted to just one machine thanks to multiple computer sync support.
Stuck as some files can't be read on another machine? You're covered there too as file conversion is built into the DearMob iPhone Manager software.
File conversions are myriad including: HIEC to JPG for photos; EPUB ebooks to PDF, DOC or TXT files; messages and contacts to PDF, DOC or TXT; video files like MKV, AVI and WMV to iPhone friendly MP4; audio files like FLAC, OGG and WMA to MP3 or AAC; or convert music to M4R ringtone files. You can even compress videos and intelligently merge same contacts if you're short on space.
How DearMob iPhone Manager can make your files more secure
Thanks to password encryption it's possible to make individual files or folders far more secure. This applies to photos, videos and contacts, allowing you to keep them hidden for your eyes only. The system uses a 256-bit AES, 1024-bit RSA, P8KDF2 and Argon 2 for multiple layers of security that ensure nobody can get to your private data.
This works both ways though. You can also use DearMob iPhone Manager to remove Apple's DRM restrictions placed on files. That means you can buy via iTunes but then free up your purchase to enjoy whatever you want. So for movies, music and books you're then able to back them up on other devices to enjoy them when you like, giving you the freedom and simplicity of Apple, only without the restrictions.
How to transfer photo and more using DearMob iPhone Manager
Using DearMob iPhone Manager as an alternative to iTunes is a great way to transfer any iOS files from iPhone and iPad to computer and vice versa. The process is super simple - apart from the complete one click backup, to transfer specific files such as photo, video, and contacts, you only need to click the corresponding icon listed in the main UI. Take photo two-way sync as example:
1. Move from iPhone to computer
Connect your iPhone iPad with computer, making sure to trust this computer when the request pops up on mobile device. Click "Photo Transfer" on the interface. Select any photo or photos, click "Export" to move the files to Windows/Mac.
2. Sync from computer to iPhone
In an unlocked album, click "Add Photo" to choose from computer disk and click "Sync" at the right button corner. It's really that simple.
Like what you see? Head here to download the DearMob iPhone Manager.
Sign up for Black Friday email alerts!
Get the hottest deals available in your inbox plus news, reviews, opinion, analysis and more from the TechRadar team.