Update: This PS5 restock at GameStop has now sold out. If you can get yourself to a bricks-and-mortar store on January 27 an in-store restock will take place according to The Shortcut. This new PS5 bundle will only be available to buy for PowerUp Pro Rewards members. Check out our PS5 restock hub for the latest updates on specific store availability and what time the bundle will be available.
---
Today's PS5 restock is now live at GameStop. Rumours were flying around since Wednesday that the specialist retailer was preparing for its first PS5 restock in 2022. Now, a new PS5 bundle has appeared online, which is exactly what's on sale now.
It's not a cheap one, though. The bundle in question is a PS5 with Call of Duty: Vanguard, DualSense Controller (Red), 12-Month PS Plus Membership and a $50 GameStop Gift Card. All of this will set you back $743.97 (opens in new tab).
PS5 restock at GameStop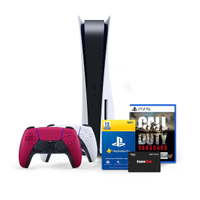 (opens in new tab)
PS5 | Call of Duty: Vanguard | DualSense Controller (Red) | 12-Months PS Plus | $50 GameStop Gift Card: $743.97 at GameStop (opens in new tab)
This is the packed bundle that's on sale as part of today's GameStop PS5 restock. All of the items are included at full price, so you won't be saving any money with this bundle. That's to be expected, really, considering the PS5 is still so hard to buy and there's no reason to discount anything. Remember, you also need to be a PowerUp Rewards Pro member to buy it.
We've done the maths and that means you will pay full price for all items in the bundle. It makes sense given the popularity of the PS5, as retailers have no reason to discount it or any extras while so many are still looking to buy one.
It's also important to point out that early access to this GameStop PS5 restock will be given to PowerUp Rewards Pro (opens in new tab) subscribers. This is GameStop's monthly membership program that gives you exclusive rewards, discounts and - most importantly - a chance to buy stock refills before anyone else. It's almost certain that this PS5 bundle will sell out during the early access period, so you'll want to be signed up to have any chance of getting a console.
Overall, it's quite an expensive way to buy a PS5. For those who are happy to buy a bundle, though, you have a much better chance of getting one as opposed to the solo console restocks from other retailers such as Walmart and Best Buy.
That's all we have for now, but follow our PS5 restock hub to get regular updates across today on this upcoming GameStop drop and any more in the future. There's a chance of a small drop at Target a little earlier as well and we'll alert you to that on the live blog if it goes live as well.
As well as our live blog, you can also check out our hub on where to buy the PS5 for updates from all the top retailers. Once you've got your console, too, you can also browse all the latest PS5 deals, including all the cheap PS5 game deals, top accessory offers and more.