Mass Effect Andromeda multiplayer guide
Master multiplayer with our Mass Effect boot camp
You can't stay single forever…
So you've spent countless hours exploring the new stars and planets of the Andromeda galaxy in single-player… but what about taking on the cosmos in multiplayer mode? It's time to jump into some Apex missions.
Andromeda's co-operative PvE online mode works much like the one in Mass Effect 3 – fight through increasingly tough waves of enemies, with a sprinkling of objectives added for taste – but there are still plenty of new twists to tackle in Bioware's extended cosmos.
So before you embark for some multiplayer mayhem, train yourself into peak science-fiction condition with our set of comprehensive Apex tips and tricks...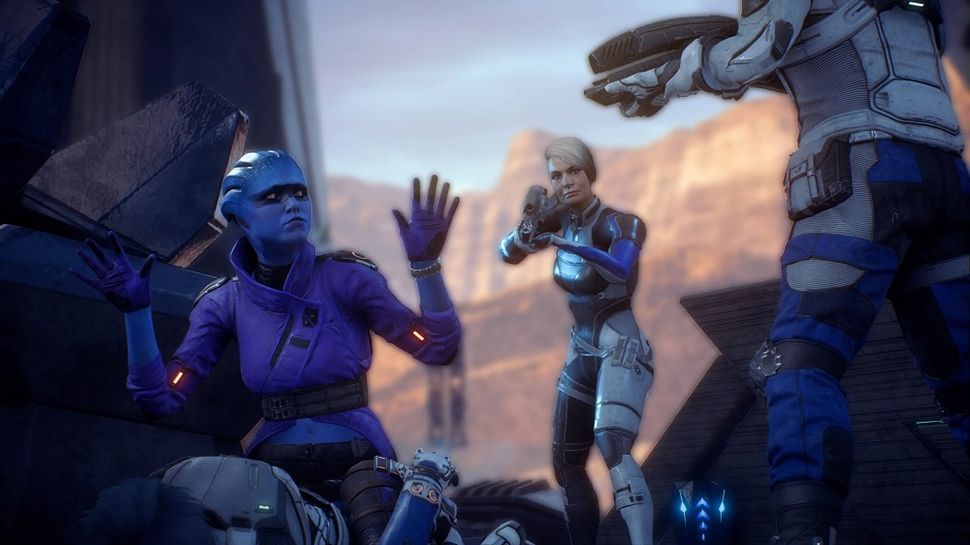 1. Spend plenty of time in single-player
Andromeda's multiplayer mode is great fun to play, but for those unfamiliar with the series its mixture of third-person cover-shooting, squad-based combat and RPG tropes might seem a little jarring. Considering that online play is meant to be a little more taxing, we'd strongly advise any Mass Effect newbies to play a good eight to 10 hours of the single-player campaign first.
This will introduce you to all the game's key systems, enabling you to get to grips with Profiles, and how best to use certain skills and powers against certain enemies. Since it offers a fairly forgiving learning curve on the normal difficulty setting, it's the perfect way to prepare for multiplayer.
2. Know your wave patterns
Much like Mass Effect 3, Andromeda's multiplayer offering isn't a PvP affair but a Horde-style PvE setup that pits you against increasingly tough waves of enemies. Each match consists of seven waves, and since the objective of these waves always remains the same, it pays to know each one in order.
The first two waves simply require you to 'Survive' and defeat all enemies. The third is a rotating, time-based objective (upload data from three points, eliminate specific enemies, lock down a hack zone or enable/disable four devices). The fourth and fifth are survival-focused. The sixth is another timed objective, and seventh is 'Extraction' (survive until you're picked up).
3. Play to the strength of your class
Each class in Mass Effect Andromeda's multiplayer mode works in much the same way as Profile in the single-player campaign, so understanding the benefits of each one is key to surviving and thriving online. First off, take note of which classes your team has selected – since this is a team-based effort, stacking up with the same class will lead to consistent disaster.
Biotics are great at dealing with large groups of enemies, so use this class for survival and extraction waves, while the trust Infiltrator is ideal for sneaking off to hack devices during the time-based objective sections. This is also a great time to adapt to a class you wouldn't normally choose.
4. Memorise maps and ammo locations
There are currently five multiplayer maps available with the launch version of Mass Effect Andromeda – Firebase Zero, Firebase Magma, Firebase Icebreaker, Firebase Sandstorm and Firebase Derelict – although expect more to be added in future DLC packs and updates.
Each map is relatively big, but the design remains the same each time so start acquainting yourself with important details such as choke points, cover and flanking positions. Also make a note of ammo box locations, so you can restock with confidence while under the gun. Knowing a map's layout will turn you into a ruthless soldier in no time.
5. Manage your Mass Effect currencies
Mass Effect Andromeda's multiplayer loves its RPG DNA so much it's packed in three – count 'em, three – different in-game currencies that build up in a variety of needlessly complicated ways. These currencies are Andromeda Points, Multiplayer Credits and Mission Funds, and each one can be used to buy loot boxes and unlock new weapons and armor.
Andromeda Points are the premium currency, and can be bought via microtransactions. These are the fast-track way to get new gear, but they're also the most pricey. Multiplayer Credits are accrued by completing matches, while Mission Funds are a single-player-based currency built up by sending out Strike Teams from the Tempest.
6 Prioritise enemy types for quicker firefights
This being a Horde mode-style setup, Andromeda's multiplayer will test your mettle by flinging a variety of enemies at you in ever-increasing numbers. Such a challenge won't trouble you too much for the first few waves, but the further you push, the harder this becomes as far tougher foes begin entering the mix.
Much as in Mass Effect 3 – and Andromeda's own single-player battles – make sure you target weaker enemies such as the Kett first, reducing the amount of potential damage you and your team can receive. Then when something larger and tougher, such as a Hydra, shows up you can direct your collected fire without fear of flanking.
7. Always have Strike Teams on the go
Remember those Mission Funds we mentioned earlier? Well, to accrue this unique kind of currency you'll need to make the most of one Andromeda's passive features tied to multiplayer – Strike Teams. You can find this at the main terminal aboard the Tempest in single-player (and from the main menu in multiplayer) and you can have up to six teams operating at once.
Mission funds serve a dual purpose – you can either use them in the single-player campaign, or use them to purchase packs from the multiplayer store. These packs contain armor and weapons for your multiplayer characters, so Strike Teams is a resource you really shouldn't be playing without.
8. Don't promote your characters when they cap
Back in Mass Effect 3, characters levelled to the level cap of 30 were considered war assets, and a resource vital to getting the best possible outcome in the game's apocalyptic endgame. Sadly, that mechanic didn't go down too well with fans, and ultimately made its multiplayer feel surplus to requirements. Thankfully, Andromeda does away with this feature, but its own characters do have level caps.
Right now, as of launch, the level cap for each multiplayer character is 20, but we'd expect this to increase over the next 12 months or so as Bioware begins rolling out new missions, characters and various DLC packs. In the meantime, don't promote a character if they hit their respective cap – each can still accrue XP at a higher rate than those still levelling, so keep them in play for the long run.
9. Don't rush to an extraction point straight away
Each online match in Mass Effect Andromeda ends with an Extraction Wave that pits you against a tough tide of powerful enemies while a timer ticks down. While there's a designated point on the map that will serve as your exit when the timer elapses, that doesn't mean you should leg it there as soon as the final round begins.
Since these points are almost always open and exposed (making them incredibly difficult to defend for long periods), play smart, and keep the action far from this section of the map so that you can sprint away to extraction when the timer finally counts down to zero.
10. Character weight can make a huge difference
While it's less of an issue in Mass Effect Andromeda's vast single-player campaign, the amount of gear you wear and carry can adversely affect how you play. Apart from actively reducing your movement speed (which is pretty disastrous when you consider how important movement is to multiplayer) it can also slow cooldown times on abilities.
If you're playing biotic or engineer, having your abilities encumbered by too much gear is a recipe for disaster, so be sure to only carry the gear that's absolutely essential to your performance (extra ammunition, Revive Packs, etc). However, if your playstyle doesn't include many abilities, a reduction in cooldown shouldn't cause you too many problems.