How to scan your face in NBA 2K22 – and whether you should bother
Trying to figure out how to scan your face in NBA 2K22 so you can play ball with your own beautiful visage? We show you how to get the job done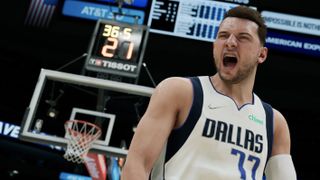 (Image credit: 2K Games)
Did you know that you can scan your face in NBA 2K22 and turn yourself into one of the professional athletes on the court? it's true! While MyPlayer has been a feature of a range of NBA 2K games, it's recently become even more sophisticated and complex by allowing you to create a player with your features.
Whether you have a Sony PS4 (Slim) or an Xbox One X, you can take advantage of this face scan feature by downloading the MyNBA 2K22 app on iOS or Android devices, taking your photo and then uploading it to your chosen platform.
You'll find that the cameras on the best iPhone and the best iPad as well as the best Android phones will all do a great job of getting the clear photo you need to upload to the MyNBA 2K22 app. Just be sure to take your photo in a well-lit area to make the most of this feature and to ensure the player looks as close to you as possible.
To help you figure out how to scan your face in NBA 2K22, we've compiled this handy guide for you that talks you through the process step-by-step. From how to do the face scan to how well it actually works, here's everything you need to know...
How to face scan in NBA 2K22
You'll need two things to scan your face in NBA 2K22 – or three, if you count your face. You'll need a copy of NBA 2K22, with a MyPLAYER account setup, and you'll also need a smartphone.
Your phone camera is what will scan your face – so it goes without saying that a higher-quality phone will likely produce better results.
You can download the 'MyNBA 2K22' app for both iOS and Android, in which you'll be able to scan your face using your phone's front-facing / selfie camera after connecting to your in-game account. The app should be available to download on Android, though it doesn't seem to have landed on iOS at the time of writing, so hold tight if it isn't available for you just yet.
Make sure you've set up your MyPLAYER account and connected it to both NBA 2K22 and MyNBA2K22.
In MyNBA2K22, select "Scan Your Face".
Follow the on-screen prompts.
Watch your face become one of the most popular in the NBA.
A help page for last year's NBA 2K21 game provides a host of tips, including "even lighting from the front" to reduce shadows, and making sure you stop moving your head if you need to blink, so that it doesn't mess up the end image.
To scan your face in NBA 2K22, hold your smartphone "at eye level", and around 18 inches from your face (say, on a handy shelf) to produce the best results. We're told, too, that a common mistake is keeping your eyes locked on the phone, stopping your head from completing a full motion from side to side.
How well does it work?
When it comes to trying to scan your face in NBA 2K22, it's worth keeping in mind that the facial scanning technology used to put the likenesses of professional athletes into the games will likely be several magnitudes more advanced than what the average mobile phone is capable of. So don't expert an incredible match to your own face.
A Reddit post in r/NBA2k lists a number of common issues, with some users saying they expect to "try for hours to get a good one and then give up". Others have seemingly had issues with their "beard" being scanned, while others still claim the app "works great for me every [time]".
If you can access the app, it may be something to try out before the servers settle down for online play. If it helps, our Mii avatars don't look anything like us either.
Get daily insight, inspiration and deals in your inbox
Get the hottest deals available in your inbox plus news, reviews, opinion, analysis and more from the TechRadar team.
Henry is a freelance technology journalist, and former News & Features Editor for TechRadar, where he specialized in home entertainment gadgets such as TVs, projectors, soundbars, and smart speakers. Other bylines include Edge, T3, iMore, GamesRadar, NBC News, Healthline, and The Times.