Starfield - how to assign Crew to Outposts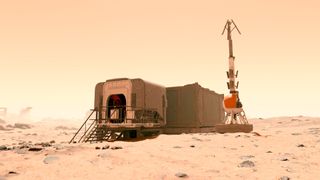 (Image credit: Bethesda)
Starfield Outposts can be great places to passively gather materials. There's an entire base building system linked to them, allowing you to build out research stations, and places for your Crew to live and work.
Assigning Crew to outposts in Starfield can be a little bit tricky, as there are quite a few steps involved that the game doesn't exactly explain outright. For starters, there's the task of finding a habitable planet, and then you'll actually need to craft a specific piece of tech to open up the ability to assign Crew to your Outposts. All in all, it's worth doing, so that you can make the most of all of the companions you meet while playing Starfield, and so that you have a place to store your Contraband, should you have any.
Here's all you need to know about assigning Crew to Outposts in Starfield. We'll talk you through crafting a Crew Station, and how to make sure the right Crew member is placed at the correct site.
How to assign Crew to Outposts in Starfield
To assign Crew to an Outpost you must first find a habitable planet. These are planets with plenty of oxygen, moderate fauna and flora, safe water levels, and a moderate magnetosphere. If you're struggling to find one, head to Mars, you can build habitable Outposts there. Once on the planet's surface, bring up the scanner and press 'X' to place an Outpost Beacon. Once this is placed, the Build menu will open up.
For a simple Starfield Outpost, start with a four-walled habitation, and then a basic airlock. You'll then need to make it fit for a Crew member. To do so, scroll to the 'Miscellaneous' tab in the Build menu and look for the 'Crew Station'. This costs 2 Iron, 3 Nickel, and 5 Aluminum to craft. Place the Crew Station inside and then exit the Build menu.
Now, you just need to head to the Crew menu. To do so, bring up the main menu and then go to the Ship section. Press 'Y' to bring up the Crew menu. Here, you will see every person you've recruited to your Crew, along with their assignment. You will likely already have some Crew assigned to your Ship.
Scroll down to the Crew member you wish to assign to an Outpost and press 'A'. You can then select an Outpost, where the Crew member will be placed. You can always use this screen to unassign Crew members, move them around, and bring them onto your Ship. This then opens up a whole host of possibilities as you build out your base. Try looking for new Crew at settlements across the galaxy that might fit your needs. The Den is a great place to start.
That's how to assign Crew to Outposts in Starfield. For more on the game, be sure to check out our four-star Starfield review. Elsewhere, there's our look at the new Xbox Series X games still to come to the platform later this year.
Sign up to receive daily breaking news, reviews, opinion, analysis, deals and more from the world of tech.
Jake is a freelance writer who currently works regularly with TRG. Hailing from the overcast shores of Brighton in the United Kingdom, Jake can be found covering everything from features to guides content around the latest game releases. As seen on NME.com, Eurogamer.net, and VG247.com, Jake specializes in breaking games down into approachable pieces for guides, and providing SEO advice to websites looking to expand their audiences.