Every year, Google releases a new version of Android, with Android 14 – codenamed Android Upside Down Cake – set to be the next iteration of the popular OS.
We're not expecting Android 14 proper to roll out en masse until August or September 2023, but Google has already released two Developer Previews that give us a rough idea of what to expect from the facelift in terms of new features.
The first of those Developer Previews went live in February, and with the second now also out in the wild, we've put together this list of five genuinely useful Android 14 features that we hope to see make it into the software's final build.
1. Auto-confirm correct PINs
This might come as a shock to seasoned iOS fans, but Android users still have to hit an 'enter' key after punching in their mobile lock screen passcodes (medieval, right?). That could change with Android 14. As spotted by XDA (opens in new tab), the software's second Developer Preview (DP2) adds a toggle that allows users to enable auto-confirm correct PIN for codes made up of six digits or more. In other words, your Android phone will open up as soon as you hit that last correct digit.
The toggle comes with a warning about being less secure, and it's not included in Android 14 DP2 by default, so there's a chance that Google may opt to jettison the feature come August. We'd like to see it carried through to the final build of Android 14, though.
2. Screenshot detection
Speaking of security-related features, Android 14 DP2 adds a screenshot detection framework that stops apps and hackers from taking screenshots of your activity without your permission. Hackers often infiltrate apps to snoop on your private chats and gain access to personal information, but Android 14 should shore up your phone's defenses in that regard.
In the same vein, Android 14 DP2 also adds the ability to limit the photos an app can access, which means you won't have to share your whole life in pictures with dubious social media apps.
3. Font scaling
Arriving as part of Android 14's first Developer Preview, font scaling grants the option of scaling up text by 200%, which should prove particularly useful for those with less-than-perfect vision. Android 14 scales up text in a smart way, too, by ensuring that already large text won't increase by the same amount as smaller text. It's a small change, but a welcome one.
4. App cloning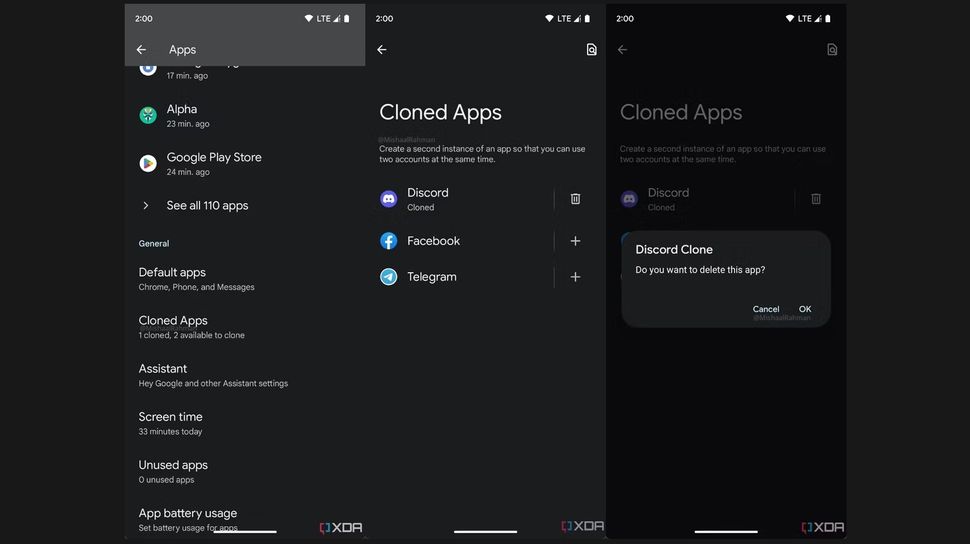 Per XDA (opens in new tab), Google is testing a feature with Android 14 DP2 that lets you clone apps so you can use two different accounts at the same time. The option is reportedly available in the Settings app under Settings > Apps > Cloned Apps, and should prove a handy tool for apps that don't natively support multiple accounts.
Interestingly, cloned user profiles were first introduced with Android 12, but Android 14 looks like it'll finally offer a way for users to create – and determine the apps that have access to – those profiles.
5. Regional preferences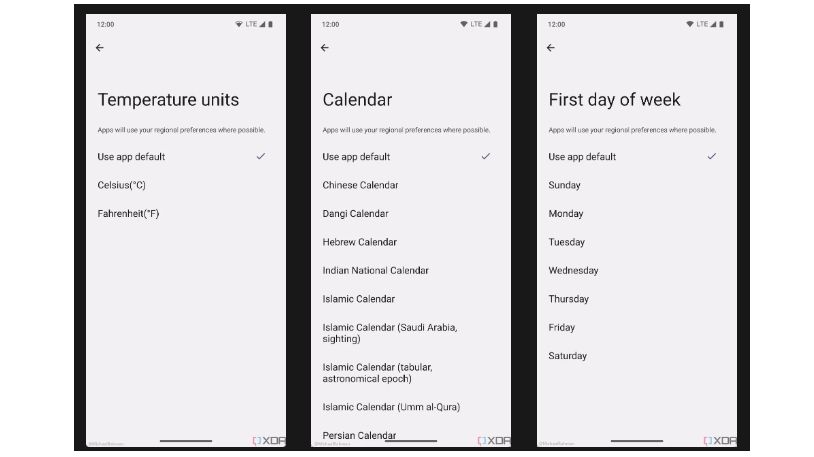 If you live in the US and prefer the Celsius scale, or live outside of the US and prefer the Fahrenheit scale, Android 14 DP2 adds the ability to set regional preferences for preferred temperature units, as well as for things like calendar type and first day of the week (we're Monday people, ourselves).